CLEVELAND — U.S. Sen. Sherrod Brown officially endorsed Rep. Tim Ryan's Senate bid and was the first person to sign the petition to put Ryan's name on the ballot. Brown said he and Ryan are longtime friends and that he needs his friend to join him in Washington D.C.
Both Brown and Ryan talked about Ryan's commitment to Ohio workers.
"The whole reason for running for the United States Senate was to work hard to cut workers in on the deal and that's exactly what we're going to do," Ryan said. "We've been traveling to every corner of this state meeting workers all over the state who have been doing everything right but still can't get ahead."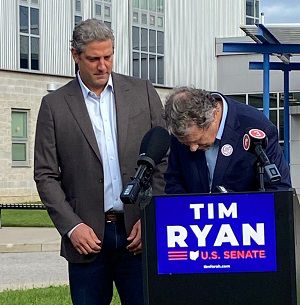 With Brown's endorsement, Ryan is now endorsed by every Ohio Democrat in Congress and has endorsements from 20 labor unions.
"Tim is running for the seat held by my friend and mentor John Glenn and he will fill those shoes," Brown said. "He will make a huge difference for workers. As he said, cutting workers in on the deal. What we've seen in the last 20 years, we've seen corporate profits going up. We see executive compensation just explode upwards. We see workers more and more productive but wages are flat. Wages have, workers have simply been left out."
Ryan faces a challenge for the Democratic bid from Ohio activist Morgan Harper.
Harper issued a statement in response to Brown's endorsement.
"Voters are the endorsements that matter — those are the endorsements that I am fighting for every day," Harper said. "This election is about the past versus the future. A 20-year incumbent taking money from corporations is the past. A new voice with a fresh vision for Ohio's economy is the future."
There is a host of Republican candidates seeking the seat, which is currently held by Sen. Rob Portman, as well. Portman is not seeking reelection.
Among the GOP contenders are State Sen. Matt Dolan, former Ohio Treasurer Josh Mandel, author and venture capitalist J.D. Vance, former state GOP Chair Jane Timken, car dealer Bernie Moreno and investment banker Mike Gibbons.