CLEVELAND — While ooey-gooey mac n' cheese was the focus of the 2021 Mac N' Cheese Throwdown, the real star was the community.
Thousands of people hungry for normalcy and some mac n' cheese went to Cuyahoga County Fairgrounds on Sunday to try innovative dishes made by some of Cleveland's best food trucks and support the nonprofit Wags 4 Kids.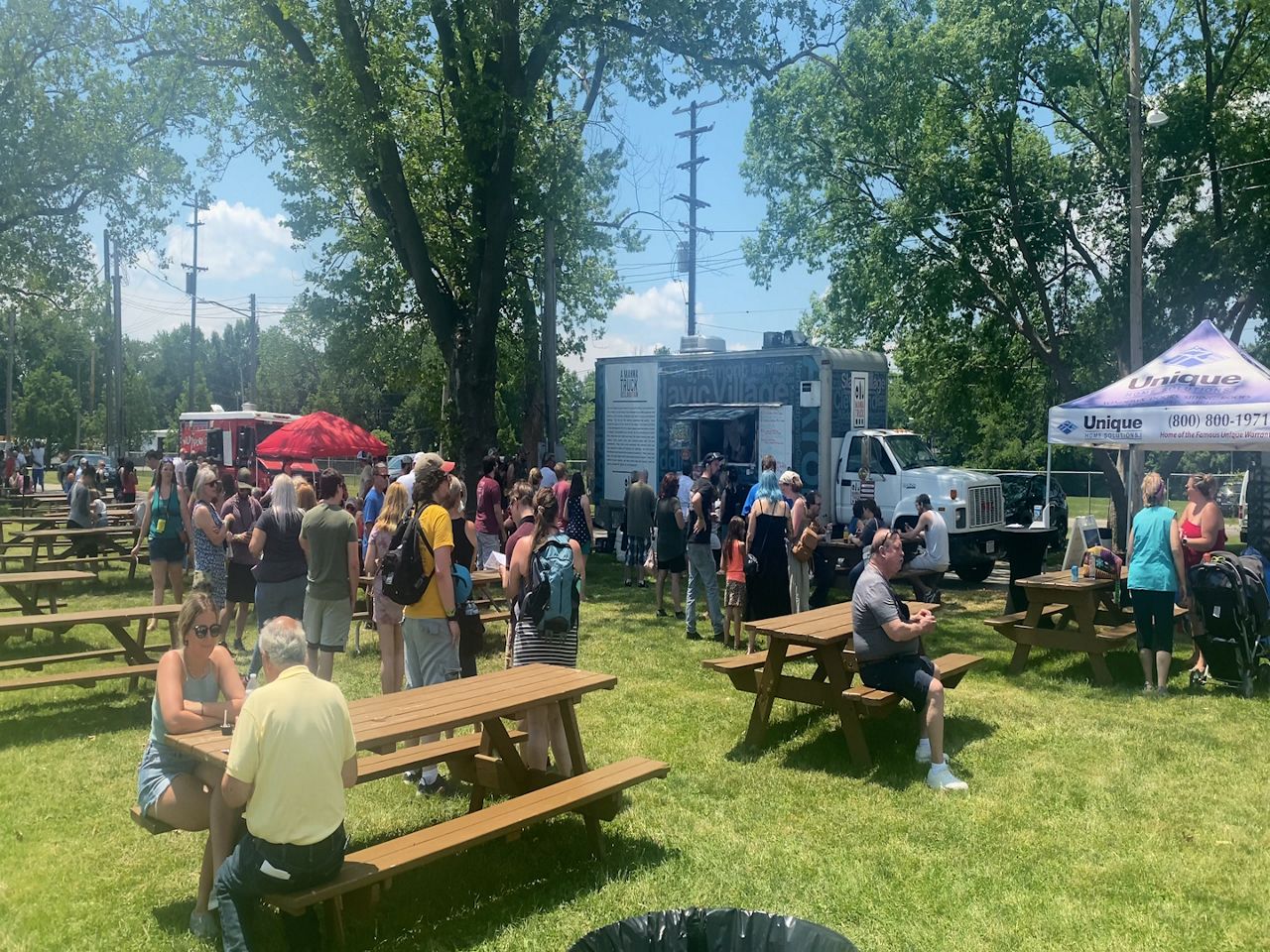 "When you show up and you eat a bowl of mac n' cheese, you are not just satisfying a longtime craving of being out with the community. But if I know anything about Cleveland, we love our food, we love our drinks, and we love our people. And that's exactly what you're doing is you're supporting your people, you're supporting our kids who are ready and waiting for their service dog and supporting everything about our programs and our services," said Sera Nelson, the executive director of Wags 4 Kids.
Most of the proceeds from the event go to the nonprofit Wags 4 Kids, which trains and provides mobility service and autism service animals to children in need. The trucks also came to battle for bragging rights.
"We're doing the buffalo cauliflower mac n' cheese, and then we're doing a burger topped with the truffle mac n' cheese which is dynamite," said Matt Barnes, the owner of Manna Food Truck. "It's been awesome. People are really enjoying it, grabbing samples, grabbing large portions. It's just a fun way to brag about it and have a good time for a good cause."
Nelson said it costs around $28,000 to raise and train one service dog, and just donating $2 can make a big dent in those costs.
"And that $2 makes not just one service dog, but all the service dogs that we could possibly dream of, and not just for these kids. But for the kids that are looking to apply next year, and the year after, and the year after," said Nelson. "That's what you're supporting, as well as our small businesses. I've been saying the last year that it feels like House of Cards, that we all just got to lean up against each other in order to stand, and that's what you're supporting. You are my house of cards. And we really appreciate you, we're one big family here. It's my family that started this organization. But we really are one big community and I'm so excited to bring us all back together.
"The food trucks went head-to-head in two categories: "Classic Mac" and "Modern Mac" with one goal in mind: To be named the "Best Mac in Cleveland."
"This is my sundae: Caramel crazy cream, whipped cream at the bottom, salted caramel ice cream in the middle, caramel drizzle, cream cheese filling on the outside with cinnamon and sugar. It is topped with caramel popcorn, deep fried mac and cheese wedge, whipped cream and a cherry," said Atasia Etheridge, owner of the ice cream catering company Sprinkles and Milk.
Sprinkles and Milk is a relatively new ice cream catering company. Putting a unique spin on an ice cream sundae, they took home first place in both categories based on a panel of local celebrity judges. Throughout the event attendees could text 66866 to vote for their favorite food truck. The people's choice winner is posted here.
"That's really good," said Erik Armstead, an attendee. "When you mix mac n' cheese, sweets and ice cream you get pure greatness."
"It's macaroni and cheese so it's bomb, right? But then it's the ice cream that's even more bomb. So now it's like a bomb explosion in your mouth. It is sweet and salty, but it comes together so well," said Asia Williams, an attendee.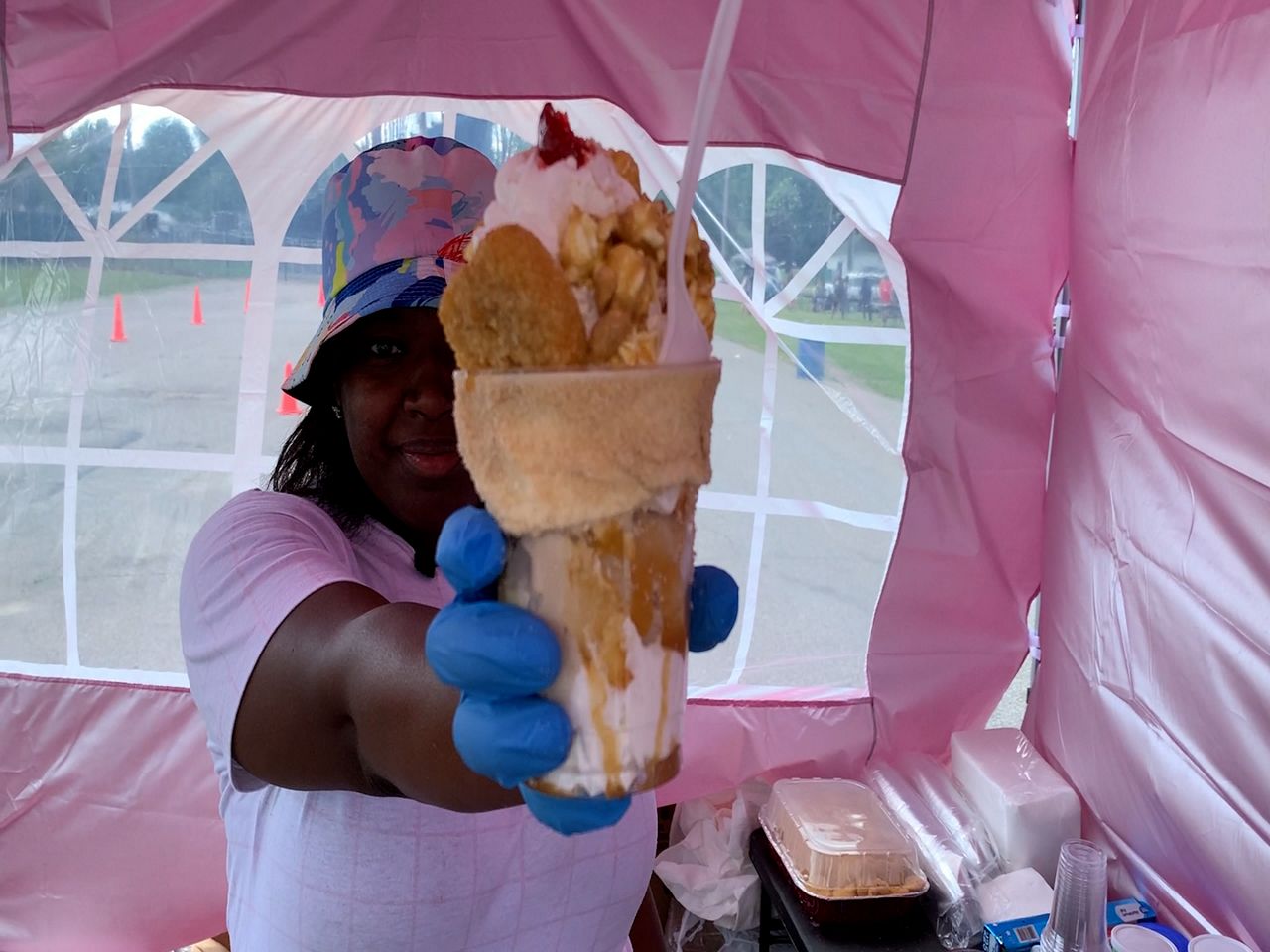 It was some friendly competition and great mac n' cheese for a great cause.
"What better way to support Wags 4 Kids and local businesses than coming on out and eating some fabulous mac n' cheese," said Nelson.
The Mac N' Cheese Throwdown was sponsored by FirstEnergy and SMART Local Union #33.