SUMMIT COUNTY, Ohio — Summit County Public Health's announcement that it will open a lottery to draw names for recipients of COVID-19 vaccinations has generated mixed reviews from residents.
With nearly 200 comments and 300 shares, the health department's recent Facebook post explaining the lottery system generated responses ranging from positive to sarcastic.
"Who could have imagined that opening a phone line and website to 541,013 people at the same time on the same day as a method for distributing 500 doses of a drug could be a problem?" one resident quipped.
Some thanked officials for attempting to expedite what universally has been a painfully slow rollout.
"A digital lottery is much more ethical than cramming a server or phone line all at once every week," a resident wrote. "Thank you for all that you do during this stressful time."
Others asked about elderly parents still waiting for a first vaccination, in a county Health Commissioner Donna Skoda has repeatedly noted has an inordinately large number of seniors.
One respondent applied sheer logic: "Actually, the idea behind this takes a lot of the angst away from sign-up days and the result is still the same," the resident wrote. "If you're fortunate enough to get pulled for this lottery, it's the same as being lucky enough that your internet connection gets you in before others."
The lottery system is planned to launch Monday, March 1, after a crush of calls and emails to the health department overwhelmed its systems.
"That was terrible for people. I feel bad for the residents," said Skoda. "There were days we only had 300 or 400 appointments, so we would send out a message and say, 'It's open. Here's the link. Here's the phone number,' and then look out. We would literally get 13,000 hits in about four minutes."
In the weekly lottery, names will be drawn from a registry on the health department website, which contains about 110,000 residents, she said. Everyone who is eligible, based on the state's phased rollout schedule, will be included in the drawing.
Phase 1B includes people 65 and older; those with qualifying health conditions; and staff of kindergarten through 12th grade schools.
The health department will also continue to schedule by phone people with advanced age or without internet access, Skoda said.
People already signed up to get vaccine information from the county don't need to sign up again, she said, but those who have not signed up, should.
The decision to launch a lottery was made after the county's Feb. 18 Facebook Live "COVID-19 Vaccination Q&A," when county officials attempted to answer frequently asked questions.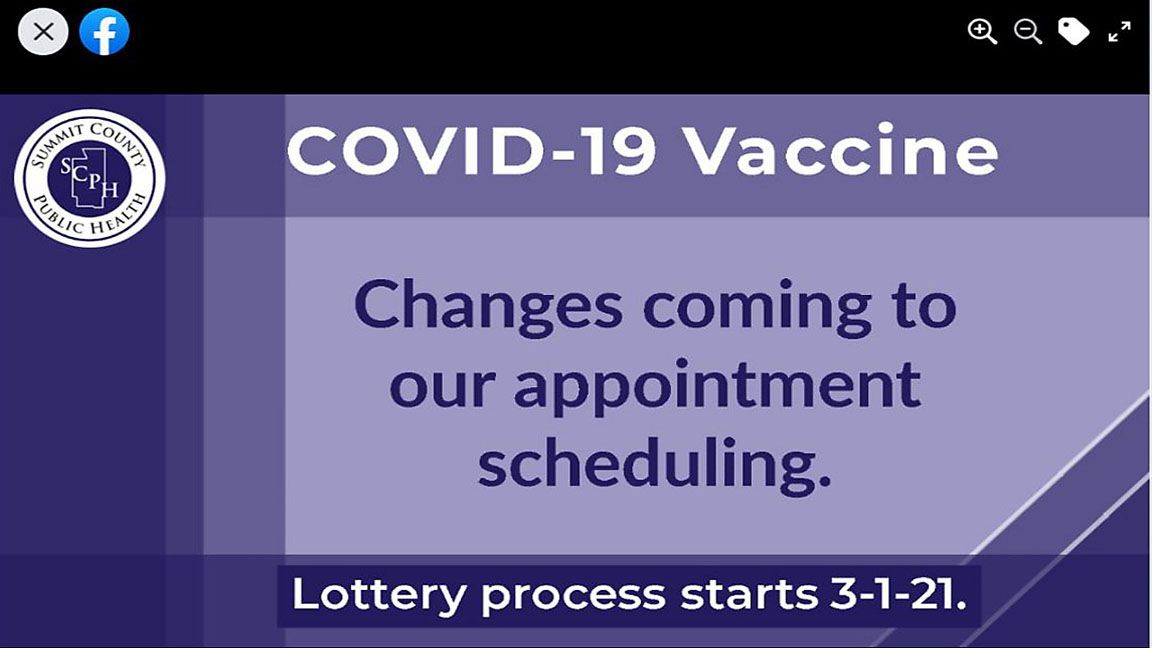 Moderated by Summit County Director of Communication Greta Johnson, the 46-minute Q&A featured Skoda and Emergency Management Director Tommy Smoot answering questions live.
During the event, Skoda said county workers have been as stressed as residents and alluded to a potential new approach for scheduling vaccinations.
"Due to the extensive demand, we're really looking at our systems, are looking at them internally, and we'll be notifying you via a public release how we're going to change getting appointments for individuals," Skoda said during the live event. "We're just trying to cut down the stress, not create more, but unfortunately we don't have enough vaccine for everyone."
Residents have told the health department the current system is too stressful, she said. And many people with internet access are not technically savvy enough to understand how to schedule a vaccination through the system, she said.
In Summit County, the vaccine is also being distributed by select pharmacies and health centers at about 30 locations, which can be viewed on the state's interactive vaccine administration location map.
The health department will continue contacting anyone signed up on the registry to provide vaccine information based on their age, Skoda said.
The county's COVID-19 Call Line will also be operational Monday-Friday, 9 a.m. to 4 p.m. at 330-926-5795.​