AMELIA, Ohio — With the soft, melodic sound of a piano playing the theme music from "Nicholas and Alexandra," Clyde lays stretched out on the wooden planks of Perla Kinne's deck, sniffing the brisk autumn air and soaking up the bright morning sunshine. It was time for him to say goodbye.
Internationally-renowned pianist and Liberace protégé, Vince Cardell, had surrendered his beloved 11-year-old English mastiff, Clyde, six months earlier because he was going into a Nashville, Tennessee nursing home in 2012.
But on this day, Kinne made sure that Clyde heard Cardell's music one last time as she put another "angel" to rest.
"I played his dad's music," she said, tearing up as she recalls that morning. "He did perk up when he heard the music play. To me, that was my gift to Clyde – try to make it in the best way that I can."
Kinne, 61, who had been caring for Clyde at her animal hospice and in her home for his final months, held the dog's large, tan paw in her hand as his eyes closed forever. Her smiling face was the last thing he saw before he crossed over the proverbial "Rainbow Bridge," perhaps to reunite on the other side with Cardell.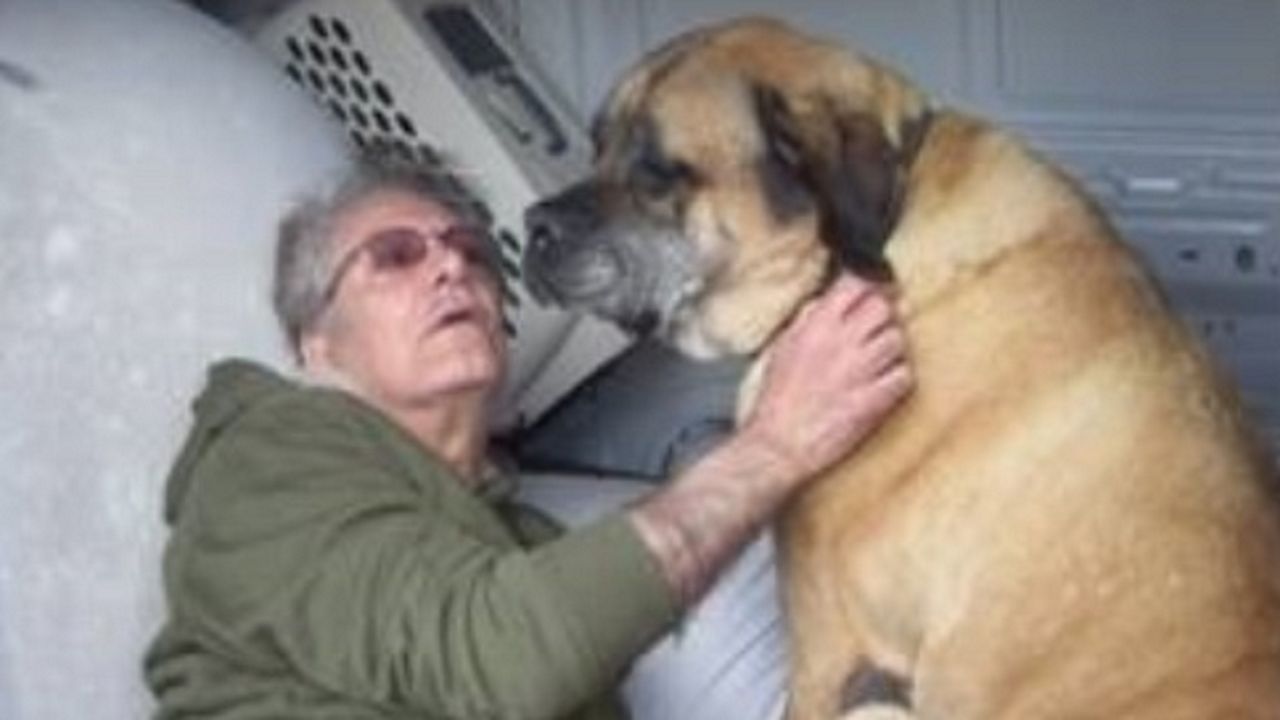 From the beginning, Kinne made sure that was how it worked at Angel's Rest Animal Society, a sanctuary and hospice in Amelia, Ohio, more than 11 years ago, giving animals the "ultimate gift," said the nonprofit animal rescue's owner.
So, that at least the person that loved them best at the end of their life, can see them off, she continued.
However, it's a mentally taxing part of her work, she admitted.
"Compassion fatigue is a very real thing. It is very hard. That's part of the process. It's not for me; it's for them. It's my ultimate gift for them – the ultimate gift, being able to end their suffering in the most peaceful and loving way possible," Kinne said.
But on Sept. 30, Kinne will close the doors to the animal sanctuary and hospice to the public. While she will not be accepting any more animals, she said, she will continue to care for those still under her watch.
But she needs help.
She is looking for foster parents for the remaining animals, and donations are still needed for closing costs and continuing care for those still residing at Angel's Rest.
Kinne never thought that this is how she would see this chapter of her life coming to a close.
"The sad thing for me, the very sad thing, is that I wanted this to outlive me. This was going to be my legacy," she said. "This is what I thought I was meant to do forever. So, that's a very sobering thought and realization that 'OK, what happens now?'"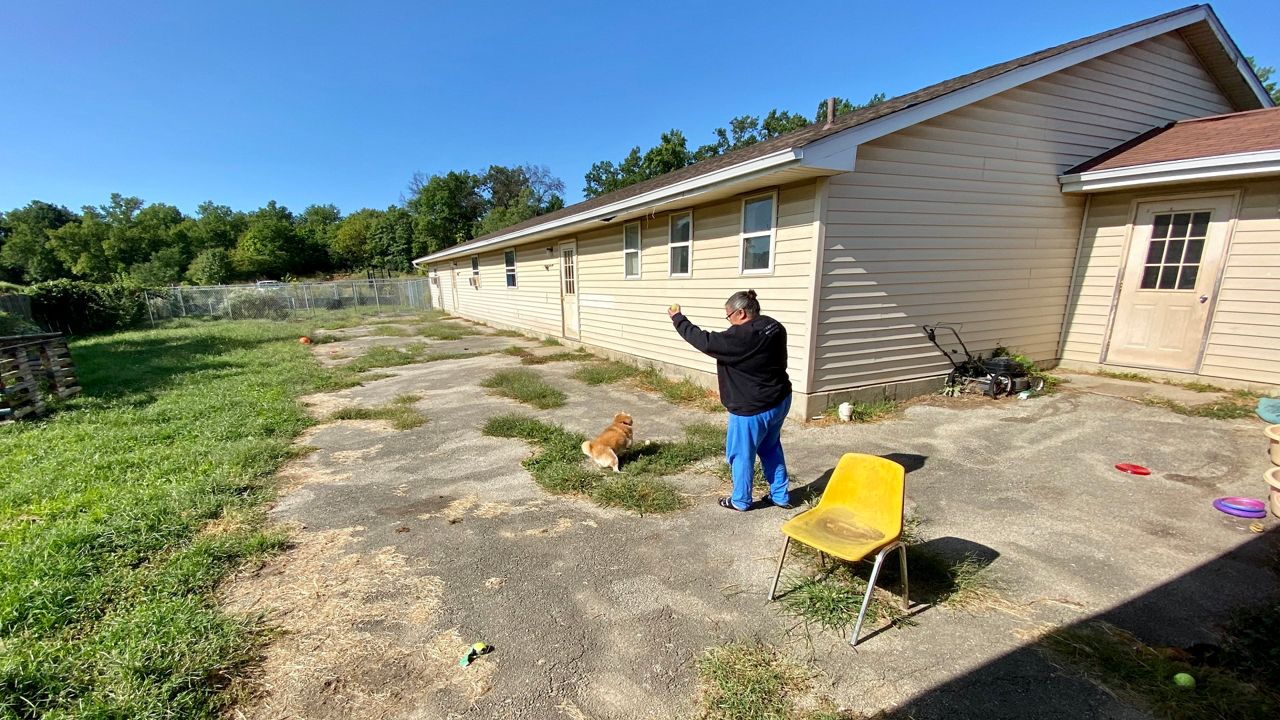 Giving New Life to Old Animals, Giving Rest to the 'Misunderstood'
The civil engineer and her husband, also an engineer, were making a decent living back in 2002, but they knew they wanted to do something more meaningful.
"I was tired of living an existence that was just like surviving. Yes, we were making really good money and all that, but that wasn't worth it," Kinne said.
They adored animals; more specifically, she said, they gravitated toward animals in need.
With that mission in mind, Kinne and her husband opened Angel's Rest in 2009 as the second animal hospice in the country and the first to take "fractious" or aggressive dogs, some who were prone to biting, she said.
In October 2010, they became a full-fledged 501(c)(3) nonprofit organization.
Over the span of more than a decade, they rescued about 550 animals, many with special needs, Kinne said.
"They're our kids," she said. "We take a very few number of animals compared to the normal world, but the ones we take, we remember. We give them a nice ending – and sometimes, we give them years."
The purpose behind the name "Angel's Rest" is particularly meaningful to her.
"Everyone that comes here to me is an angel, and they deserve rest. So this is where they find their rest. And that doesn't mean that they're going to die here. But they can rest from being abused, or they can rest from being neglected. They can finally rest and not have to worry about any bad treatment," she said. "Animals have a lot of life left."
She did not want surrendered animals to be killed just because they could not be taken care of, or because someone decided the clock had run out on their life.
"Animals that are dumped because they are an inconvenience to somebody, or because people don't want to deal with it, they deserve a peaceful passing; they deserve to be loved. They don't deserve to be yanked out of a cage and taken and put on a cold, metal table and just to the dumpster after that," Kinne said.
According to the ASCPA, every year, 1.5 million animals are euthanized in shelters.
Kinne never saw animals as statistics, and she wanted to give them more life once they were surrendered — a comfortable life during their last days, months, and even years, in some cases.
"The reason we are so vital to the community is because we recognize that animals don't have to die," Kinne said about her award-winning sanctuary.
For Kinne, it is personal, as well as difficult.
"This is a very hard job. It's a very rewarding job, but a very hard job. To see an older dog deteriorate, it's not easy," she said.
But Kinne did not just take in elderly animals; she took in unwanted and misunderstood pets, like dogs with a bite history.
One of those dogs who was misunderstood and needed a personal touch that only Kinne could give him was a gigantic St. Bernard, named T.J.
"T.J. is awesome, except for the fact that he will not like you when he first meets you. But he is an amazing dog," she said.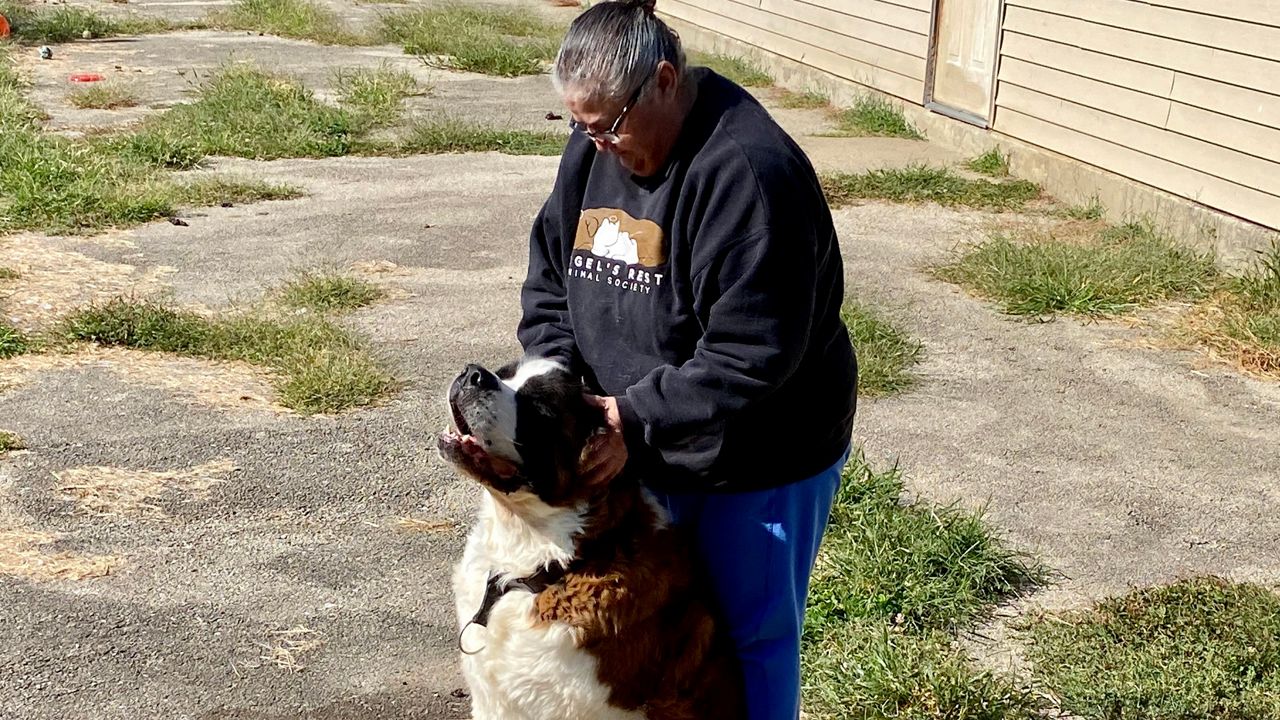 Sitting down in the backyard of the sanctuary, the 190-pound pup flops his head back in admiration for Kinne, waiting for her to pet his chin. As she leans down and hugs his large head, he closes his eyes, soaking in all the attention.
At first glance, you might never know he is a "troubled dog" because as soon as she starts rubbing on his ears and head, he melts into submission, rolling on his back with his tail wagging, giving her the "OK" to run her hands up and down his belly vigorously, to which she obliges.
When taking in animals with bite histories, whether it was aggression towards people or other animals, Kinne looked at several factors that led to their behavior, including their environment, she said.
"A lot of times, if you take them out of that environment, the dog is fine," Kinne said from experience.
A dog can also have triggers that inflame their aggression. But with the personalized attention she gives to each of them, she said she can find what those triggers are and work with them, while also allowing foster families to understand the dog better.
"I think they're misunderstood. I think their aggression, sometimes, becomes a product of their environment. But I also think that it's something in their makeup that can't be changed. I don't think it's one thing only. Dogs are like people; some are just not wired right," she said.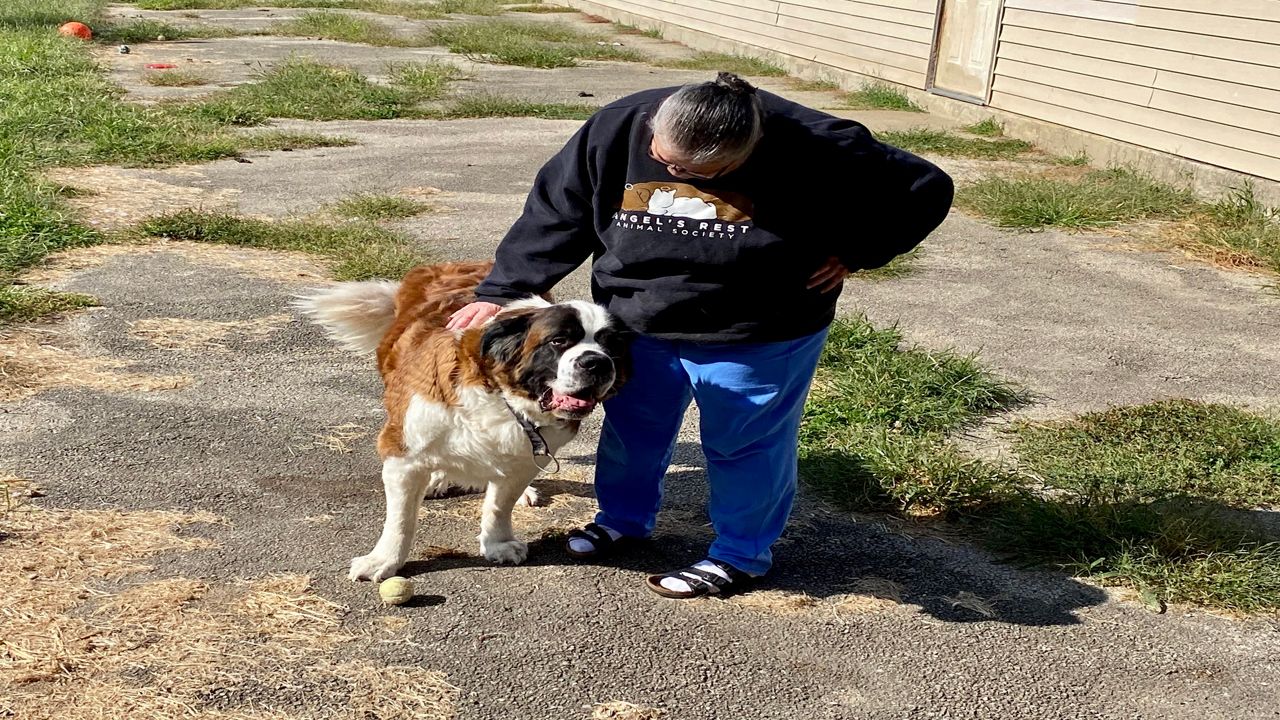 Angel's Rest sits hidden behind a gas station, next to a McDonald's situated along a busy Ohio 125. But inside are the older, misunderstood, sometimes-mistreated, and forgotten animals that Kinne loves and nurtures until their final day.
In fact, at any given time, they have housed 35 dogs and 80 cats, not including approximately 30 foster homes – taking in about 100 animals every year.
Wearing a black sweatshirt with the sanctuary's logo — a brown dog and white cat donning halos — Kinne sits on the couch just inside, reminiscing about all of the dogs and cats she has rescued.
But just past the wooden plaque next to the front door that states: "House protected by guardian angels," the sun shines through a large, picture window overlooking the parking lot.
Beyond the high, chain-linked fence that leads to the paved lot, a heart-wrenching reminder of reality is illuminated.
Kinne pauses for a moment, as one of her employees begins carrying all of the sanctuary's cats in crates, one by one, to her car for transport to foster homes and rescues.
With each passing crate, the echo of meowing rattles Kinne. It's a hard moment for her she said, choking back tears and the lump creeping up her throat.
It has been a difficult time for Kinne, who, just last week, had to say goodbye to a long-time resident, Violet. The Great Dane-mix had been with the hospice for a few years after she was abandoned in a busy highway intersection.
Like many of the animals Kinne has taken in over the years, Violet was not ready to die when she came to Angel's Rest. She was just older and needed help getting around because of weakened hips and a bad back.

Kinne described Violet as a picky eater, so she made her meals in the slow cooker with chicken or beef, brown rice, veggies, berries, and sometimes fish. Not on this day, not on her last day. It was a day fitting for her favorite meal.

Following a cheeseburger and fries, Violet was euthanized with Kinne by her side until her last breath.

"(She) was one of the sweetest dogs to grace our sanctuary," Kinne said in a Facebook post. "She will truly be missed."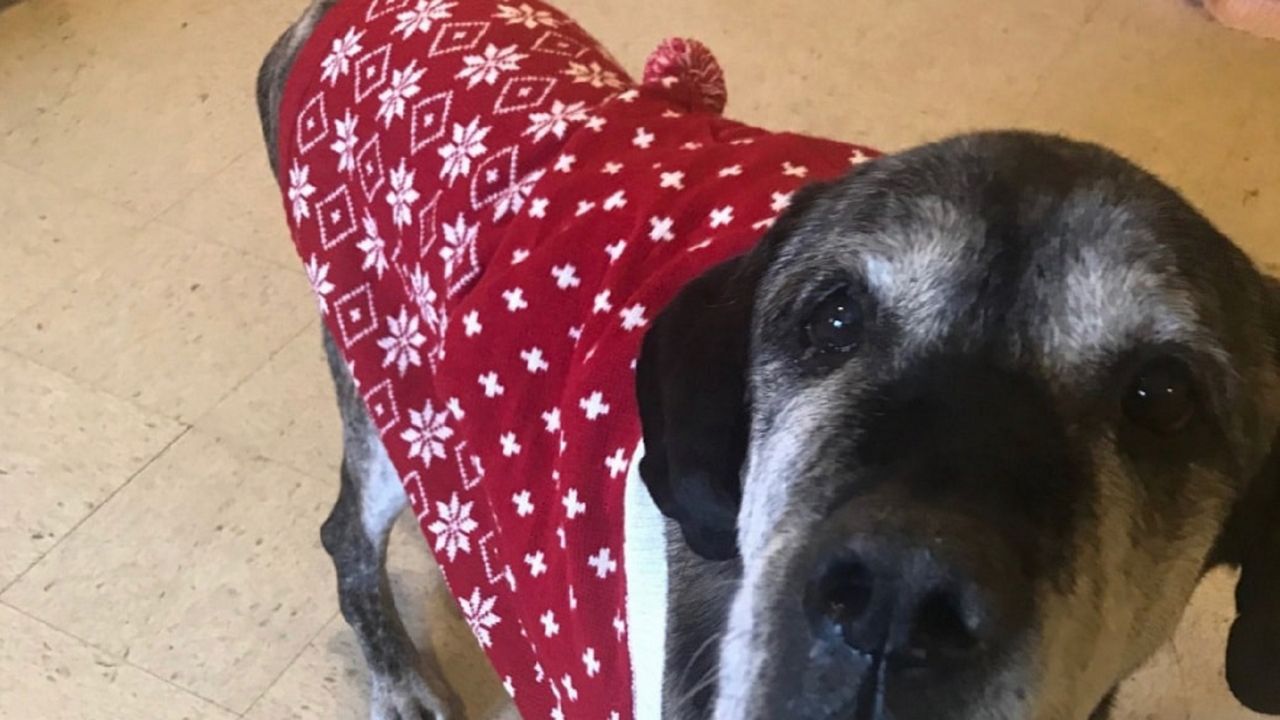 Light Goes Out on Bright Future
In November 2017, Kinne developed a new program called Elder Paws, in which she matched senior dogs and cats who were within the elderly community, in an effort to give both, the human and animal, companionship instead of isolation.

Kinne called the award-winning initiative the "perfect pairing."

"The great thing about Elder Paws is you have a captive audience – you have a whole demographic of people that are dying due to loneliness... they have no reason to live. Now, they have a reason to live. They have a reason they have to get up in the morning," she said.

"That was supposed to be the jewel," she said, once with high hopes for the program.

And last year, the nonprofit was planning an expansion in order to serve more animals, as well as to open a spay and neuter clinic, cemetery, crematory, hydrotherapy room and greenhouse.

The brochure for that planned expansion stated: "Every creature deserves to be happy in the twilight of their life."

"While the concept is amazing, I think the model only works if it's properly funded because it's a very expensive model," she said, noting extreme medical costs and housing the animals.

In fact, she said, the hospice portion of the sanctuary alone costs $275,000 annually to run.

Because of that intense care, she has always been limited on how many she could take in at one time. But each of those animals have received specialized and personalized care from the day they step paw into her center, including home-cooked meals, medicine, vitamins and supplements, water therapy and surgery if needed.

"Whoever came in here, the sky was the limit. They got the best care, home-cooked meals, aromatherapy, whatever they needed, we were able to provide," Kinne said.

But the Elder Paws initiative, expansion and everything else will be coming to an end.

Last year, after an event consultant canceled her services the night before their biggest charity event to raise funds for the expansion, Kinne said, they fell into insurmountable debt.

"We went down in flames," she said.

Before they could recover from that gut-punch to the finances, COVID-19 hit.

Craft fairs Kinne would routinely attend to sell handmade jewelry to benefit Angel's Rest were canceled. Fundraising events and monthly open houses had to be canceled.

It all culminated in the elimination of many regular incoming donations and halting any future events they had on the calendar for fundraising — dashing any hope of future operations.

"Donations are way down because people are uncertain," she said regarding the pandemic affecting small businesses and nonprofits like hers nationwide.

But she takes responsibility for the sanctuary's ultimate demise.

"I made mistakes. I should've paid more attention to volunteers but critical care came first, everything else came second," Kinne said. "My ego is not such that I did everything right and everything was wonderful and COVID killed us. No, I made a lot of mistakes."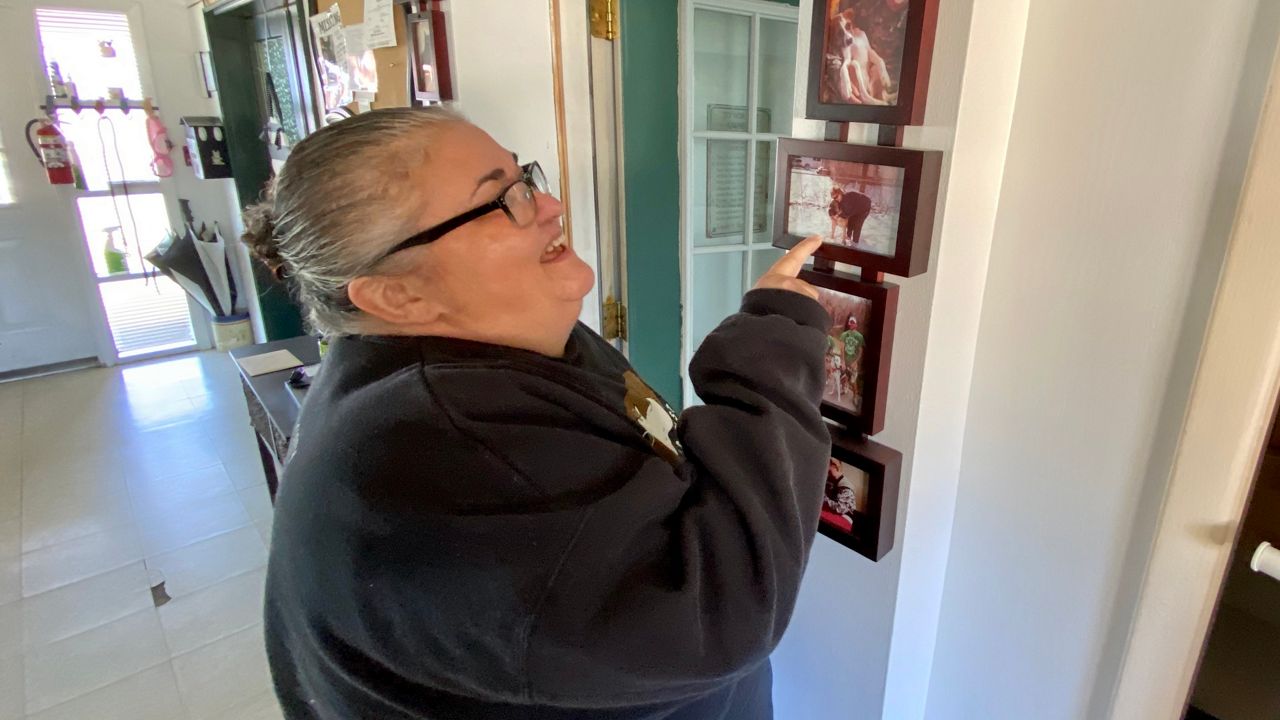 Walking around Angel's Rest, Kinne ruminates, looking at framed photos on the walls of the first adopted dog that came through the sanctuary.

It's a bittersweet and somewhat full-circle memory for her. She recalls each dog and their story vividly from over the years. It brings a smile to her face and tears to her eyes.

"Pets just want to belong," Kinne said. "They're selfless. They don't have an agenda; they just want to love you... they're loyal to you. They're just amazing creatures."

Although she will be closing the doors to the public, she said she will not rest until she finds the last of her dogs good homes. Angel's Rest is looking for approximately ten foster homes for the animals remaining at the center, including a home for T.J.

"I'll keep working until we find them a home. You think I'm going to sacrifice my principles because now it's inconvenient? No," she said. "They'll stay with me if I have to until they find a place."

But she wants anyone interested in fostering to keep in mind, these are special-needs animals, with what she calls "quirks."

"I'm concerned for these guys, that they will be able to have the life that they're used to," Kinne admitted.

"I don't think there's anything more noble than a dog, to me. A dog is everything to me and I can't imagine my life without dogs," she said. "They're just such amazing creatures and people don't recognize that and they exploit them, they mistreat them, they hurt them, they neglect them. All a dog wants to do is be part of a pack."

Angel's Rest is located at 1273 West Ohio Pike in Amelia. If you are interested in donating or foster a dog, call Angel's Rest at 513-947-2727.