LEXINGTON, Ky. — The federal government sent billions of dollars to local schools intending to protect students from the spread of COVID-19 in classrooms by upgrading ventilation and filtration systems. It has been difficult, however, to determine exactly how schools and districts spent that money and if they used it for its intended purpose.
---
What You Need To Know
CARES Act provided billions to schools


One intent of funds was to improve ventilation and filtration in classrooms


Federal government has limited ability to track spending


One Kentucky school district used some relief funds to upgrade football fields and tracks
---
In the year and a half since millions of children were sent home, the U.S. Department of Education has done limited tracking only of how the money has been spent. That has left officials in Washington largely in the dark about how effective the aid has been in helping students, especially those whose schools and communities were among the hardest hit by the pandemic, according to a report by ProPublica.
Kentucky received $2 billion total in ARP ESSER funds; nearly $1.4 billion in March 2021 and more than $600 million in August 2021.
States are supposed to track spending using the American Rescue Plan Elementary and Secondary School Emergency Relief Fund (AEP ESSER) Comprehensive Monitoring Protocols, but many states do not have a system in place to do so, according to the Education Commission of the States.
The Associated Press reports some school districts have spent money meant to increase safety and improve learning on athletic stadiums, weight room renovations, turf for football fields and resurfaced running tracks, with the latter being the case at Pulaski County Schools.
In September, the Pulaski County school board adopted a resolution to resurface two outdoor tracks and add turf to two football fields. Superintendent Patrick Richardson called it a health-and-wellness project that falls within the scope of the federal funding, saying it will "allow our students to be taken out for mask breaks, by class, in a safe environment."
According to an article in the Commonwealth Journal in Somerset, the county seat of Pulaski County, the school board unanimously approved a BG-1 — the document school districts submit to get the Kentucky Department of Education's consent for construction or renovation projects — for "Pulaski County Athletic Upgrades."
"I'm excited for our community and our schools that our board is forward-thinking and ready to move forward with a turf project for our high schools," said Patrick Richardson, superintendent of Pulaski County Schools.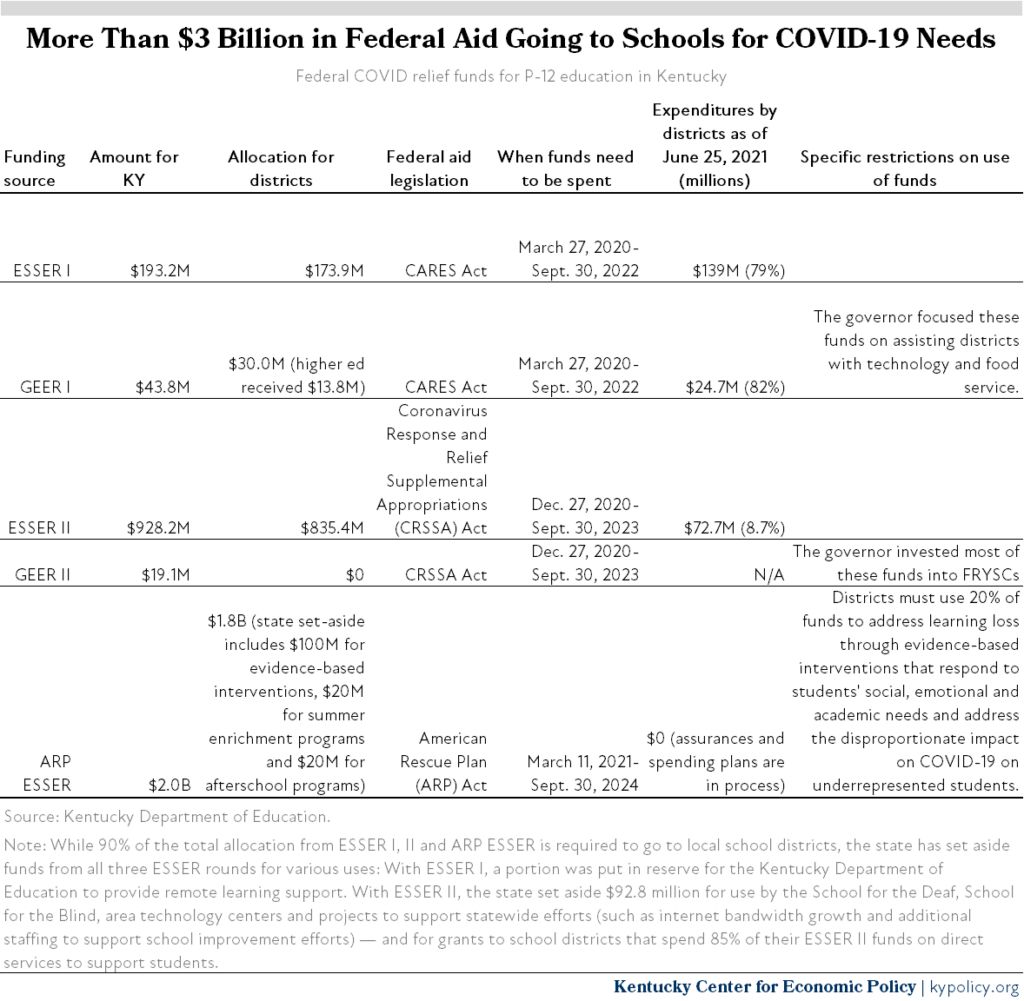 The proposed project entails the reconstruction of the track and field facilities at both Pulaski County High School and Southwestern High School, including the replacement of existing grass football fields with synthetic turf and new cushioned track surfaces.
The estimated total cost of the project is $4.275 million and will mostly be paid for through a general fund bond sale.
"We want to have facilities that are great for our students," Richardson said, adding that another benefit is that more groups may use the fields. "We try to protect the fields right now because of the damage that is caused to grass fields; we try to limit the use of them for mostly football. We're going to allow more groups to use the new turf fields more often."
Richardson added the turf fields would be lined for soccer and could also be used for baseball and softball during inclement weather.
"We want to work with our local youth football leagues to have them playing on those surfaces on the weekends," he added. "I'd encourage our middle school teams to play on those fields as well. It's not just a football project, and it's not going to be just a football field. Our goal, and I feel the goal of the board members, is to provide a venue for multiple opportunities for our students."
Jefferson County Public Schools (JCPS) Communication Manager Mark Hebert provided Spectrum News 1 with details about how the Commonwealth's largest school district has spent its $605 million in ESSER funding.
As of Dec. 31, 2021, Hebert said JCPS has spent more than $70 million on technology, $188 million on teachers' and other certified salaries, $13 million on supplies and around $15 million on nutrition. Other expenditures include contract services, indirect costs and substitute teachers, among others.
Critics of using ESSER funds for construction and upgrading sports facilities say doing so violates the legislation, but school officials argue the projects support students' physical and mental health, one objective allowed by the federal government, according to the AP.
United States Rep. Bobby Scott, D-Va., the top Democrat on the U.S. House education committee, said the money should not be used to fund athletics at the expense of academics.
"The purpose is clear: It's opening safely, staying open safely and dealing with learning loss," Scott said. "These are targeted resources needed to address the fact that a lot of children just didn't achieve much for about a year."
While school districts are required to tell states how ESSER money is being spent, some are using local funding for sports projects and then replacing it with federal relief — a maneuver that skirts reporting requirements, according to the AP.
The U.S. Department of Education Office of the Inspector General has urged schools to track the spending more closely.
"Effective oversight and monitoring of CARES Act programs and operations are critical to ensure that funds are used for the purposes intended and that goals and objectives are achieved," according to a statement from the Office of the Inspector General. "This is a significant responsibility for the Department given the vast number of entities that will receive education-related CARES Act funding, even as the Department must continue its efforts to administer existing programs."
U.S. Secretary of Education Miguel Cardona, Kentucky Commissioner of Education Jason Glass and U.S. Rep. John Yarmuth, D-Louisville, praised Kentucky's ESSER spending plan in a press release.
"I am excited to announce the approval of Kentucky's plan," Cardona said. "It is heartening to see, reflected in these state plans, the ways in which states are thinking deeply about how to use American Rescue Plan funds to continue to provide critical support to schools and communities, particularly as we move into the summer and look ahead to the upcoming academic year. The approval of these plans enables states to receive vital, additional American Rescue Plan funds to quickly and safely reopen schools for full-time, in-person learning; meet students' academic, social, emotional and mental health needs; and address disparities in access to educational opportunity that were exacerbated by the coronavirus pandemic. The state plans that have been submitted to the Department lay the groundwork for the ways in which an unprecedented infusion of federal resources will be used to address the urgent needs of America's children and build back better."
Glass said Kentucky's plan will assist in the safe reopening and in-person operation of schools, while addressing not only the academic needs of students but their social, emotional and mental health needs as well.
"Instead of returning to the traditional way of doing things, our priority is to return to a better than normal school year," he said.
Yarmuth said the pandemic has presented countless challenges for students, parents and educators inside and outside the classroom.
"As the lead sponsor of the American Rescue Plan, I'm proud to have played a part in securing this funding — the largest one-time investment in K-12 education in our nation's history," he said.
Kentucky's approved ARP ESSER plan shows using federal pandemic resources to support safely reopening schools and sustaining safe operations, addressing the academic impact of lost instructional time, and investing in summer learning and expanded afterschool programs.
Each school district in Kentucky submitted plans for using the ESSER money when allocation amounts for all rounds of funding were announced.
The Kentucky Department of Education has also been tracking district use of CARES Act funds. The state invested some of its American Rescue Plan Act funds that were not specifically for education to address school construction needs, which are estimated to be more than $7 billion, according to the School Facilities Construction Commission at a July 2021 School Funding Task Force meeting.
Dr. Houston Barber, the president of the Kentucky Association of School Superintendents, said most districts used the first round of federal funding on pressing needs. That included things such as paying for the technology needed to allow students to work from home and building upgrades to make it safer for students to come back in person.
Spectrum News 1 KY reported this past summer many districts used ESSER II funds to pay for initiatives to help students make up for the lost time. In Rockcastle County, that includes an expanded summer school programming with a camp-like feel.
"We wanted to really bring back that opportunity over the summer for them and re-imagine what school looks like. It was important for us in Rockcastle County to draw our students back," said superintendent Carrie Ballinger. "Many of our students participated virtually this school year, and we wanted to re-imagine school and rebuild that love of learning and get them back to us. We had a very intentional focus on a camp atmosphere."
Daviess County Schools hired seven new mental health professionals. Superintendent Matt Robbins said those hires resulted from ESSER funds.
Johnson County Schools highlighted its use of federal funds for instructional technology and digital platforms to support consistent communications among all stakeholders at a legislative meeting.
Education Week compiled a database that shows how much COVID-19 relief aid each school district in Kentucky received.
School districts have until 2024 to spend all the federal funds.