LOS ANGELES — Retired Los Angeles police Sgt. Cheryl Dorsey is skeptical of the calls to defund the police. But she understands why there is a schism between those calling to defund the police and those wanting budgets to go untouched.
"If you haven't experienced an officer being aggressive with you, you wouldn't have an issue with police," Dorsey said. "If your experiences are of the good ones, you're going to be happy to see them. It's different when you have a family member who is calling police looking for assistance, and they wind up beating that loved one or killing them. You're going to think, why would I call them going forward?"
According to an exclusive Spectrum News/Ipsos poll, Angelenos are split nearly down the middle when it comes to whether local governments should reduce police department budgets to increase investment in social programs. Forty-six percent of those surveyed in the Los Angeles area supported the idea of reducing local police budgets, versus 45% who opposed reductions.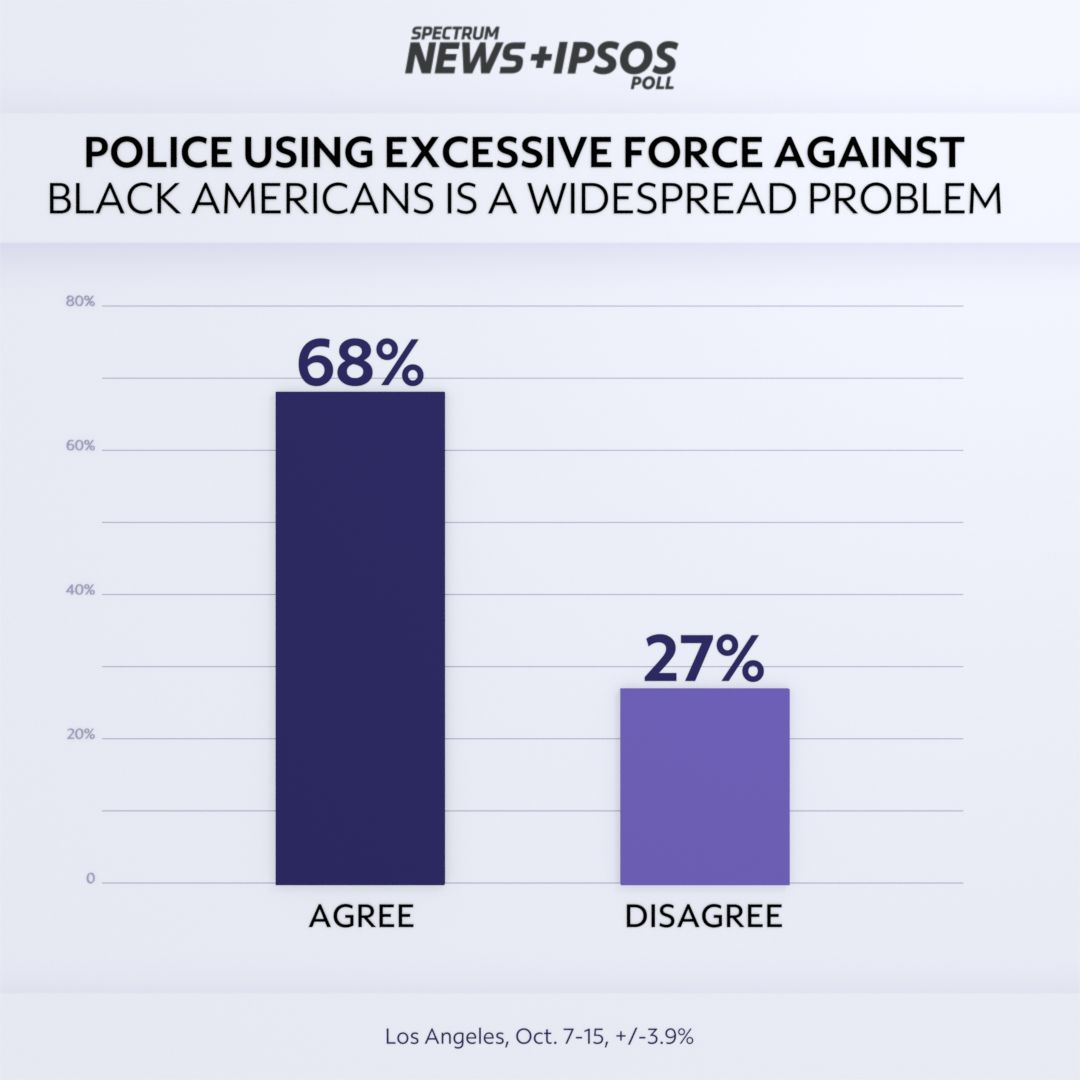 Yet more than two-thirds of surveyed Angelenos agree that the use of excessive force against Black or African American people is a widespread problem (68% agreeing, 27% disagreeing), and 60% of Angelenos support the Black Lives Matter movement, versus 30% who do not.
What this tells Chris Jackson, senior vice president of Ipsos, is that people passionately support social-justice causes in the immediate aftermath of a "horrible event" — such as the killings of George Floyd or Breonna Taylor by police. And though that passion inevitably fades, he's found that the greater sentiment of support for social justice movements has grown over time.
"We've certainly seen support for Black Lives Matter decline a bit since the heart of when the protests were happening in June," Jackson said. "But it's still much more robust than it was during the protests in Ferguson," in 2014, following the killing of Michael Brown by police officers.
Dr. Erroll Southers, of USC's Price School of Public Policy, finds it interesting that people across Los Angeles and California alike have gotten on the same page regarding issues of racial inequality and excessive force.
"But the other thing I find interesting about 'defunding the police' is that even though African Americans and Latinx people were stopped three-to-four times more than white Angelenos, those communities of color called the police at a rate higher than other communities," Southers said, "which means they still want the police."
Southers is the director of USC's Safe Communities Institute, a retired police officer, and a former Chief of Homeland Security and Intelligence for the Los Angeles World Airports Police Department. He has also opposed the movement to defund policing. In October, Southers's team released a report indicating that police stop people of color significantly more than white Angelenos, but that citizen-initiated calls for police have increased in recent years.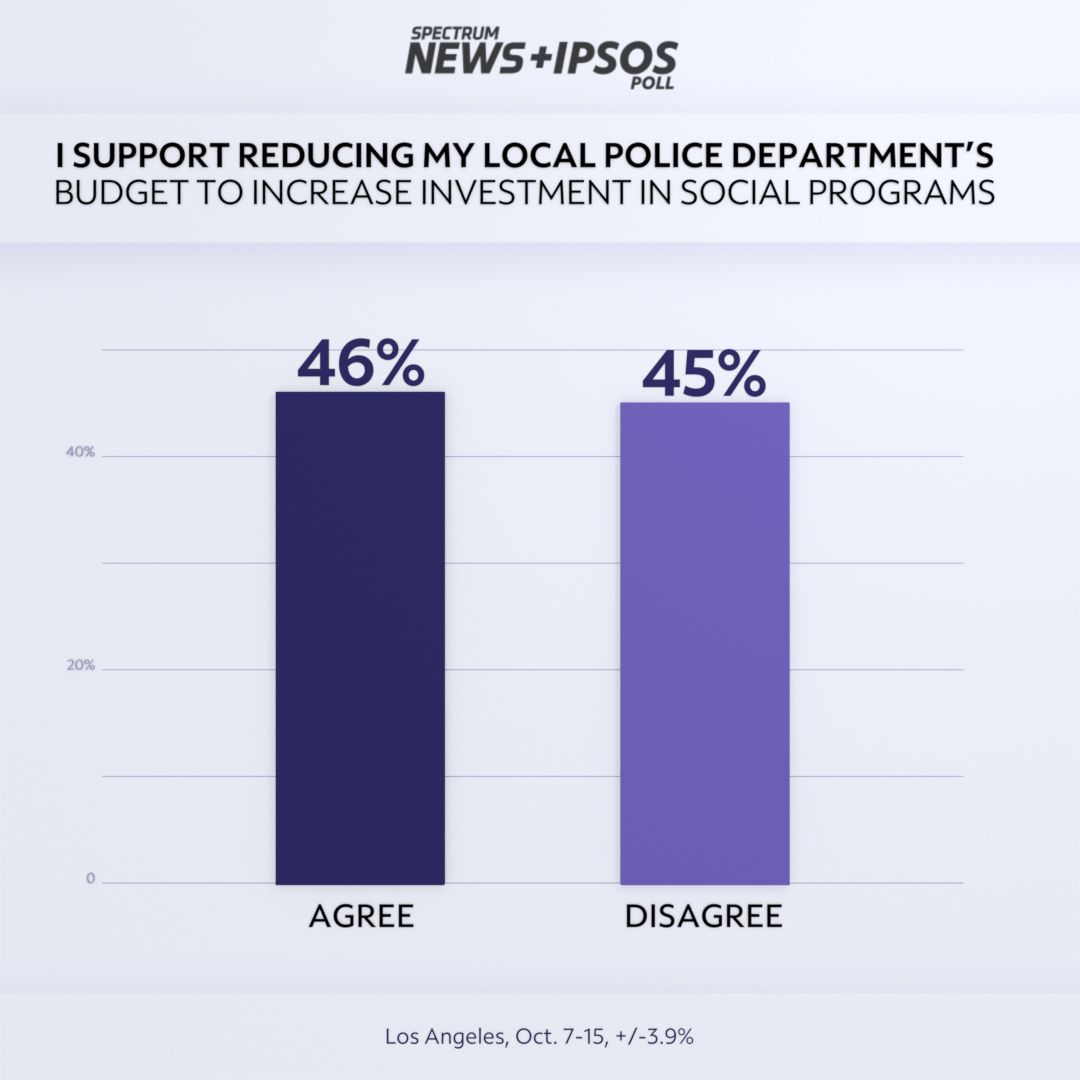 "What I'm seeing in this survey and in our survey is that people are still not hesitant to call for police to respond to issues that require them," Southers said. "Don't get me wrong; that doesn't remove the need for policing to inject a little bit of humanity into what they're doing."
Officers, he said, end up coming out of training more prepared for the 3% of times that calls may end with violence, rather than the 97% of calls that are peaceful. "They come out more as warriors than going into a community acting like a guardian," Southers said.
Where the growth in support for social movements such as Black Lives Matter comes from, Southers believes, is the widespread growth of cellphone cameras.
Southers, along with many other members of the Black community, thought that the 1993 trial of LAPD officers filmed beating Rodney King would end the disbelief that people of color face when they accused police of excessive force. When those officers were acquitted, he—like many others—was stunned.
"But now, there are so many videos," he said. "That's the reason you're seeing the increase in support for BLM and the belief that excessive force is systemic. That's just the video we're seeing, this documentation now."