Good morning, SoCal. Here's what you need to know today.
Your Weather Planner
Give yourself some extra time driving into work this morning because of fog, mainly over inland cities.
The rest of the day will be partly sunny to mostly cloudy with some beaches not clearing much.
Temperatures remain cool to mild and five to 10 degrees below average due to a storm moving across the west later today. Rain will mainly fall in Central and Northern California, with drizzle possible in SoCal.

Get your 7-day forecast: LA West | LA East | San Fernando Valley/Ventura County | Orange County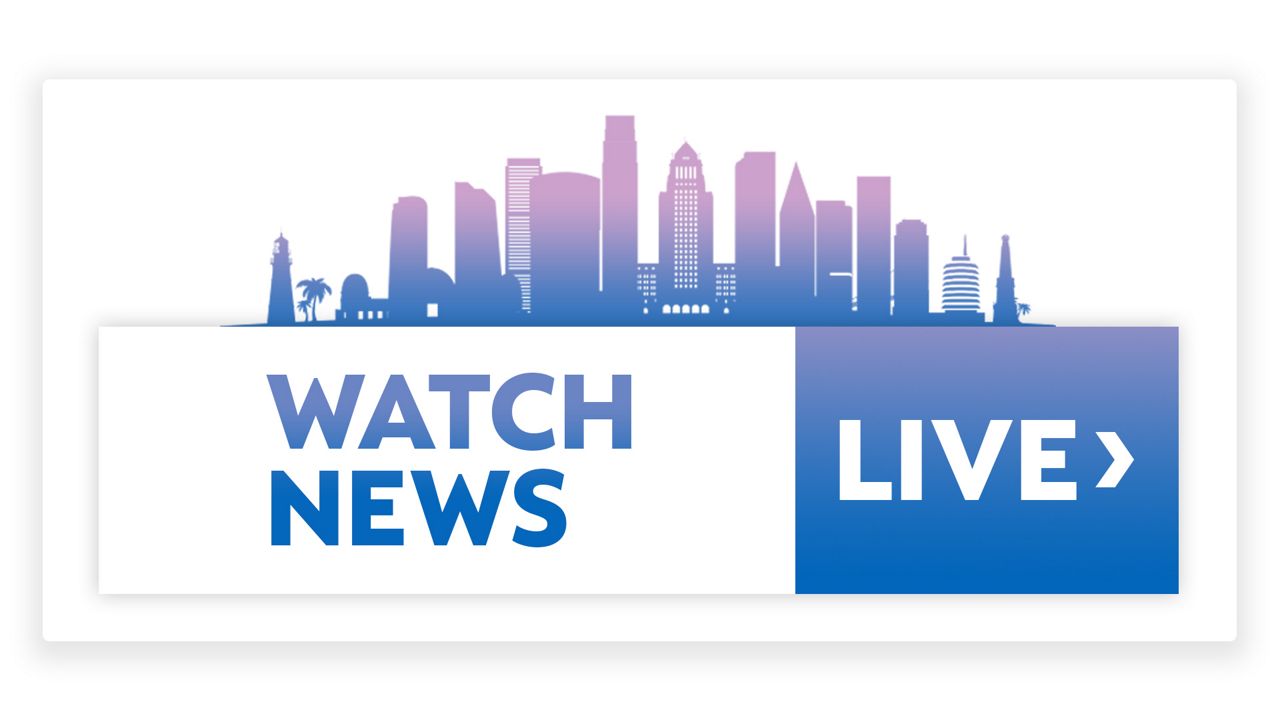 Around SoCal
1. Proof of vax required as strict mandate takes effect in LA
Yoga studio owner David Gross felt relieved after Los Angeles passed a vaccine mandate that is among the strictest in the country, a measure taking effect Monday that requires proof of shots for everyone entering a wide variety of businesses from restaurants to shopping malls and theaters to nail and hair salons.
For Gross, the relief came from knowing he and his co-owner don't have to decide whether to verify their customers are vaccinated unilaterally. In another part of town, the manager of a struggling nail salon feels trepidation and expects to lose customers. "This is going to be hard for us," Lucila Vazquez said.
Los Angeles is among many cities across the U.S., including San Francisco and New York City, requiring people to show proof of vaccination to enter various types of businesses and venues. But rules in the nation's second-most-populous city, called SafePassLA, apply to more types of businesses and other indoor locations, including museums and convention centers.
They are being implemented as new cases have started inching up following a sharp decline from an August peak driven by the delta variant.
2. Petition calls for Travis Scott to be dropped from Coachella Festival lineup
A petition calling for the removal of Travis Scott from the lineup of the Coachella Valley Music and Arts Festival, which the rapper is set to headline in April, received hundreds of signatures as of Sunday afternoon in the wake of a crowd surge that resulted in eight deaths during Scott's performance at a music festival in Houston.
The crush of concertgoers occurred Friday night at the sold-out 2021 Astroworld Festival at NRG Park, where an estimated 50,000 people gathered. Eight people between the ages of 14 and 27 died and another 300 were injured, according to Houston officials.
The 30-year-old Houston rapper has a reputation for putting on raucous shows and has previously been arrested for onstage antics that incited wild behavior. In 2015, he was arrested after encouraging fans to rush past security barriers and join him onstage at the Lollapalooza festival in Chicago. He later pleaded guilty to a disorderly conduct charge.
Two years later, he was accused of inciting a riot at the Walmart Arkansas Music Pavilion in Rodgers, Arkansas, after urging members of the crowd to rush the stage. Several people were injured, including a security guard and a police officer. Scott pleaded guilty to disorderly conduct and he was ordered to pay court fees and restitution to two injured people.
A petition started on Friday on Change.org urged Paul Tollett, the co-founder of the festival, and promoter Goldenvoice, along with its parent company AEG, to drop Scott from all of its festivals "due to Scott's own gross negligence and sheer lack of compassion for human life."
Scott is scheduled to be the headliner on each of the Saturdays of the two-weekend Coachella festival, which is slated to run on April 15-17 and April 22-24. He previously performed at the festival in 2017.
3. Turnovers, penalties plague Rams in loss to Titans
Kevin Byard returned Matthew Stafford's second consecutive interception 24 yards for a touchdown, and Tennessee's defense carried the Titans to a 28-16 victory over the Los Angeles Rams in a showdown between conference co-leaders Sunday night.
Jeffery Simmons had three of Tennessee's five sacks of Stafford during a stifling performance against the Rams' prolific passing offense. Stafford crucially threw back-to-back interceptions that the Titans turned into 14 points in 11 seconds of the second quarter, sending them well on their way to their fifth consecutive victory.
Stafford passed for 294 yards and threw the 24th pick-6 of his career — most among active quarterbacks — during easily the worst game of his debut season with the Rams (7-2). Los Angeles' four-game winning streak ended in just the fourth meeting in 15 years between two teams with their conferences' top records.
After generating MVP talk for his outstanding eight-game start to the season, Stafford looked shaky and confused against Tennessee's defense in the first half.
Los Angeles, the NFL's least-penalized team, also got flagged 12 times for 115 yards — the most yards in coach Sean McVay's career.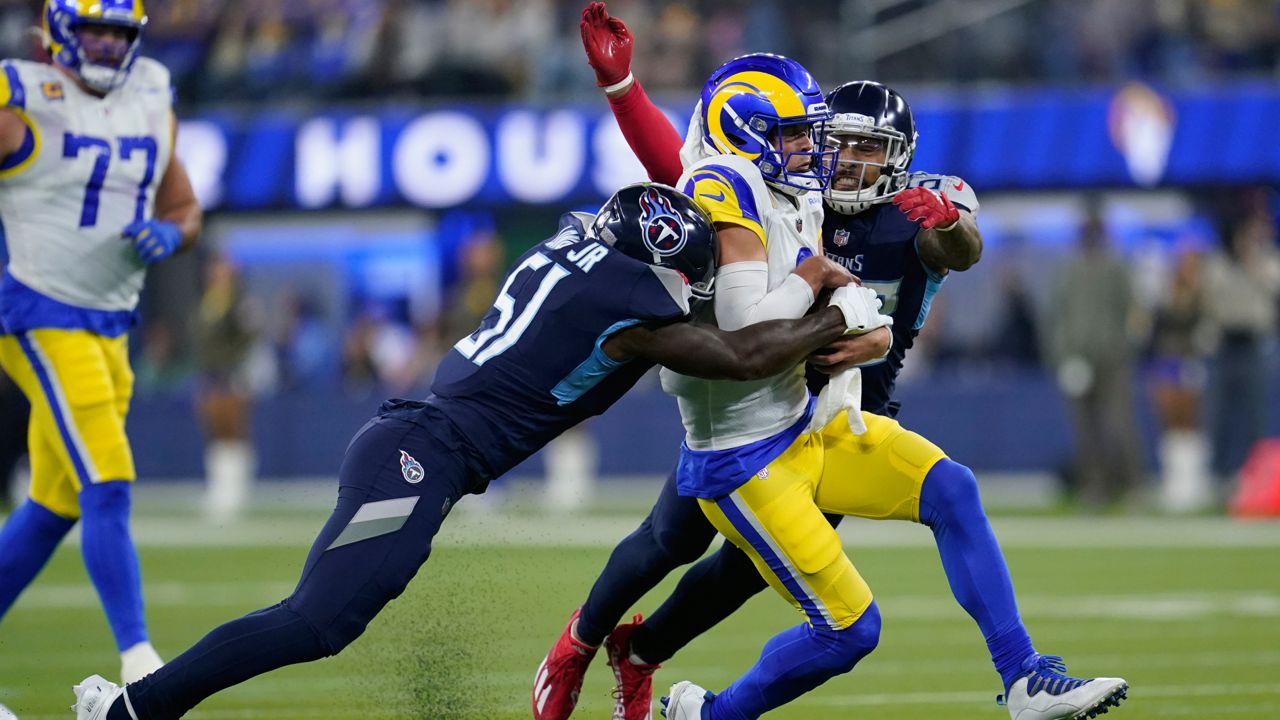 Around the Nation
1. As ban lifts, visitors to U.S. await long-delayed hugs, kisses
2. Satellite images show China built mock-ups of U.S. warships
3. Obama hits Russia, China for 'absence of urgency' on climate
Only on Spectrum News 1

O'Shea Jackson Jr. stars in new drama series inspired by Kevin Durant's life
Kevin Durant executive produces the new Apple TV+ series, "Swagger," a drama based on his childhood experiences in the world of youth basketball.
O'Shea Jackson Jr. plays a former star player who is now a youth basketball coach.
Click the link above for five things you need know about the film.
SoCal Snapshot

Fans make their way to SoFi Stadium before kickoff of the Tennessee Titans and Los Angeles Rams football game on Sunday in Inglewood. (AP Photo/Marcio Jose Sanchez)