Despite the ongoing debate over mask requirements in the state and nationally, a majority of Californians favor wearing masks or face coverings in most common public places, according to an exclusive Spectrum News/Ipsos poll.
According to the survey, about eight out of 10 Californians support face mask requirements at work, inside buses and trains, restaurants, grocery and retail stores, schools and sports arenas.
"What stood out for me regarding this poll was how strong and widespread support is for masking up in public places," said Mallory Newall, vice president of public affairs at Ipsos, a nonpartisan market research and consulting firm.
"It's not only widespread, but there is a lot of bipartisan support," she said, adding about nine out of 10 Democrats in the state support mask-wearing. More than half of Republican respondents also support it, she said.
The poll, conducted at the end of August, highlights the overwhelming support most California residents have regarding face mask requirements, unlike other states that have pushed back on a mask mandate.
The exclusive Spectrum News/Ipsos poll surveyed nearly 2,100 state residents online from Aug. 26 to 31.
The participants ranged in gender, age, race, ethnicity and education level, Newall said. The survey was available in Spanish and English.
The wearing of masks or face coverings and implementing a mask mandate has become a fiery contentious political issue in certain places in the state and across the nation as workers head back into the office and schools resume in-person learning amid the coronavirus pandemic.
In July, the California Dept. of Public Health issued guidance outlining the requirement for masking indoors. In California, people must wear a mask, regardless of vaccination status, when inside public transit, schools, childcare facilities, hospitals, senior care centers and other facilities.
The state also requires unvaccinated people to wear masks in retail buildings, restaurants, movie theaters and other areas.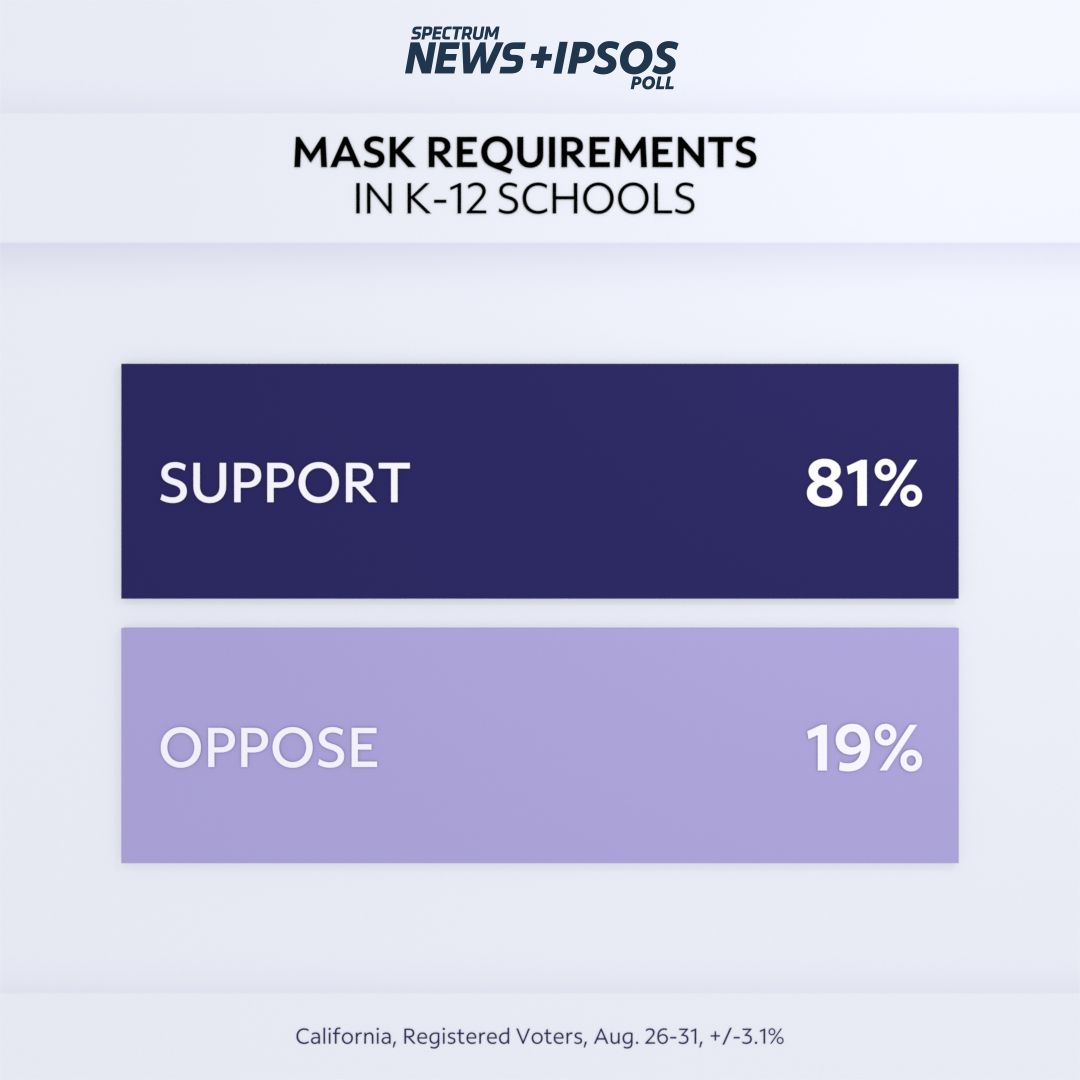 Since school began, seething parents and outraged community members have flocked to their local school boards. Many have argued that wearing masks in classrooms restricts a child's oxygen flow or could hurt their long-term ability to recognize facial expressions or other nonverbal forms of communication.
But the poll found those critics are just a vocal minority.
According to the Spectrum News/Ipsos poll, most Californians support wearing maks, especially in schools. The poll found 81% of respondents support wearing face coverings inside office buildings, schools and sports arenas, and 78% at restaurants and bars.
Newall said the reasons vary, but two stand out: Since the beginning of the pandemic, there's been a strong signal from state political leaders about the importance of masks wearing to slow the spread of the coronavirus; and, unlike other states that have partisan divisions, "California is a highly Democratic state," she said.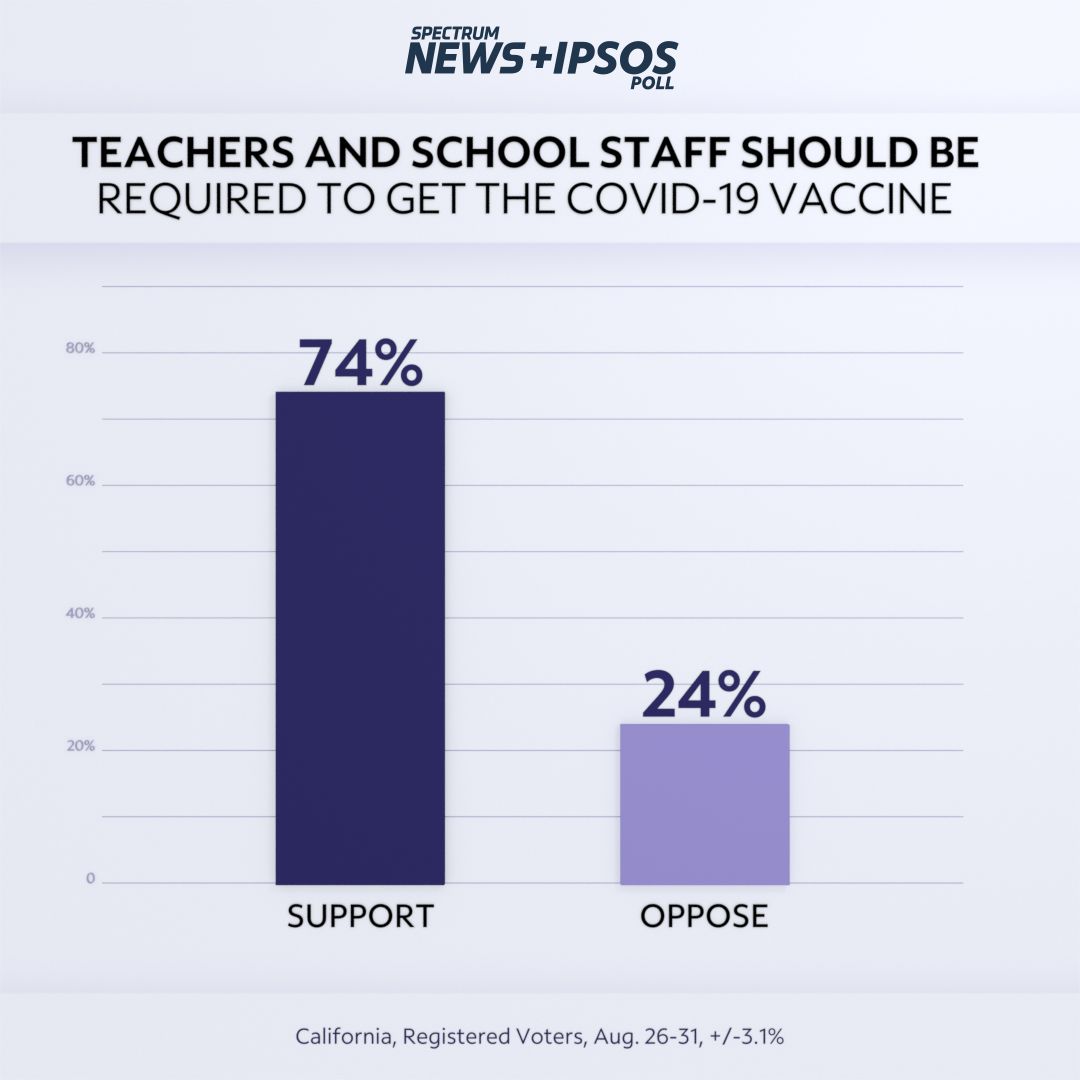 Additionally, with the mask mandates, nearly three-quarters of poll respondents believe teachers and school staff should be vaccinated before returning to in-person learning.
The Spectrum News/Ipsos poll found that 74% of respondents favor requiring teachers and school staff to be vaccinated.
"Again, we see here, around three-quarters of all Californians support the requirement that teachers and school staff should be vaccinated," said Newall. "Again, like the mask mandates, it really echoes that there is a strong and high level of support [for mandating teacher vaccination] that we certainly don't see on a national level."