LOS ANGELES — A section of the 101 Freeway will temporarily close for repairs starting May 21, the Los Angeles Bureau of Engineering announced Thursday.
The section of road that will be affected is under the Sixth Street Viaduct between State Route 60 and the 10 Freeway Interchange. The closure will last from 10 p.m. Saturday, May 21, to 10 p.m. Sunday, May 22.
While the Bureau of Engineering will work to restore the median and repair the roadway, the California Department of Transportation will be doing slab replacement work along the same 2-1/2 mile stretch of freeway while it is closed.
Drivers will be redirected from the closed section of Route 101 and its corresponding on- and off-ramps during the closure. The repairs are happening around the east side of the Sixth Street Viaduct construction site in Boyle Heights.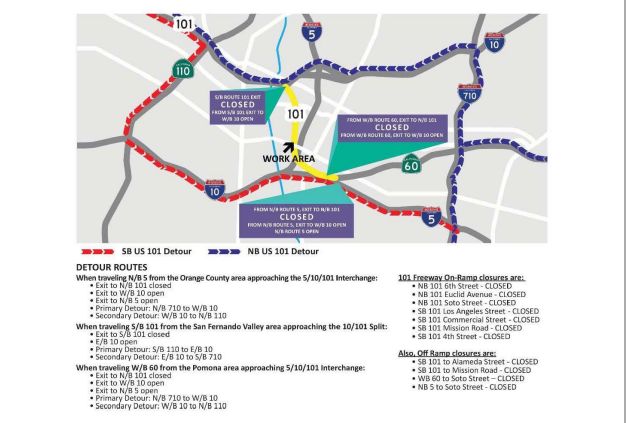 Travelers heading North on Interstate 5 from Orange County or heading West on State Route 60 from Pomona will be rerouted as they approach the 5/10/101 interchange. Travelers heading south on the 101 from the San Fernando Valley will be detoured as they approach the 10/101 split.
The roadwork is being completed as the city works to replace the Sixth Street Viaduct, which was built in 1932 and had become seismically deficient. Its $588 million replacement will stretch between Boyle Heights and the Arts District. The largest bridge project in LA history, city officials expect it to be finished this summer.