LOS ANGELES — Los Angeles International Airport is marking some major milestones this week in its $15 billion transformation to prepare for the 2028 Olympics. Four years after Los Angeles World Airports embarked on its capital improvement campaign for LAX, it can be difficult to see the plan's vision through all the construction, but it will become more clear this week as the airport reopens the Delta Air Lines terminal and begins laying track for its highly anticipated People Mover.
Terminals 2 and 3 have a new centralized headhouse that opens to the public Wednesday. Servicing 27 airplane gates, the redesign consolidates and modernizes the ticketing, check-in, baggage claim and security screening.
Designed to be a seamless experience for travelers, passengers on departing flights can check their bags hands-free using their digital identity. The new check-in area includes 32 self-service kiosks and 46 check-in positions. Seven security lanes will be available this week and another seven by the end of summer, 11 of which will be automated. For returning passengers, there are six baggage claim carousels.
The $2.3 billion terminal modernization project is the first part of a phased opening that will continue through next year with a new Terminal 3 concourse and a bridge that will connect it to the Tom Bradley International terminal next door, without passengers needing to go through a second security screening.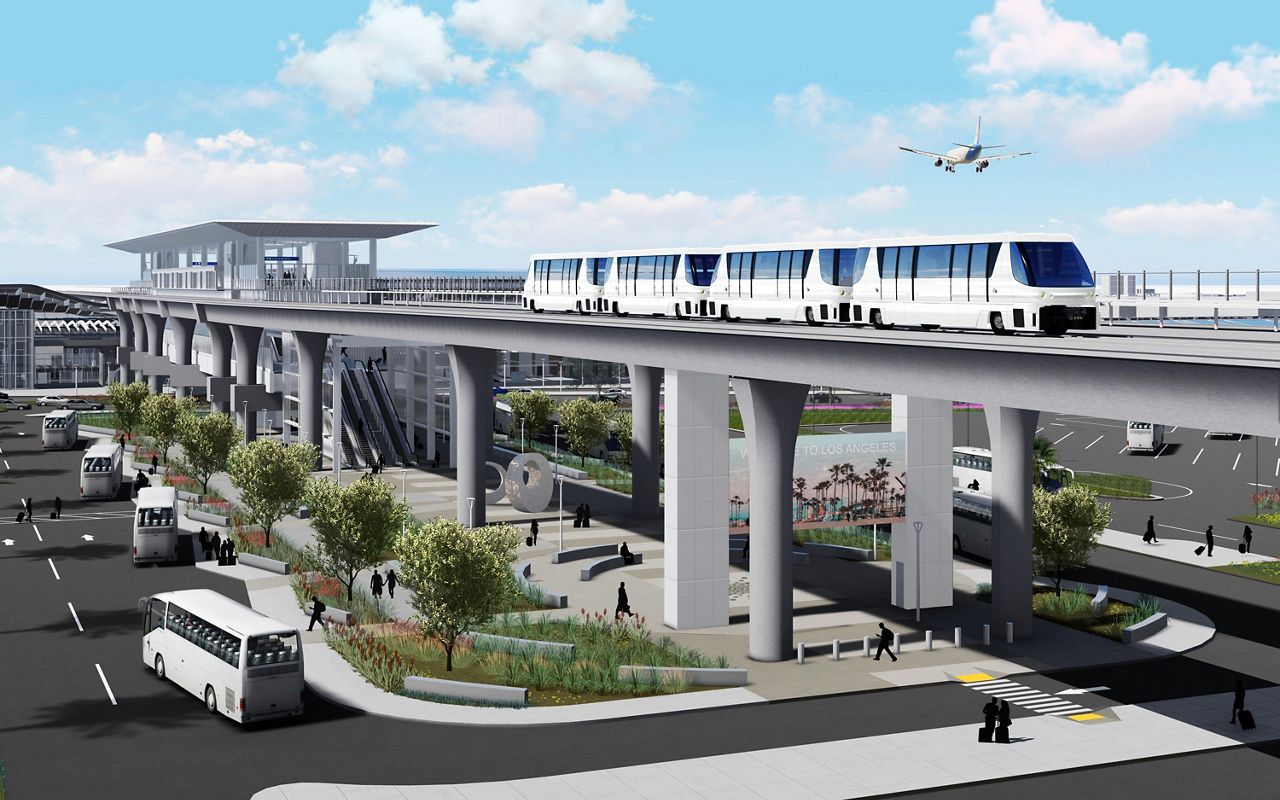 This week, the last bit of concrete is being poured for the long-awaited People Mover train system that will shuttle people in and out of the terminals. The elevated, automated and electric rail system stretches for 2-1/4 miles from the terminals past the Federal Aviation Administration tower toward Sepulveda Boulevard and over Century Boulevard.
Los Angeles World Airports will now begin laying the track in anticipation of the electric train cars that it will receive later this summer. The airport anticipates beginning track testing the train cars by year's end, and opening the People Mover to the public by the fall or winter of 2023.
The People Mover will not have a driver. It will be controlled from the LAX maintenance facility, also under construction, and will be manned 24/7. The train will operate every two minutes during peak operating hours from 9 a.m. to 11 p.m. Rides are free and will last ten minutes.
Passengers will board the People Mover from a platform accessed with new pedestrian bridges that connect to each terminal. Designed to reduce traffic in the terminal area, the People Mover connects to three stops outside the terminals: the new economy parking area that LAX opened last year, a stop on Aviation Blvd. that connects with the new Metro Crenshaw line opening later this year, and a new consolidated rental car facility on 96th Street that will open late next year along with the People Mover.