LOS ANGELES — One of the missions of CicLAvia is to connect Angelenos with their neighborhoods, including engaging riders with the many local businesses along the event routes like Earle's on Crenshaw.
Although the menu has changed over its 30 years, Cary Earle said the philosophy at Earle's on Crenshaw has remained the same.
"It's a customer service business and you make people happy," said Earle. "That's it."
It all started with a rolling hot dog cart back in the early 1980s and now at its brick and mortar along the Crenshaw Corridor. Earle's is the kind of place that grows with the community.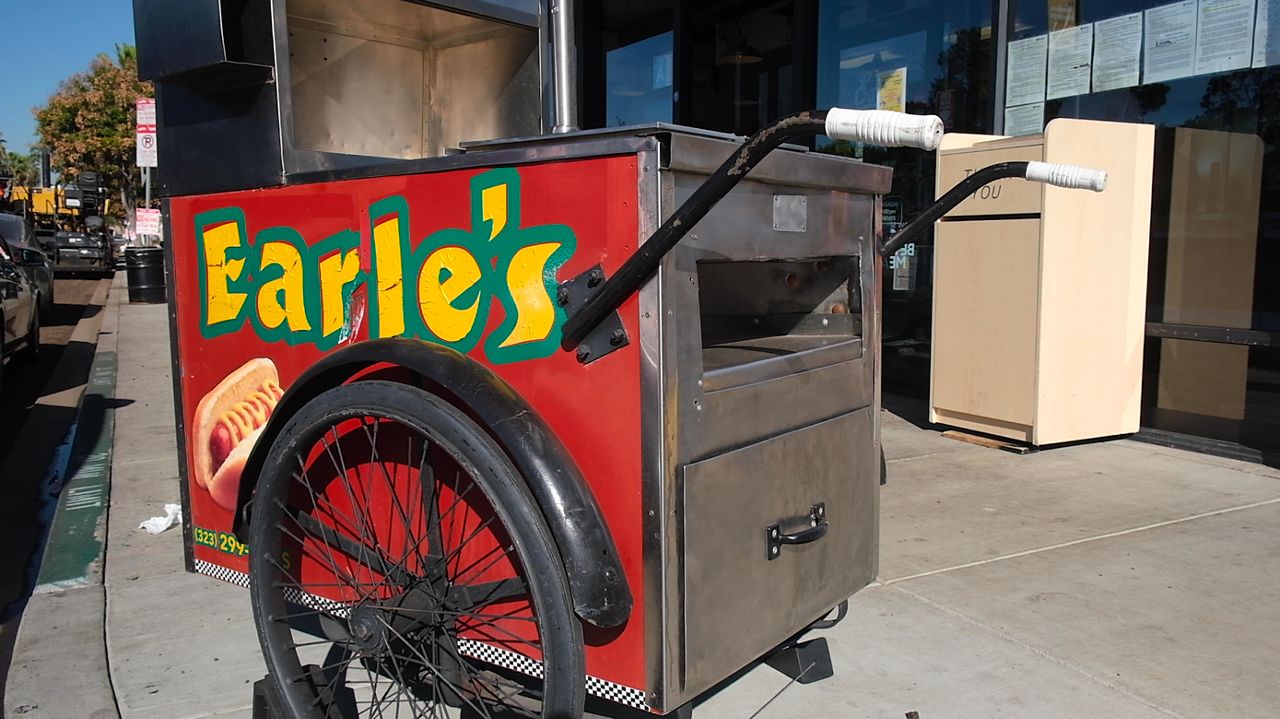 "In our case, we have customers that have been eating our food since they were 5 and 6 years old, and their parents used to bring them," said Earle.
The menu at Earle's is simple, a combination of homey comfort foods and now healthier no-meat options, but it did take some time for Earle to feel that plant-based foods were up to the quality he demands here.
"Initially, I thought it was a trend but that was 20 years ago, and I've seen it progress," said Earle. "I've seen the food get better where it doesn't taste like cardboard anymore. It's not a trend anymore. It's mainstream."
Earle's on Crenshaw is a featured business/community partner at this month's CicLAvia community bike ride on Dec. 5. Earle has been riding at the CicLAvia events whenever he can and said the car-free event reminds him of another LA tradition.
"It reminds me of how the LA Marathon used to be before they went to Dodger Stadium," said Earle. "You'd see about 10,000 bikes going by, but family bikes."
CicLAvia's chief strategist Tafarai Bayne is one of those who has been coming to Earle's since he was a kid. He said Earle's is the kind of grassroots business that CicLAvia likes to spotlight along their routes.
"This event is really about bringing people to communities and letting the community showcase itself and shine," Bayne said.
Each CicLAvia winds through a different neighborhood and organizers go to every business along the route to inform them of the event which, over its 11 years, has been helping build community and partners with many local businesses.
"Earle's is a great example of a business that already gives back so much to the community," said Bayne. "Being able to partner with businesses like this for the events is really important."
Cary Earle added that CicLAvia is also a great way to engage with new customers and grow the business and he looks forward to seeing some new faces as well as old regulars like Tafarai.
"We're gonna get a lot of people coming to the community that have never been here before," Earle said. "So, it's a great opportunity for us to showcase what we do here."