EDITOR'S NOTE: Multimedia journalist Sarah Pilla spoke with Mashall Fried about getting a Rivian truck. Click the arrow above to watch the video.
LOS ANGELES — When Rivian unveiled its R1T in LA three years ago, a video showed it speeding across dirt, climbing rocks, wading through water — and doing it all with zero emissions.
The crowd at the event went wild. Finally, there was an all-electric pickup truck that seemed as capable as it was attractive. But the question remained: Would it actually be built? And if it was, would it do all the things Rivian claimed?
Having raised more than $10 billion in investments from Amazon, Ford and other believers in the years since, and having started production in September for more than 150,000 pre-orders, the answer to the first question is a simple yes. From someone who drove the Rivian R1T on and off-road for a morning last week, the answer to the second is an unequivocal "hell yeah."
It's rare for a vehicle to be so meticulously well conceived from the user's perspective and then to perform as intended. But that is what Rivian has accomplished with its R1T, which the Irvine-based startup is making available for customers and the merely curious to see, touch and even drive during a two-weeklong, reservations-only event at a rural airport in Santa Clarita.
Designed as a truck that is equally capable both on and off-road, the R1T is customizable for whatever experience the driver wants at the touch of a screen. It has eight drive modes, from all purpose, sport and towing (as much as 11,00 pounds) to various types of off-tarmac shenanigans, including road crawling, rally driving — even drifting.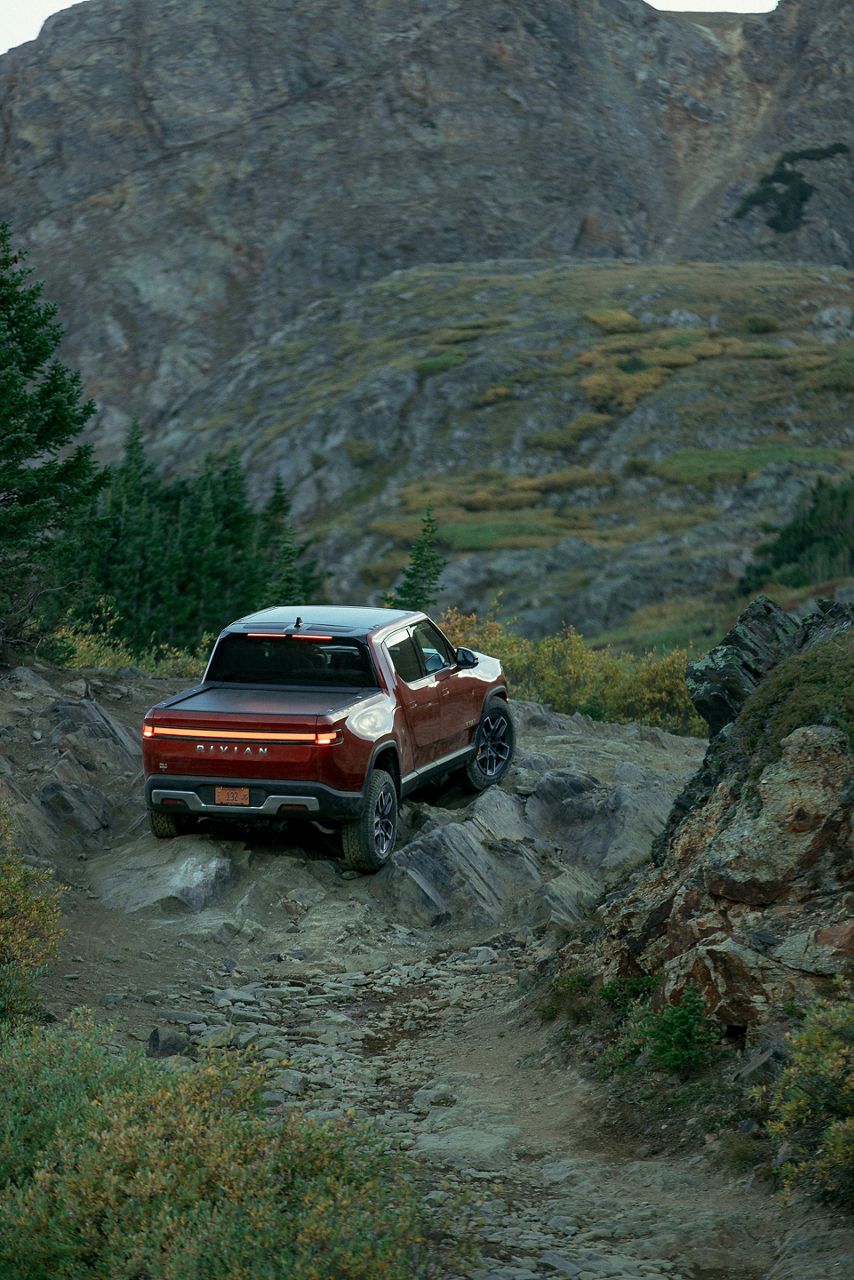 Suffice to say, no air was caught during the Santa Clarita drive event. But there was more than enough adrenaline to be had, as the car effortlessly accelerated from zero to 60 in a mere three seconds on the asphalt and just a few minutes later bounded over a rutted dirt trail with intimidatingly deep grooves as if they weren't even there.
Each of the R1T's wheels has its own electric motor that can provide torque to each wheel independently and that collectively makes 800 horsepower. Equipped with air suspension at all four corners that adjusts for the task at hand, the R1T can lift itself five inches and provide as much as 14.9 inches of ground clearance.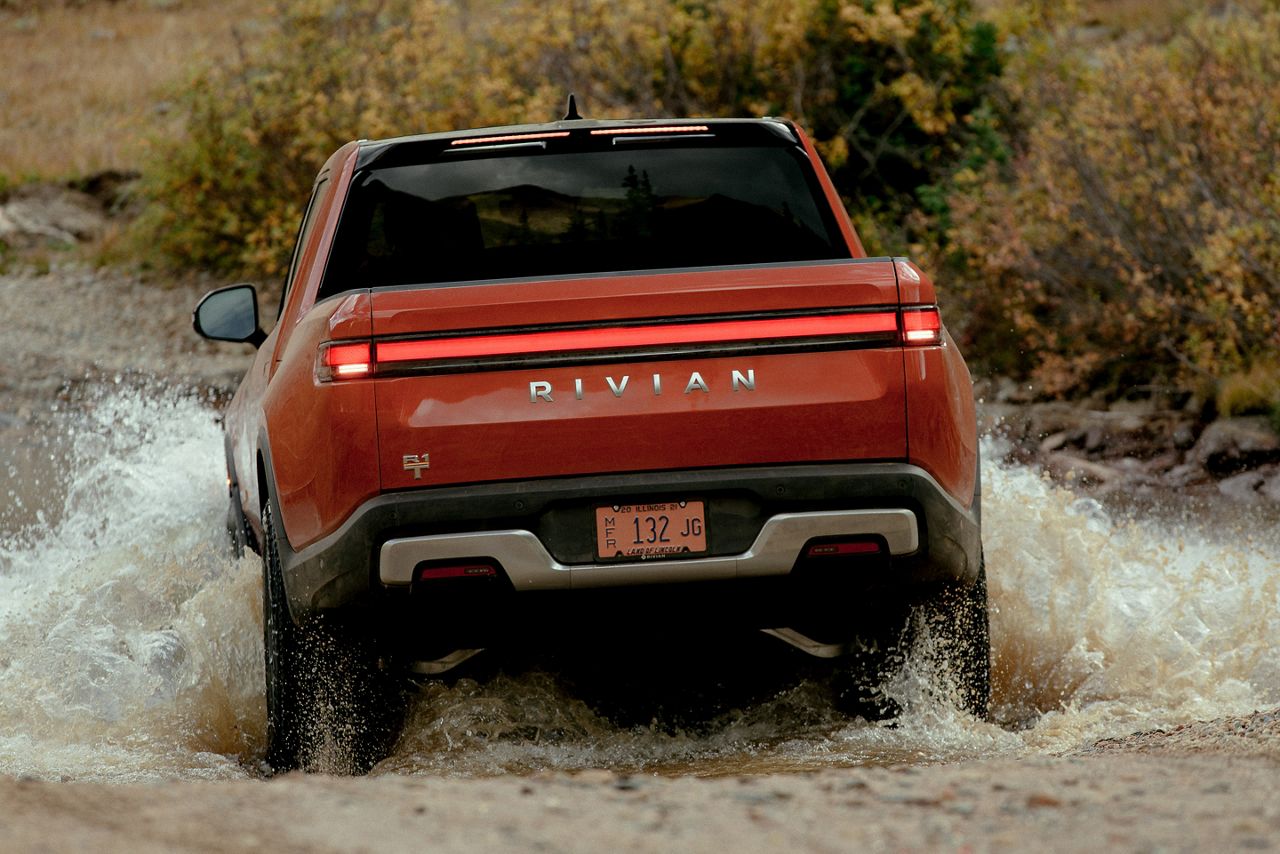 And if anyone in the truck doesn't quite believe what it's doing, a large screen in the center console will show them exactly what settings are allowing it and also let them see exactly what the truck is seeing as it rolls over hill and dale.
The R1T is equipped with 11 cameras. Add five radar and 12 ultrasonic sensors, and you've got an advanced driver safety setup that can evolve over time. Driving on the pavement as part of the R1T experience, when the truck came upon a stalled vehicle in the roadway, it automatically slowed. As the truck drove between lane markers, it steered itself. Additional driver-assist features, such as lane-change assist, will be pushed out to the car with over-the-air updates.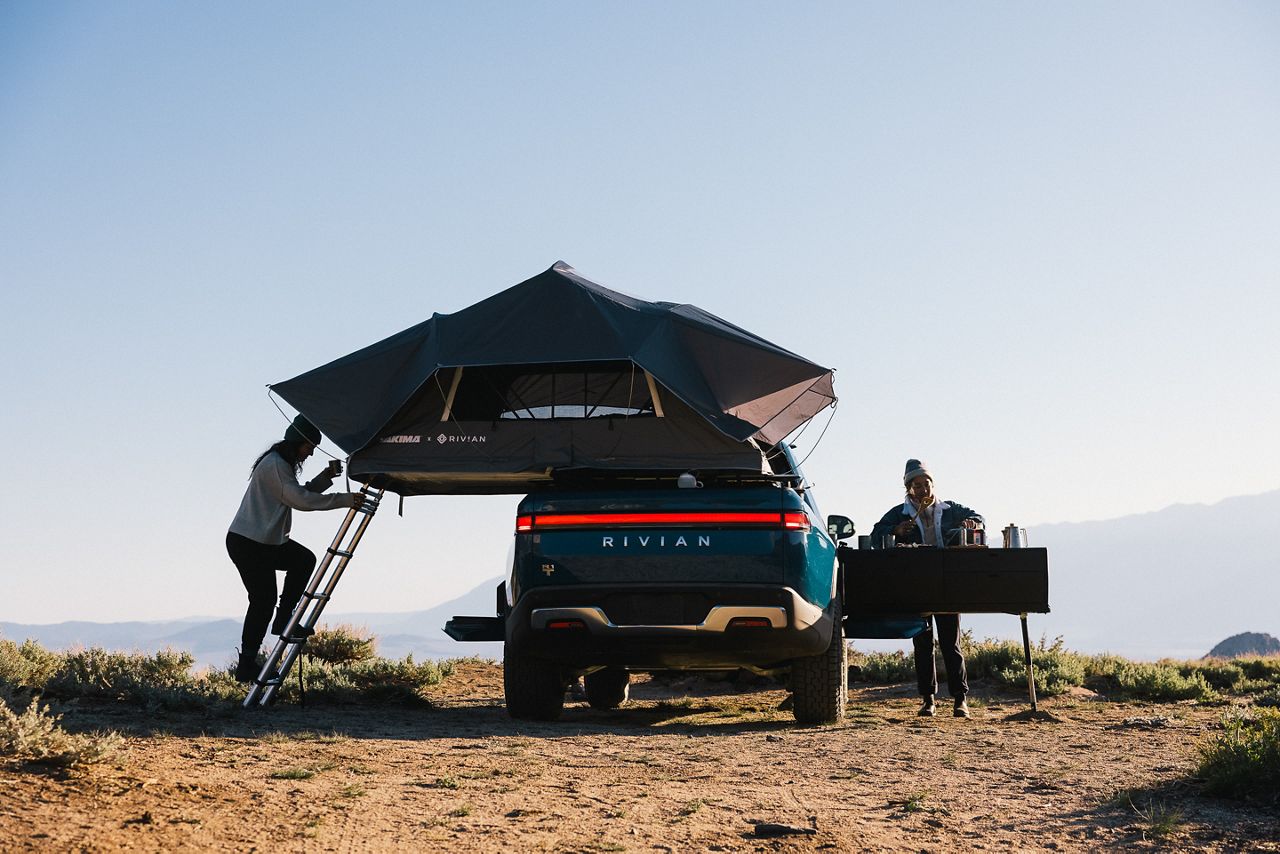 Tesla's influence looms large with Rivian, which is taking several pages from the Musk playbook and applying them to a luxury vehicle for do-right-by-the-planet adventure seekers. In Santa Clarita, a blue model was topped with a pair of mountain bikes on the cab's roof, its front trunk propped open and filled with bags. A green one was kitted out with a tent over its cargo bed and a camping kitchen that includes an induction cooktop, sink with sprayer, dishware for four and various cooking utensils, including a coffee grinder.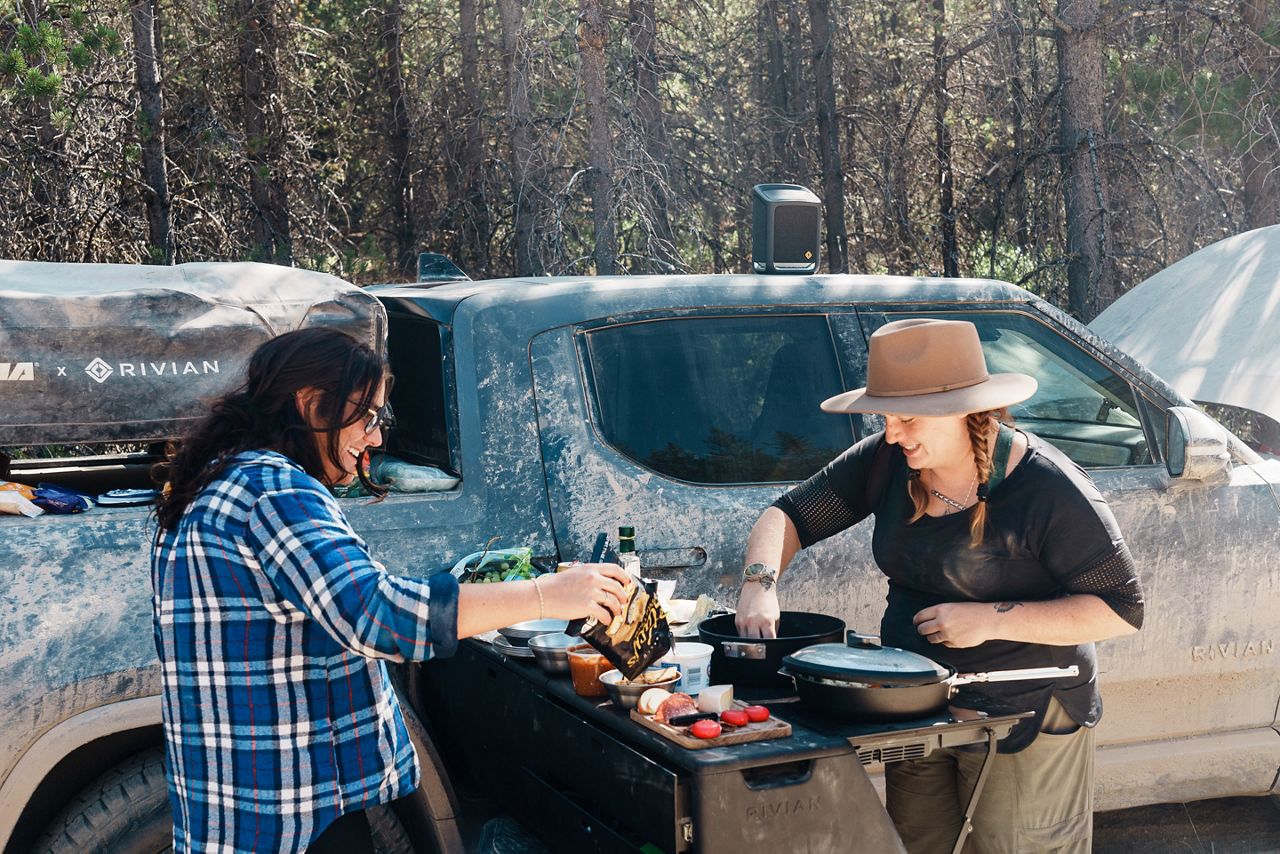 The camping kitchen is just one use for one of the R1T's most innovative features: a gear tunnel that runs through the truck's center and is large enough to hold surfboards. There are smaller innovations as well. A removable flashlight is built into the driver-side door, and a portable speaker unobtrusively tucks into the center console, charging itself for whenever the vehicle's inhabitants want to extract it and let it play in the wild.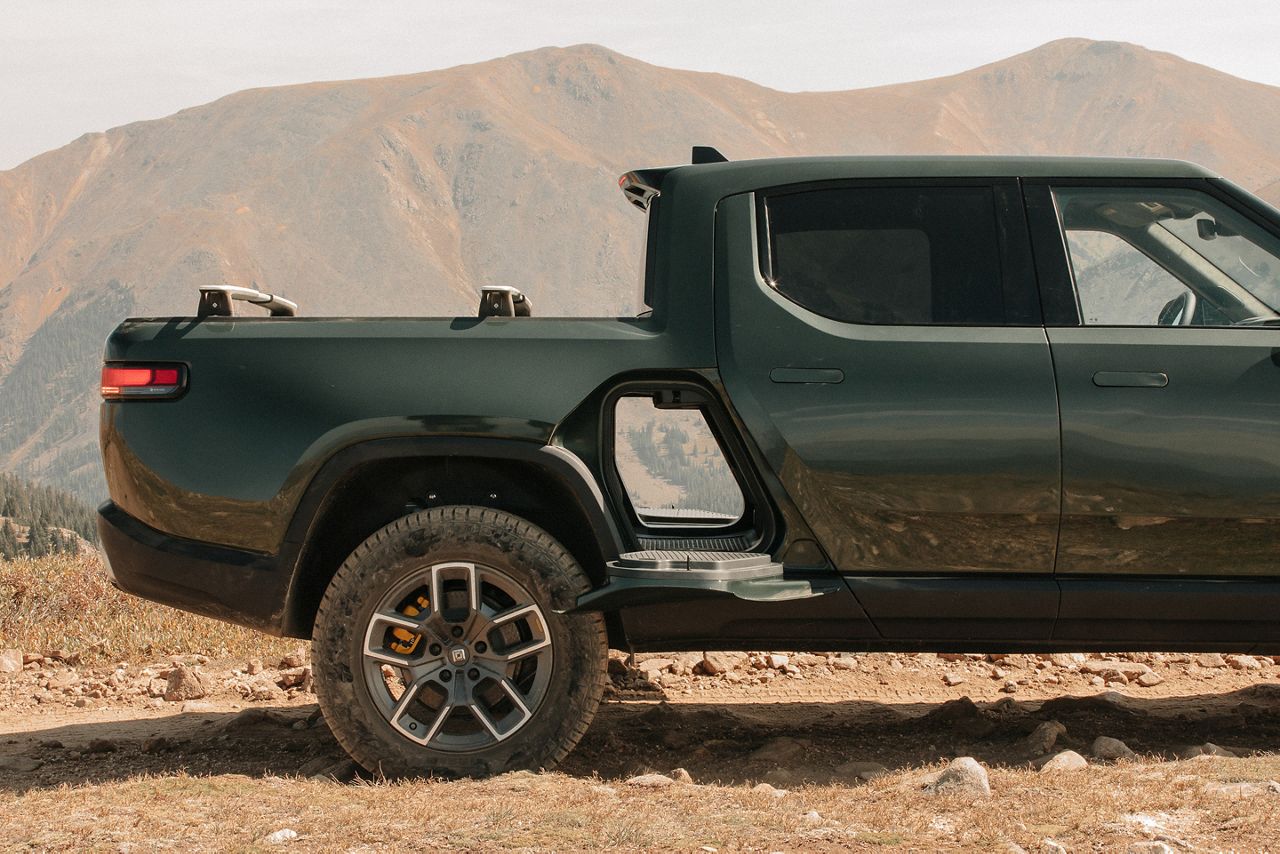 It's no easy feat, but the R1T is simultaneously spacious, rugged, luxurious, minimalist and high tech. Topped with a panoramic roof, the cab is designed to be as home-like as a living room. A single piece of natural-grained ash runs the length of the dashboard, interrupted only by a pair of screens and vents for the HVAC.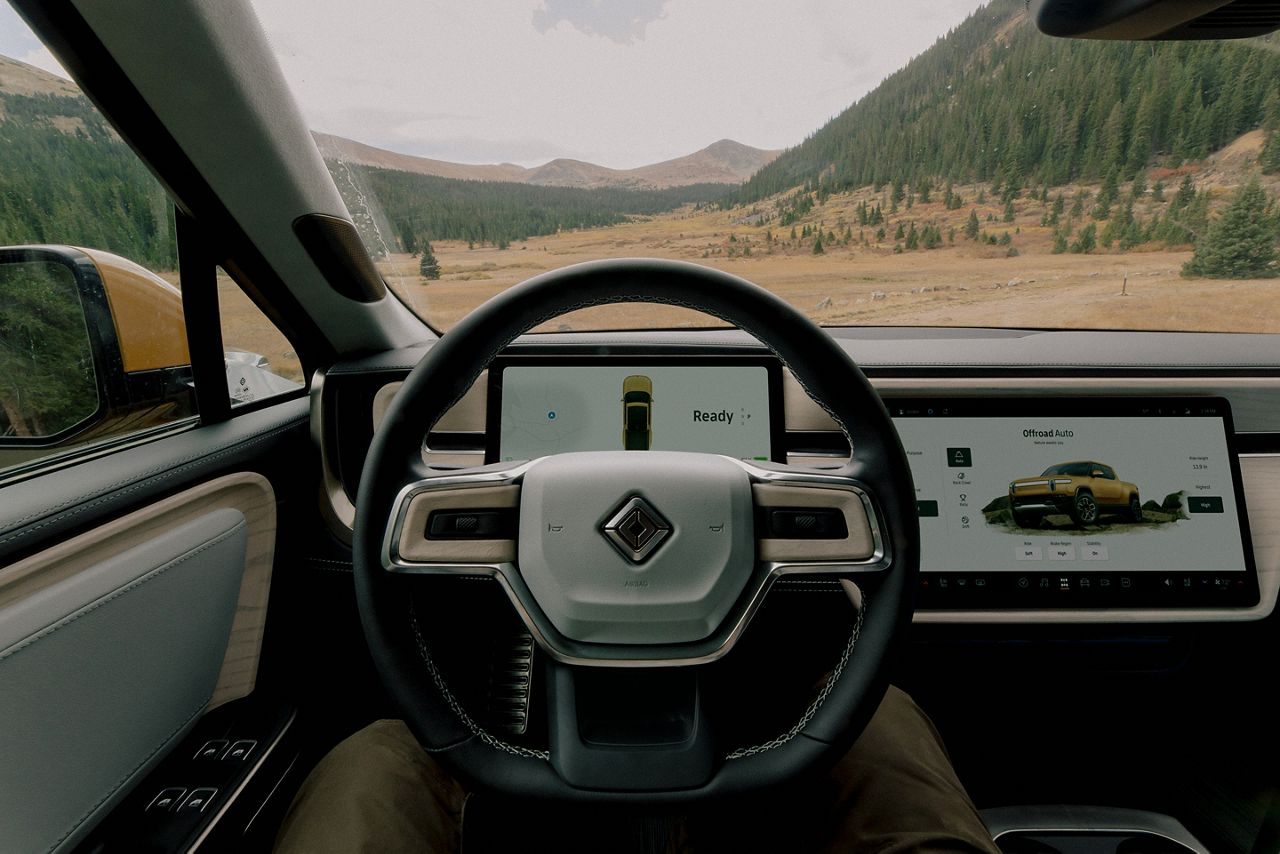 The five seats, made from vegan leather, are ventilated as well as heated. They also include USB ports, as does the truck bed. In total, there are six USB ports, as well as four 120-volt outlets that allow the truck to be used as a zero-emissions generator.
All of the vehicles at the Rivian event were the Launch edition, which is a special edition of the Adventure package R1T, starting at $73,300, with larger 20- and 22-inch wheels. The lowest-price Explore version starts at $67,500.
Regardless of the trim, the R1T is powered with an 135 kilowatt hour battery and has an EPA-estimated range of 314 miles per charge. Like Tesla, with its network of dedicated Supercharger stations, Rivian is working to build out a national Adventure Network of DC fast chargers that can add 140 miles of range in 20 minutes and are findable with the car's navigation. The company says it will build at least 3,500 of them at 600 sites by the end of 2023, powering them all with 100% renewable energy.
It also plans to install more than 10,000 Rivian Waypoint chargers at shopping centers, restaurants, hotels, campsites and parks by the end of 2023 that can add 25 miles of range in an hour. In addition, Rivian is offering a branded Level 2 wall charger for home charging.
CORRECTION: An earlier version of this article incorrectly stated the size of the battery pack. The error has been corrected. (Dec. 9, 2021)