LOS ANGELES — To some players, walking out of the tunnel and onto the USC practice field is a dream come true.
For junior outside linebacker Drake Jackson, though, most would call it destiny.
"So pretty much when I was born, my dad manifested me being here," Drake said. "Playing linebacker here."
It was a path carved for him on the football field, back home and in the gym alongside his father, Dennis Jackson.
Dennis Jackson is always dressed in cardinal and gold from head to toe during game week. It's the two colors he's been pretty passionate about for decades.
He has believed in his son's USC journey pretty much from birth.
"When we had the baby, they asked me, 'What's the baby's name?'" Dennis said. "I told them I wanted it to be Drake Jackson from the University of Southern California, starting linebacker coming in at 260."
"The lady goes, 'That's kind of long, can we shorten it?' So, I said, 'OK, Drake Jackson,'" he recalled.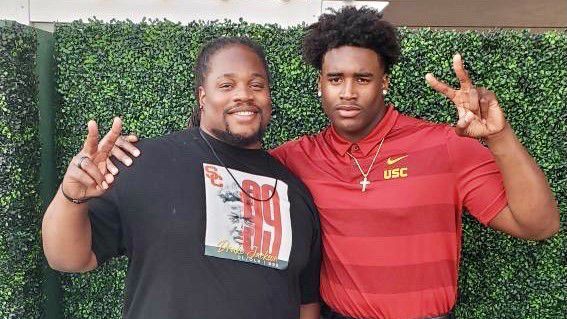 As a player and a coach by trade, Dennis Jackson planted the seed in his son early on that football could take him places.
He has long provided his son the push, but Drake was always willing to do the work.
"When he was younger, I told him, 'Do you wanna be good, great or amazing?' He said, 'Amazing,'" Dennis explained. "And I said, 'Are you sure? It's gonna be hard.' He said, 'Yes."
So, the grind became his life from when Drake was in Pop Warner through his days as a standout defensive lineman at Centennial High School.
The chance to make it to USC as an impact player became more and more a reality every day.
"It's always been something I love; it's been ball," Drake explained. "I've been born into that type of family that's kept going and never gives up. I'm not going to give up until the wheels fall off."
After years of work, when the time came for Drake to choose a school, he decided USC was the best fit.
A longtime dream for his father was finally coming true.
"It's funny because I'm not the type of person that cries a lot, but the tears were flowing, and it was so exciting," Dennis Jackson said.
For Dennis, it was a dream come true, but for Drake, it was a journey that's just beginning.
With 66 tackles and 7.5 sacks, Drake Jackson has come to be known as "the Freak" on the field over the last two years. Ask him, and there's plenty more to come.
"I just wanna be one of those dudes where if you bring up the conversation of USC, you bring up the conversation of Drake Jackson," he said. "I just want to leave my legacy here."