LOS ANGELES — As the Coastal Fire ravages Laguna Niguel in an exceptionally dry California, it's only a matter of time before similarly devastating fires pop up around the state.
Fire engines, Helitack crews and air tankers have long been the primary tools of the trade. Now, an app is hoping to leverage those resources by providing firefighters with real time information to make them more effective.
Developed by a pair of firefighters in Contra Costa County, Tablet Command uses 911 data about what type of emergency is happening and at what address.
"As soon as you have those two pieces of information, our software will notify everyone in the department instantaneously" — sometimes even 60 seconds faster than a human dispatcher, explained Will Pigeon, Tablet Command co-founder and former firefighter.
The app shows the location of fire engines, fire hydrants and fire stations. It also shows what personnel are on what fire engine at what time. That way, a battalion chief can tap the app's digital icon for a piece of equipment and see exactly who's on it and where it's headed, or drag and drop firefighting teams to assigned tasks like handling the water supply or attacking the fire.
Such information is especially useful in situations with multiple units responding, which is common. Through the app, crews can also access mapping information like infrared hot spots for fires from satellites or the ALERTWildfire live camera network run by the University of Nevada-Reno, University of California-San Diego and the University of Oregon.
"Everyone in real time is able to see what they've been assigned to at the incident, to see all the critical benchmarks and checklist items that have been completed on that incident," Pigeon said.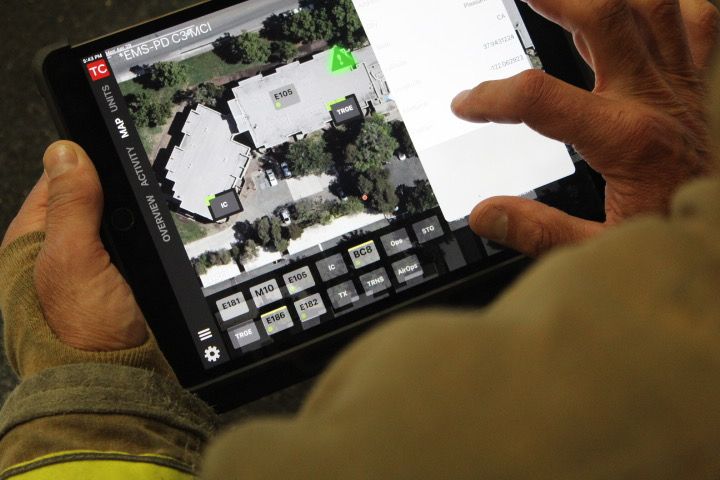 Pigeon would know. He was in the fire service for 22 years, most recently as an assistant fire chief overseeing technology and the 911 center for Contra Costa County Fire Protection District before leaving last year.
Having firefighting experience, Pigeon recognized that during the chaos and confusion of a fire emergency, it can be difficult to coordinate equipment and manpower efficiently in the field when conditions are constantly changing.
The seed for Tablet Command was planted in 2007, when two firefighters in Pigeon's department died while trying to put out a house fire.
"After that happened, and after every time there is a line of duty death in any department or a near miss, a department will say, 'What could we have done? What were the problems that led to this tragedy? What things or sequence of events caused their deaths?'"
At the time, Tablet Command co-creator, and fellow firefighter Andy Bozzo, had recently relocated to the Bay Area from the Pacific Northwest, where the system for tracking trucks, engines and personnel was archaic. The department used a whiteboard with Velcro tags in the back of a command vehicle. Other fire departments use magnet boards or pencils and paper.
There had to be a better way, they thought. The idea for that better way came from Bozzo while he was video gaming with friends. Dragging and dropping letters into a word, he had an epiphany. If he could drag a letter across a screen playing a video game with somebody remotely, why couldn't that same concept apply to a fire engine and assigned personnel?
Bozzo called Pigeon, and together they hired a professional software developer to build an incident command application on an iPad that included a tactical worksheet. They formed the company in 2011 and launched Tablet Command in the app store in 2013.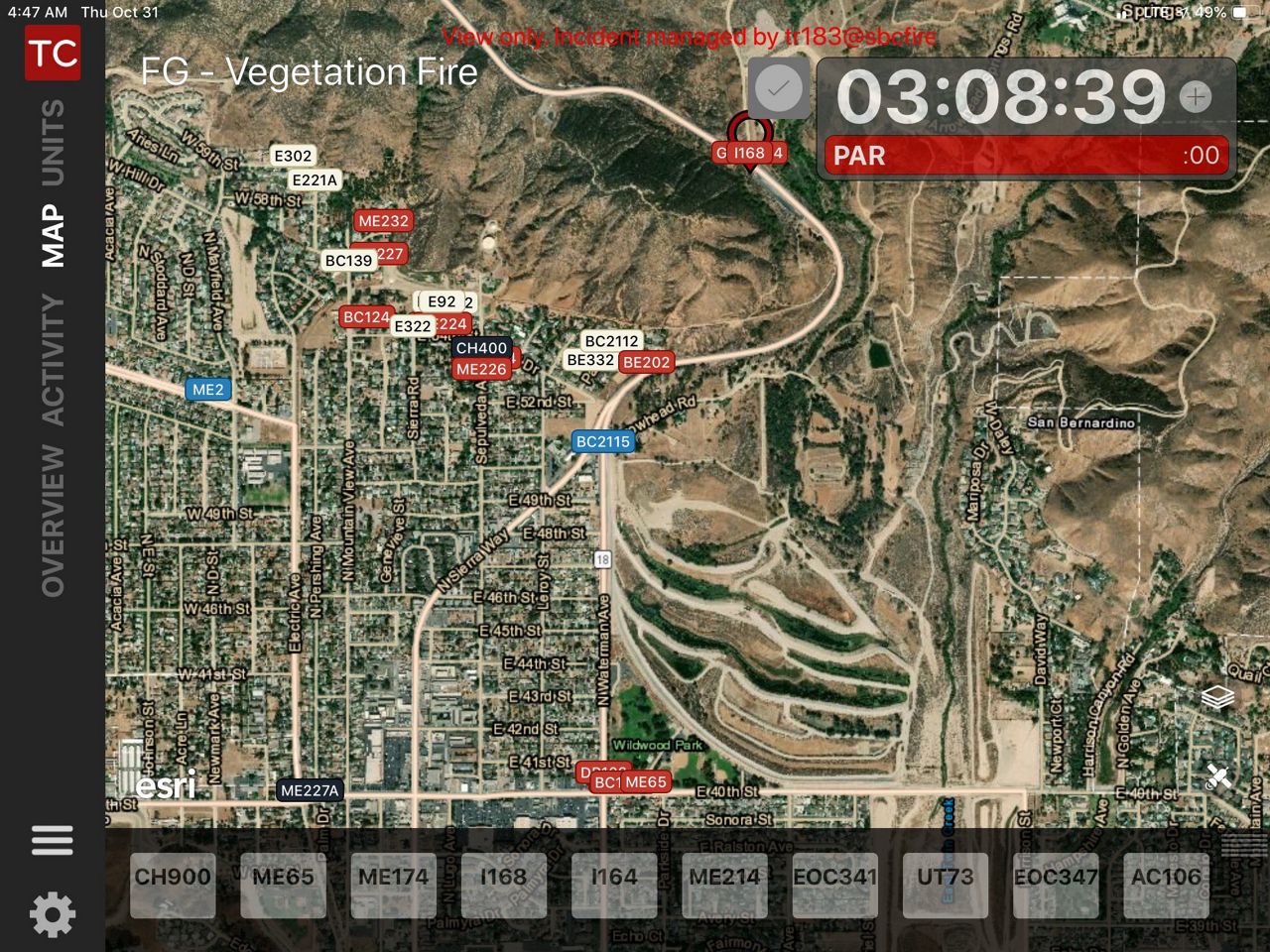 Now Tablet Command is used by more than 220 fire agencies in North America, including several dozen in the Bay Area. In Southern California, fire departments for Santa Barbara, Santa Monica, San Diego and San Bernardino County use the software. LA County Fire will begin using Tablet Command this fall.
"Our whole goal is to get to the fire scene quickly and safely and get to the right area and know where a fire hydrant is so we can mitigate the emergency and keep the fire small," said Mike McClintock, San Bernardino Fire Department battalion chief.
The San Bernardino Fire Department responds to more than 130,000 calls a year, McClintock explained. Fire season being year-round in California "adds a whole other dynamic" to the emergencies the department typically responds to.
Ten years ago, the department would get a fire call, load into the vehicle and pull up a map book to see where the closest fire hydrant was located. Now it uses Tablet Command inside its fire engines, ladder trucks, battalion chief vehicles and first response vehicles instead of a mobile data computer, McClintock said.
The department's firefighters use iPads in the apparatus as they first arrive at a fire to get vital information about trucks' locations and maps that show where a fire is going so they can forecast a structured defense.
Being connected with 911 dispatchers, it has a notes feature so they can see updates in real time. With an interface similar to an iPhone or iPad, firefighters young and old are both familiar with how to use it.
"It's been really helpful," McClintock said. "When the bell goes off for us, we want to be on the road in less than 60 seconds and know where we're going. Sometimes our en route time from station to fire is one to three minutes, so for us to be ready and know what's going on, Tablet Command allows us to fight fires safely."