LOS ANGELES — Homicides, officer-involved shootings and many other types of crime increased in Los Angeles in 2021, the LA Police Department reported Thursday. Deadly shootings involving LAPD officers were up 142.9%, homicides increased 11.8% and motor vehicle thefts also rose 13.3% last year compared with 2020.
"We have two things together: The trauma of the past two years and the mental health crisis that came out of this pandemic. And we have a lot more guns that are out there," LA Mayor Eric Garcetti said Thursday during an event at LAPD's 77th Street Division in South LA to reveal 2021 crime statistics. "Those things together have caused us to see more violence."
The only types of crime that fell in LA in 2021 were rapes (down 6.6%) and burglaries (down 7.1%). Robberies increased 5.5%, aggravated assaults were up 7.2% and the number of victims shot rose 9.1%.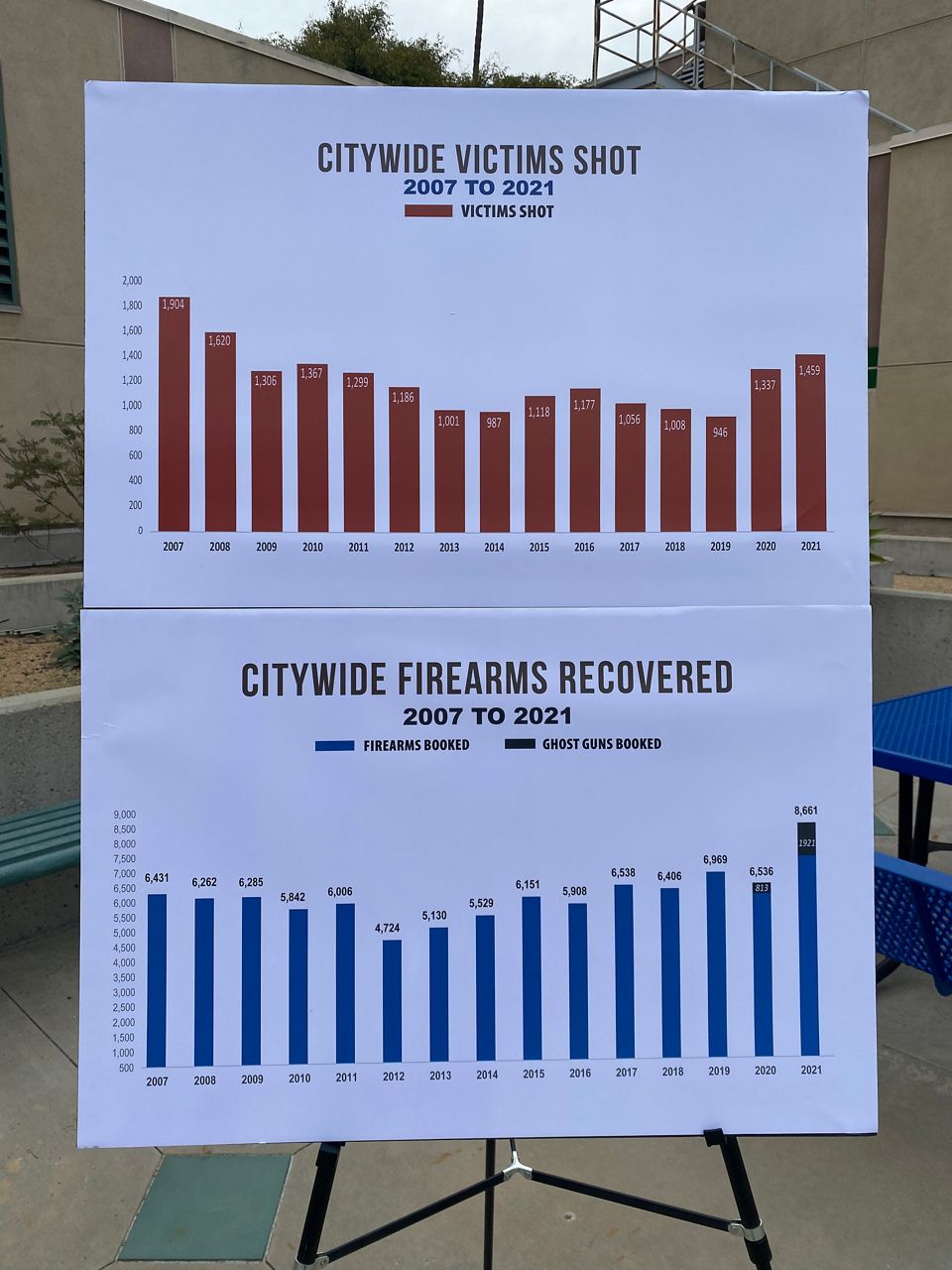 Robberies with a firearm increased 21% citywide last year, with LAPD's central bureau logging the largest increase of 37%. The central part of the city also had the most robberies with a firearm that involved people experiencing homelessness.
"The increases are a complex set of scenarios," LAPD Chief Michel Moore said, citing a fraying of the social contract that has more people using guns to commit crimes that would not have happened if it weren't for firearms' prevalence.
Calling 2021 a "challenging year," Moore said the number of shooting victims in the city was the highest it has been since 2008 and that the number of homicides was the highest since 2007. Gang violence is largely the reason, he said; 54% of the city's shootings and homicides were related to gang violence.
Individuals experiencing homelessness were also increasingly victimized. Homicides of the homeless increased 22% in 2021.
"When you look at the increase between last year and this year, it's entirely made up of those two categories," Moore said. "It makes up eight out of 10 of our homicide victims, which is why it's so critically important that we recognize the public health and the public safety emergencies that both of those areas represent."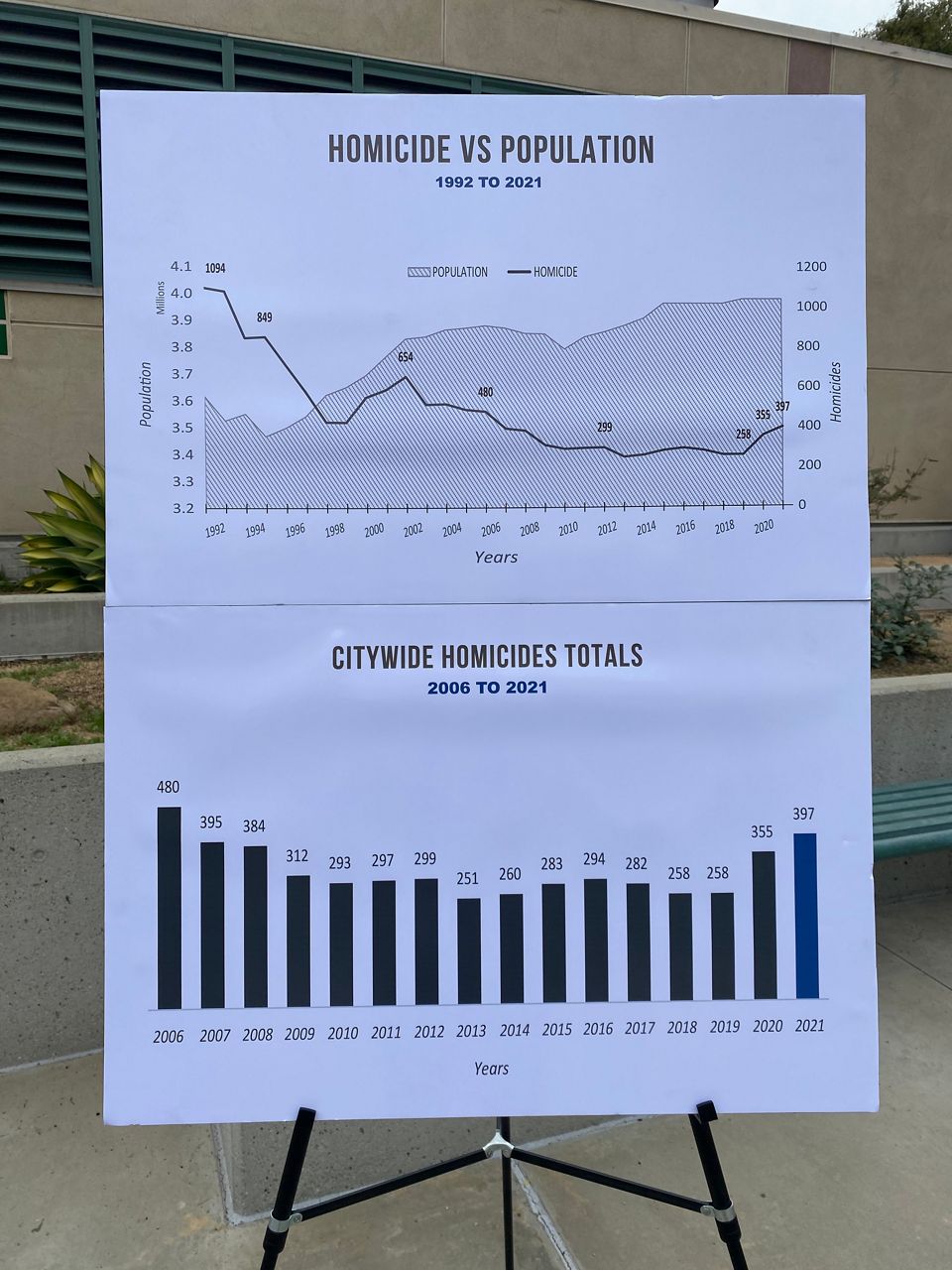 Most major cities across the United States saw a dramatic increase in homicides relative to their populations last year. Las Vegas homicides were up 49%, Portland's were up 43% and Oakland saw an increase of 22%. The only major cities to see declines were Phoenix (down 3%), Dallas (down 13%) and San Jose (down 21%).
"This is not unique. It's happened across this country and throughout the world. The pandemic has had a profound impact," Mayor Garcetti said, noting that despite the recent increases in crime, the last 10 years have been the safest in LA history.
LA homicides had been falling since 2006, when 408 people were killed in the city. After decreasing to 258 in 2019, homicides began to rise in 2020, when there were 355 killings in LA. In 2021, that number increased to 397.
In addition to a 13.3% increase in motor vehicle thefts, burglary thefts from motor vehicles also increased 5% last year, with one in five of those thefts being catalytic converters. The central part of the city had the highest incidence of burglaries from motor vehicles: They were up 34% last year compared with 2020.
There were some positive signs. Citywide, LA recovered more firearms than it has at any point since at least 2007. Of the 8,661 firearms recovered, 1,921 were ghost guns.
For all the media attention on smash-and-grab crimes, where a burglar breaks a window, display or other barrier to steal high-end merchandise, the LAPD said there were 58 such crimes last year. After peaking in August and again in November, they fell in December.
Follow-home robberies, where a person follows a potential victim from a retail or entertainment venue and robs them at a different location, have also fallen since peaking in September and again in November. There were 171 such crimes throughout the year.