As California heads toward the Sept. 14 recall election, Gov. Gavin Newsom's job handling is under the microscope.
While the governor enjoys a 56% overall approval rating and 58% favorability rating, his record on specific issues varies. According to an exclusive Spectrum News/Ipsos survey of almost 2,100 state residents taken during the last week of August, he drew the highest approval ratings, and a majority of support, for his handling of COVID-19 (60%), plans for sending children back to school (55%) and jobs and the economy (53%).
On all three issues, survey respondents approved even more strongly of the governor's job in August than they did last October in an exclusive Spectrum News/Ipsos poll leading up to Election Day. At that time, COVID was dominating headlines, California schools remained closed to in-person learning and the state's unemployment rate was 9.3%, according to the state's Employment Development Department.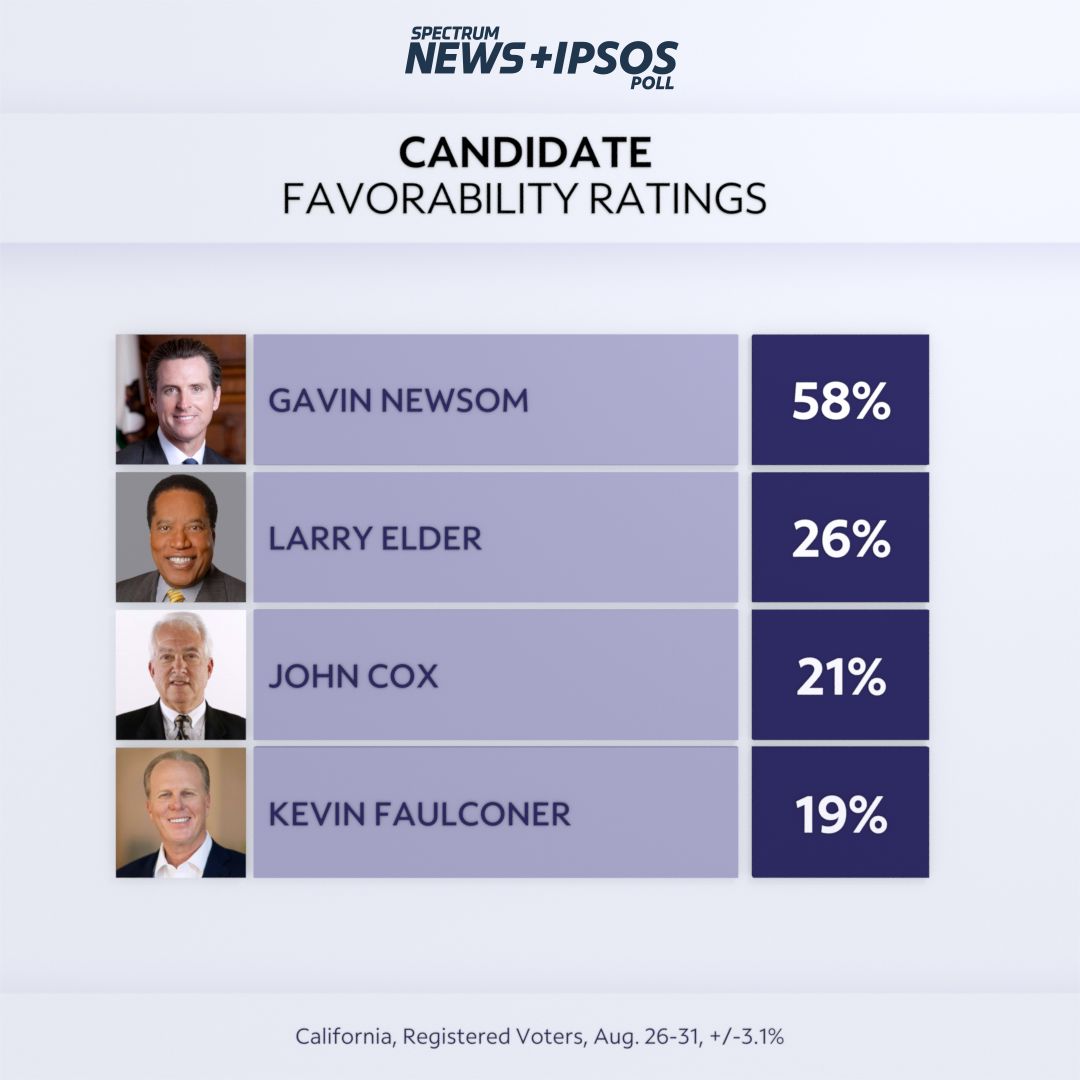 "When you look at his job approval on specific issues, COVID really tops the list, so a majority of Californians feel positive about the way that he has handled the virus," said Ipsos Vice President of Public Affairs Mallory Newall.
Gov. Newsom's lowest approval ratings were for affordable housing (34%), homelessness (34%), droughts (43%), crime and public safety (44%) and ongoing wildfires (49%). His handling of ongoing wildfires and crime and public safety in the August poll both scored lower than last October, when a majority of survey respondents approved of his work on those issues.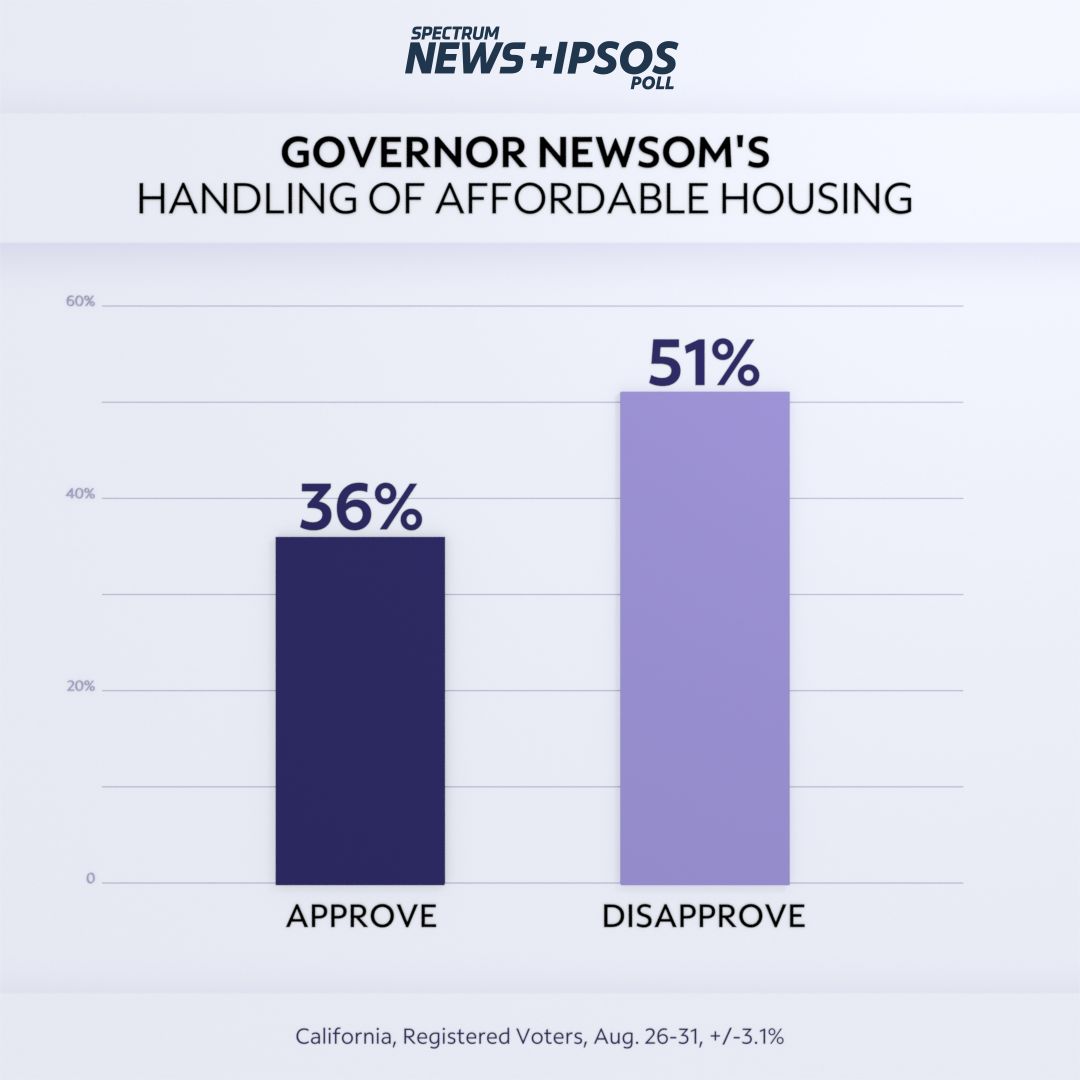 "Gov. Newsom's standing has softened on some specific issues compared with last year, but a plurality of Californians still approve of the way he's handling them," Newall said.
The Spectrum News/Ipsos poll was taken in the lead up to next week's gubernatorial recall election, which has drawn attention to the state's 7% increase in homelessness between 2019 and 2020, according to the U.S. Department of Housing and Urban Development. That increase tracks with radically increasing real estate costs. In July, the median price of a home sold in the state was $811,170, according to the California Association of Realtors. A year earlier, the median price was $666,320.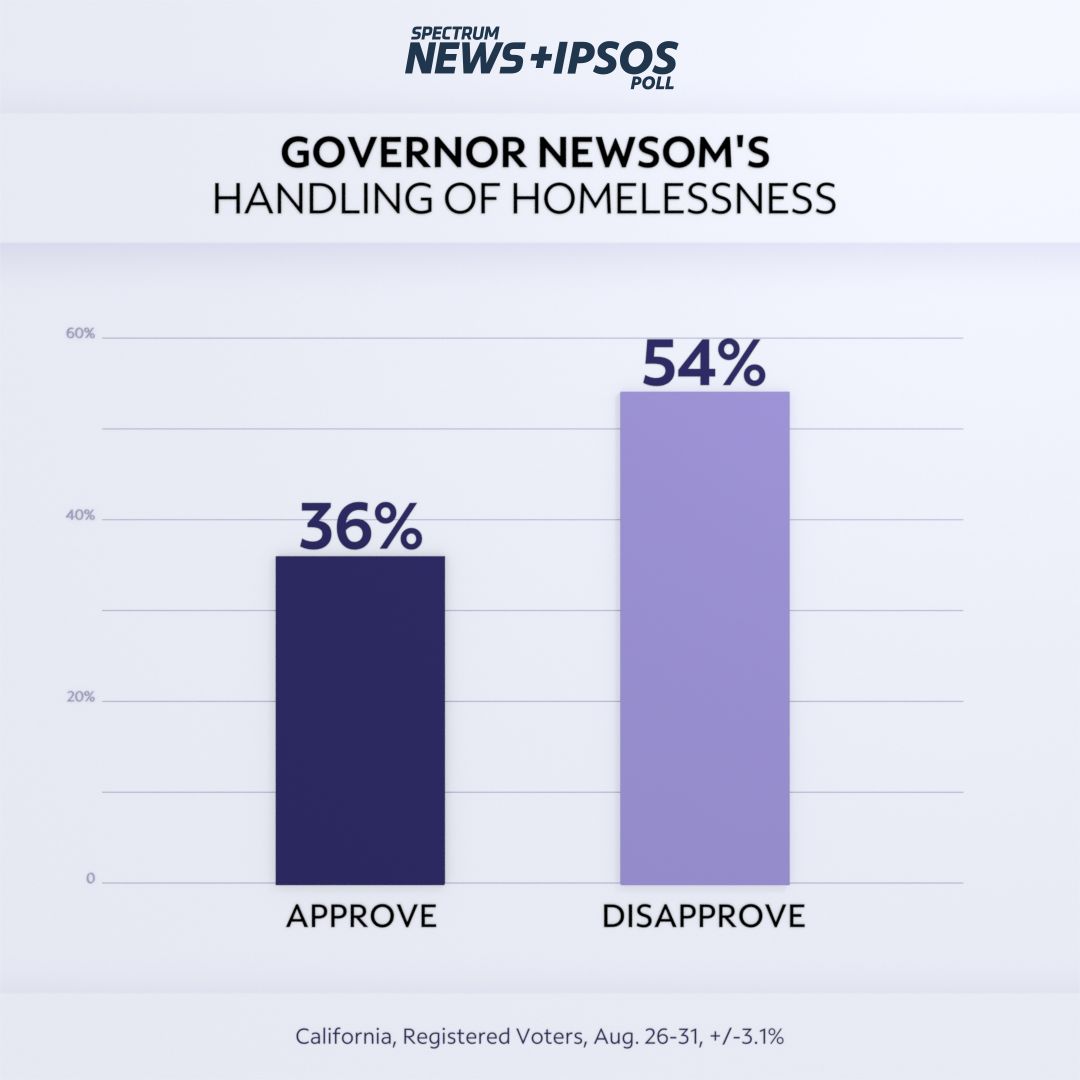 The survey was also taken weeks after the United Nations Intergovernmental Panel on Climate Change described human-driven global heating as "code red," and when the Caldor Fire was approaching South Lake Tahoe, drawing national attention.
"As the pandemic goes on, people are starting to tune in once again to other areas and other points of concern," Newall said. "That's a big shift if you think about the past year and a half that we've lived through because for so long what we were seeing in our polling at a national level and in certain states was that COVID-19 was the main focus for so long that it took the focus from all other issues."