CORRECTION: A previous headline for this article stated that Dr. Tony Barriere was the first dentist to use a robot assistant for dental implants. He is the first to use this particular robot. The error has been corrected. (March 23, 2022)
At West LA Implants, Dr. Tony Barriere embraces technology, including 3D printers.
"We use it for everything, night guards, we use it to print the dentures that we do the full mouth cases on," Barriere said.
Anything he says to make the experience better for his patients, but the newest addition to his dental toolkit looks more like something out of a sci-fi movie.
Barriere is the first dentist in Los Angeles to use the Yomi robotic dental system for dental implants. He says he has completed more than 40 implants with the robot since December.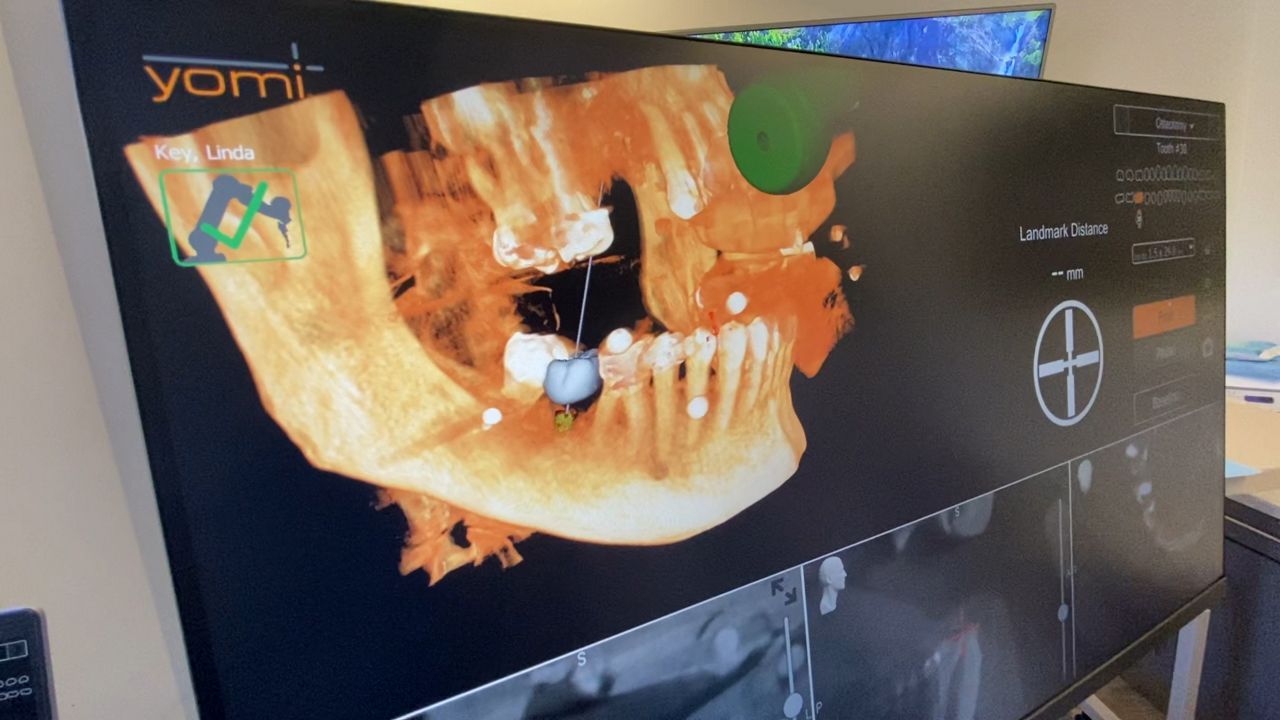 "I wanted to get in on it early on and adopt it, so we could be on the forefront of that. I really do think it's going to change the industry," Barriere said.
Think of it like a GPS navigation system for the mouth. It is made by Neocis — a high-tech healthcare startup based in Miami, Florida. The company says the robot allows for faster and more precise implants with less pain.
Not only does Yomi help the doctor map out and customize a treatment plan for each patient, it also shows the exact depth, cutting position and proper angles for the most precise implant.
"Traditionally, implants are done freehand with a dental motor and a drill. A lot of variables are involved. If your hand moves even the slightest bit, that could mean the implant is placed way off," Barriere said.
He said there is a bit of a learning curve, but what used to take him 30 minutes per tooth — now takes less than 10.
"It's basically as if someone was holding your hand in the exact perfect position and it doesn't deviate from that planned spot," he said.
Linda Key has gone to Barriere for her seven dental implants. Half of her mouth was done freehand and the other by the Yomi robot.
"It didn't hurt as bad as before and there was less pain afterwards," Key said.
She felt better knowing the doctor still has full control over the drill and the ability to manually change the treatment plan.
"Anything that can help alleviate the pain, make the process better, faster, is good," Key said.
But perhaps most importantly as the pandemic wains and the masks come off, "you feel a little bit more confident being able to open your mouth and smile, so it's a great feeling," Key said.