"Maddy" is a mobile coach that travels around Southern California providing 3D mammograms to women in underserved communities. RadNet, an LA-based medical imaging network, launched it to help with the spike in demand.
"A lot of women delayed their screening during COVID the past two years, so now we're seeing an increase in women coming in for mammograms," said Paul Colacchio, VP of PR and media communications for RadNet.
The company says the technology inside the coach is the same as inside its imaging centers. Besides 3D imaging, the company also uses artificial intelligence to better catch cancer.
"We're able to detect a breast cancer, one to two years earlier than traditional screening mammography," Colacchio said.
RadNet also touts a more comfortable experience with a screening time of less than 4 seconds per breast.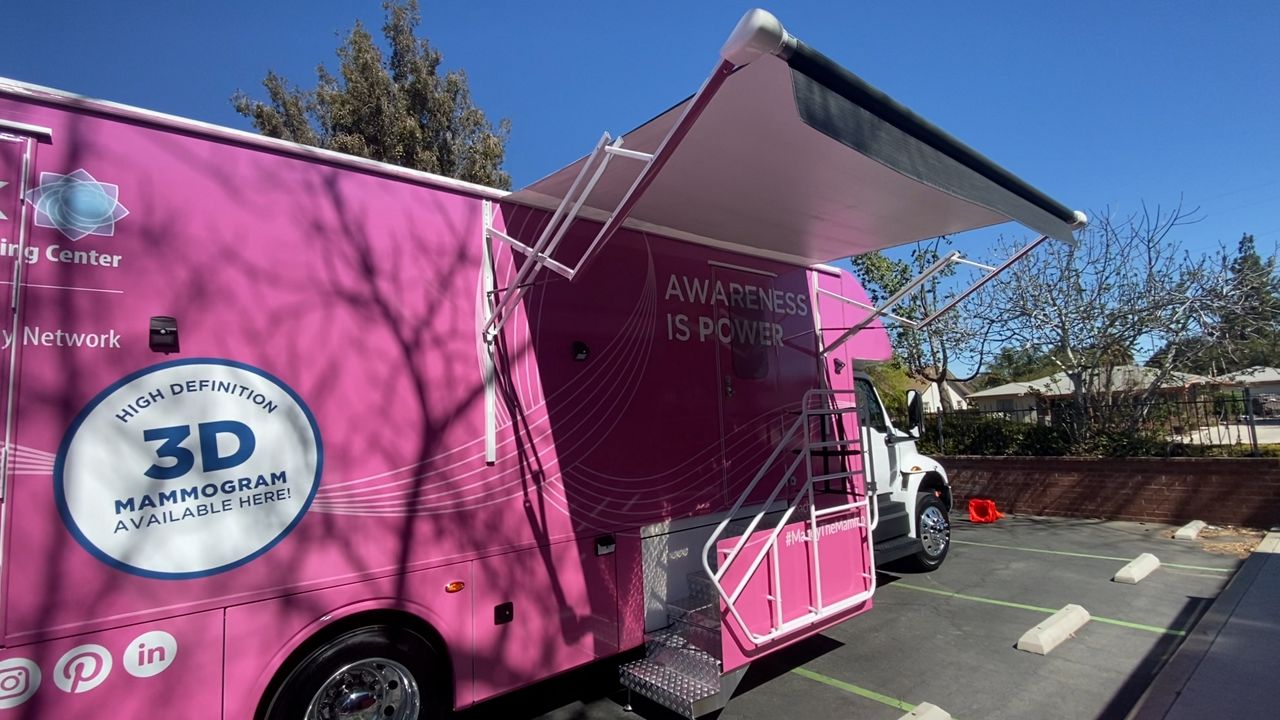 "For those that may be putting off their screening mammograms because they're concerned about the potential pinching or pain, I think this new technology really helps to address some of that," said Tim Merchant, RadNet's national director of screening networks.
"When you are a larger breasted woman, it's hard to tell what tissue is, if there's bumps, so it's best to just come get it checked," said Lacadia Hartman, who lives in Riverside County.
She has been getting mammograms for the past 10 years.
"You always want to know what's going on with you health-wise. I have breast cancer in my family, so it's important for me to get this annually to make sure that I'm fine," she said.
RadNet saw less than half of its normal volume of screenings during the height of the pandemic. According to the Journal of the National Cancer Institute, mammograms in the U.S. dropped by as much as 80%. Experts project that could cause more than 2,400 additional deaths from breast cancer by 2030.
RadNet said that out of every 1,000 women they screen, six will be diagnosed with breast cancer, but early detection can be a lifesaver.
"At a stage 1, a patient's 5-year survival rate is over 99%," Merchant said.
The American Cancer Society says women can get annual mammograms at 40, but recommends starting earlier if they are high-risk or have a family history of breast cancer.
"The truck is going to be parked in LA County, performing mammograms for underserved women. We're going into Native American communities and wherever the need is," Colacchio said.
RadNet says it is already bringing on a second mobile unit to meet the need and also use it during busy times like Breast Cancer Awareness Month in October.
Because when it comes to cancer, what you don't know can hurt you.
"Awareness could save your life," Colacchio said.
It's a message they're looking to drive home.