LOS ANGELES — Angelenos are used to seeing billboards whenever and wherever they drive, but on Wednesday they may come across a mobile campaign to free WNBA star Brittney Griner from a Russian prison. Three trucks outfitted with digital signs saying "Bring Brittney Home" will spend the day roaming around downtown and Hollywood hoping to bring attention to the basketball player's imprisonment. Russian customs officials detained her in February for illegally carrying vaporizer cartridges containing hash oil.
"Everyone is concerned for her return home at this moment," Change.org Campaigner Aminata Diallo said of the 6-foot-9-inch basketball star who, before being detained, was best known for her dunks.
Operated by the public benefit company, Change.org, each mobile billboard truck has a photo of Griner along with the message "BG should be here" and a QR code for drivers to snap a picture and sign a petition to support freeing her.
"If people want to take pictures of the truck and post it, that's a small way to know they're not alone in their thought for her," Diallo said.
Today's mobile billboard campaign is timed to take advantage of tonight's ESPY Awards at the Dolby Theatre, when athletes and teams are recognized for their excellence. Griner won an ESPY for best female athlete in 2012 when she played for Baylor University.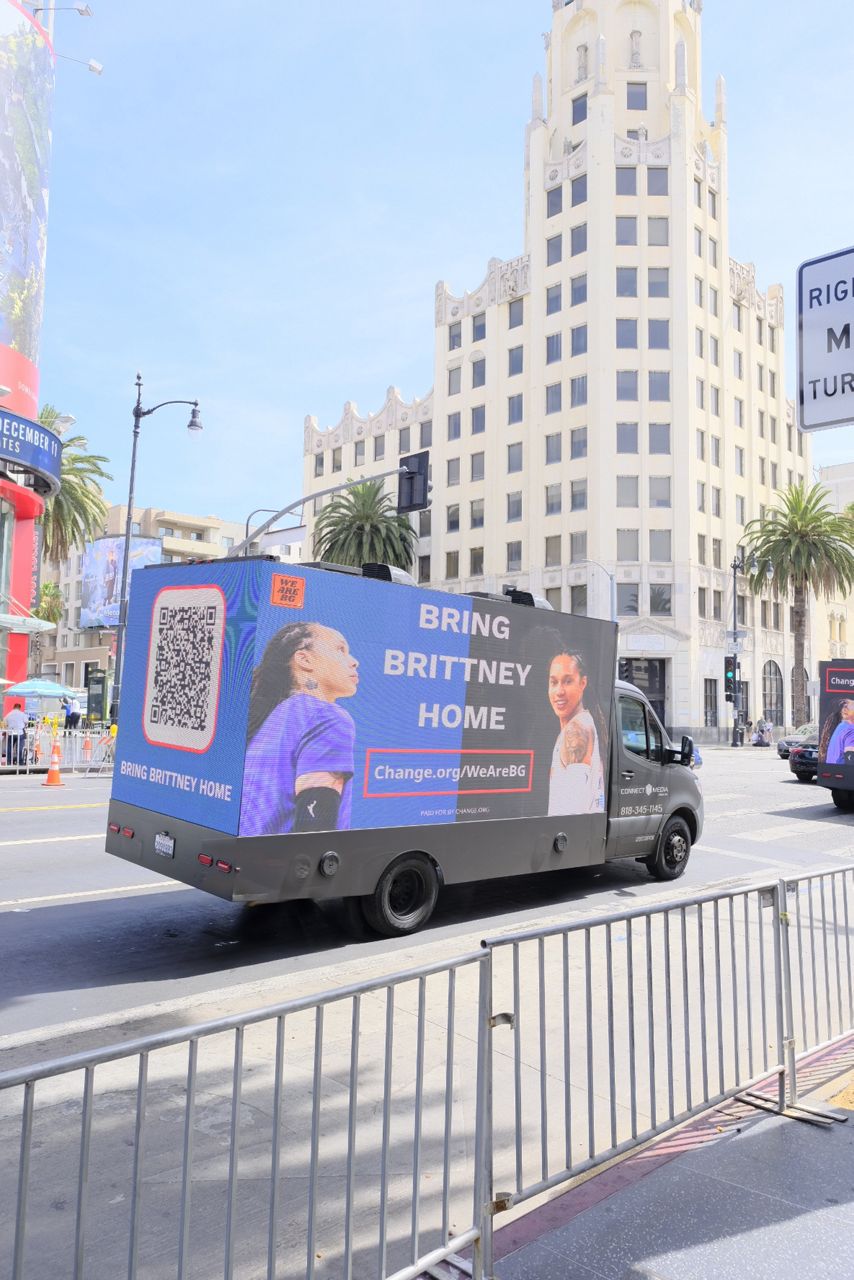 The 31-year-old currently holds the center position for the WNBA team, the Phoenix Mercury, and has played off season for the Russian Premier League UMMC Ekaterinburg team since 2014. She was arrested Feb. 17, after arriving in Russia for the upcoming season, and has been detained 154 days. Earlier this month, shed pled guilty to possession but said she had not intended to break Russian law. If convicted, Griner could serve 10 years.
Today's mobile billboard campaign to Bring Brittney Home grew out of a Change.org petition that activist and sports journalist Tamryn Spruill started in March, when news first broke that Griner had been detained in Russia.
"We started supporting this petition the same day she created it," Diallo said. Working with Griner's family, agent and the Women's National Basketball Players Association, Change.org has collected almost 350,000 signatures over the last four months, 20,000 of which were signed in the last week alone.
"Every day there are new comments and more people asking for her safe return home," Diallo said of the signature campaign, which is used to build support and bring attention to Griner's situation in an effort to free her from prison and bring her back to the U.S.
The mobile billboards are the third activity Change.org has taken to raise awareness about Griner. On July 1, the first day of her trial in Russia, Change put up billboards around Washington, D.C., hoping that President Joe Biden and other politicians would see them and take action.
"It was a reminder that as everyone is celebrating freedom, one of our very own is stuck abroad, not being independent," Diallo said.
Change also was involved with a campaign during the NBA finals last month, when players for the Boston Celtics and Golden State Warriors wore T-shirts that said "We are BG" and included a QR code to sign the petition. Last week, during all-star weekend for the WNBA in Chicago, Change did a similar mobile campaign with the Black-owned electric shuttle service GEST Carts that said "Bring BG Here" and "Bring Brittney Home."
The mobile billboards driving around LA Wednesday will leverage the ESPYs, which are expected to include a tribute to Griner.
"Brittney is a star athlete," Diallo said. "Tonight's a celebration of athletes, and she's not here."
The mobile campaign comes one day after Biden signed an executive order that seeks to secure the release of Griner and other Americans the administration believes have been wrongfully detained.