San Diego native Clay Phillips embarked on a self-guided tour of America's fairways, traveling thousands of miles to play a course in each state within 50 days. For the senior golfer, this trip was about more than "driving" the nation — he was on a mission to fund clean water worldwide.
"It took a self-indulgent fantasy trip and elevated it into something that had a lot more depth and meaning," Phillips said.
The inspiration for his unique fundraising escapade came from an experience at an airport over 20 years ago. Phillips was killing time in the terminals when he noticed a "throw-away corridor" in which a nonprofit agency had information panels about the global water crisis. It stunned him to learn how many millions of people don't have easy access to safe water around the world.
About 784 million people live without basic access to clean water — more than twice the population of the United States — and nearly 1 million people are estimated to die each year from water, sanitation and hygiene-related diseases.
There is a great socio-economic impact as well. Time spent collecting water results is a barrier to economic opportunity. Millions around the world have to spend hours a day collecting water, and the majority tasked with water collection are women. Every day, women and girls spend an estimated 200 million hours walking to collect water for their families. And time is money, with $260 billion lost globally each year as a result.
"People that are spending the many hours getting water just can't contribute to the health of their families, the health of their local economies and that builds and it accumulates in really damaging regional economies," Phillips explained. "Water becomes this foundational thing that if it's taken care of, it has so many collateral benefits."
He boarded his flight and time went on, but Phillips never forgot.
Then five years ago, on a trip for post-earthquake restoration in Nepal, he heard a story that spurred him to action. A fellow volunteer, Richard Paff, told the group about his unique fundraiser for New Dawn Christian School in San Juan la Laguna, Guatemala.
Paff, a retired middle school teacher and basketball coach, traveled frequently to Guatemala to volunteer with the school. At New Dawn, he used his talents and taught basketball lessons and sports clinics. He loved working with the kids but grew tired of the frequent "rain-checks" on practice.
He hoped to build a covered sports pavilion, but no funds were available. So, he decided to do what he could with what he had and created a unique fundraiser that utilized his athletic talents. Paff joined forces with John Baker and Jack Davis to create 48stater, a charity road trip with the goal of shooting a basket in all 48 contiguous states as fast as possible.
The group not only set a world record but, more importantly, raised over $26,000 to build a roof over the outdoor pavilion. Today, the roof covers sporting events, graduations, parent meetings, assemblies and other functions — rain or shine.
"I heard that story and it was appealing on many fronts," Phillips explained. "I am by nature a planner. I love road trips, I love planning trips and I love golf. And then I thought, 'well, what's a parallel for me?'"
Phillips, 67, has been playing golf for more than 50 years and has a soft spot in his heart for road trips. It was a pretty short order to connect the dots and soon, he was mapping routes and making tee times. But he needed more than just a solid swing to make the trip possible.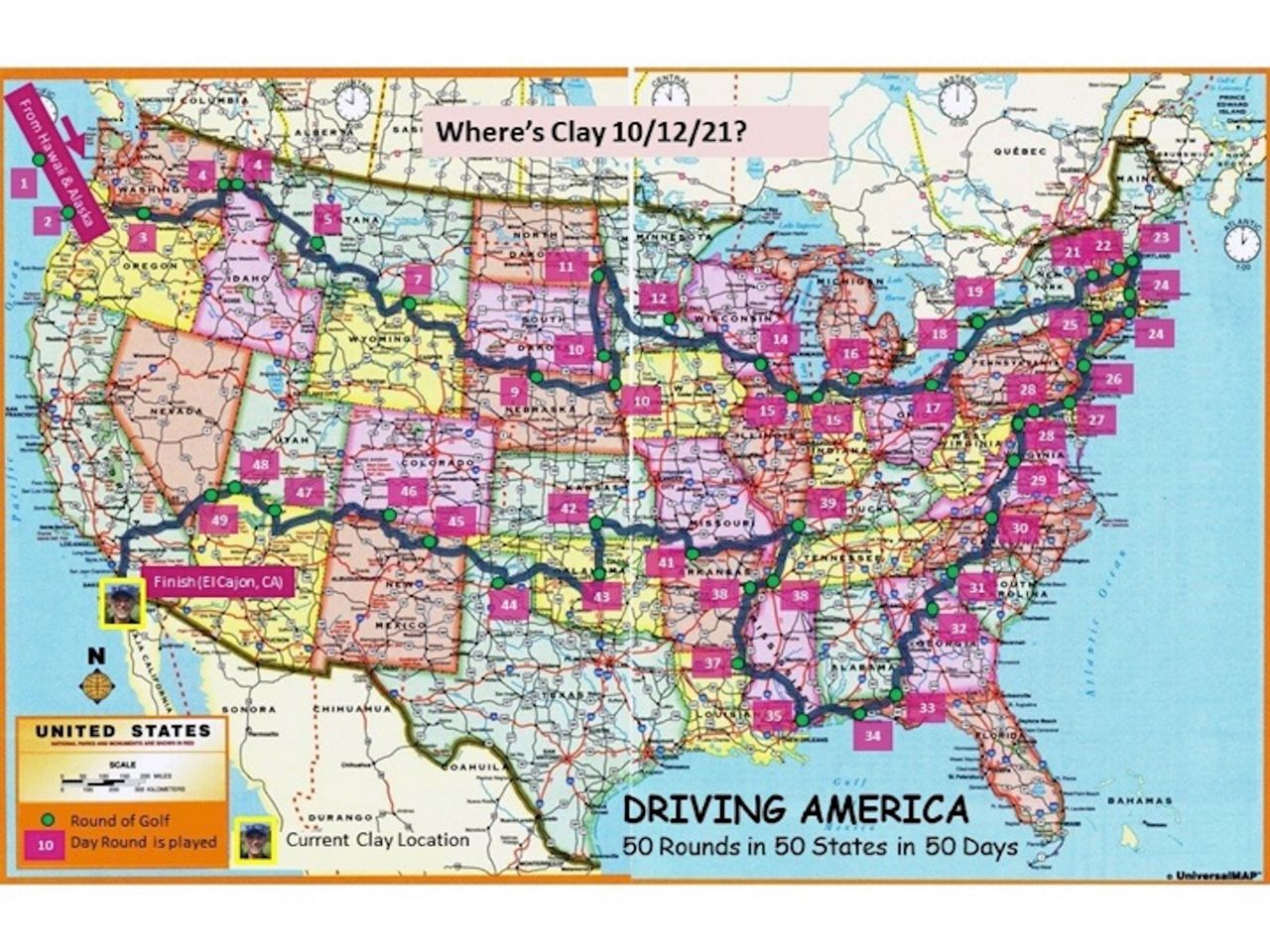 "There are three parts to every trip: the planning and anticipation, the actual trip and the memories. All you have to do for a successful trip is get two out of those three right."
He was committed to paying for the pleasure and self-funded the travel, lodging, food and golf costs. In total, the golf odyssey was around a $12,000 venture. To make the most of every cent— and donate as much money as he could — Phillips wrote to every motel and head pro, explaining the cause. He promised if they comped the price, he would donate the money he would have spent there to the charities. A few responded, and he was able to redirect nearly $1,200 to the charities.
Before the trip began, he had the opportunity to travel to Honduras to observe the work of both charities and see firsthand how Water First International and Project Blue work with local experts and community members to determine location-specific sustainable solutions.
"What's cool about the charities that I am working with is they don't allow you to become a recipient of these water projects unless you're part of the installation and a part of the long-term management if you're not a part of the management... you see generations of people changing and it is all about self-sufficiency," Phillips explained.
"It's not a good idea for us to be do-gooders that do good and then just leave. It's far better to help the people in the nations help themselves. And water is just the low-hanging fruit."
The planning process took about three years, with the trip getting pushed back due to roadblocks and then again at the onset of the pandemic. After postponing a few times, Phillips says he began to fear that he was reaching his expiration date of doing something like this. To help mitigate the bodily strain of the trip, he enlisted the help of a sports therapist who provided him with mobility exercises to get through the long road trip and strenuous golf rounds. It was his meticulous and thoughtful preparation that made his travel so successful, and, he says, extremely rewarding.
Phillips was away from home for 57 days because of travel to the non-contiguous states of Alaska and Hawaii before beginning his journey by car. He was homesick even before he left, he says, missing his wife, friends and daily naps.
At least 85% of the drive time was on two-lane roads — by choice. "Even though that meant I was on the road longer I just could not see myself staying awake on the interstate highway and I just love going through the back country and small towns," he said.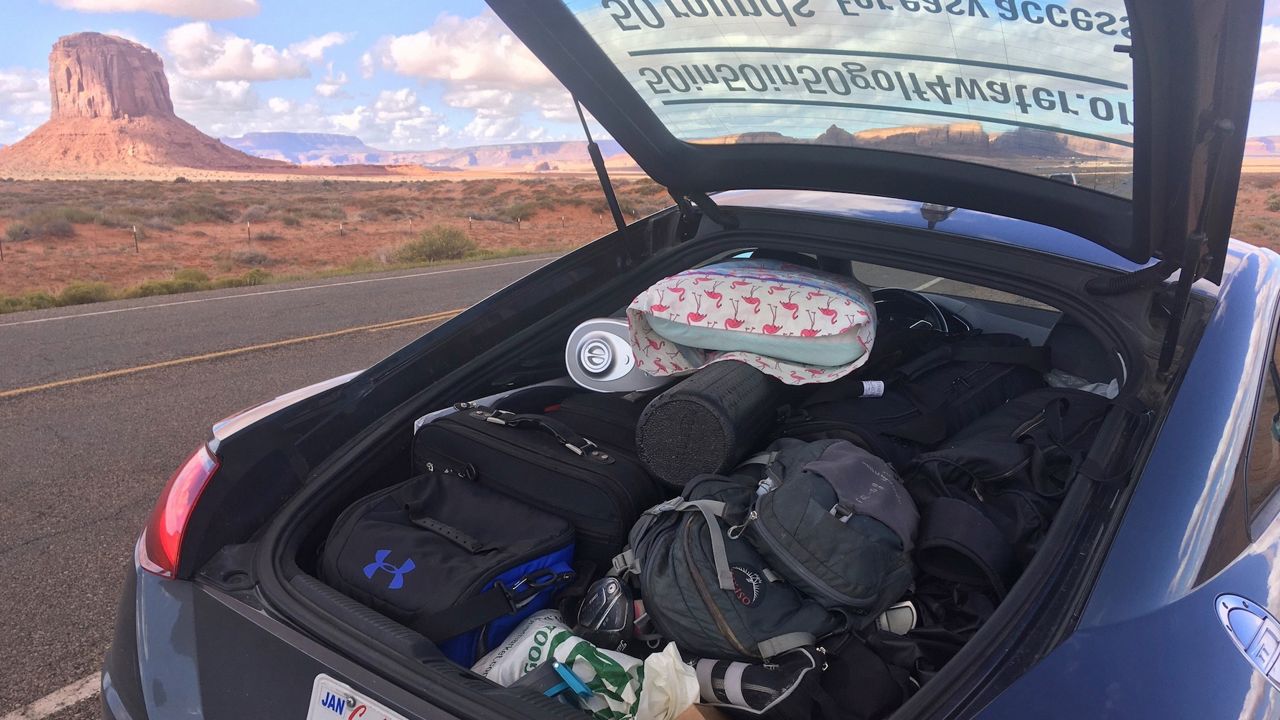 A few friends accompanied him as shotgun riders, joining him at separate points of the trip for a few days at a time. But for most of the trip, it was just him and the open road. To pass the time, Phillips says he sang, spent time in prayer, listened to books on tape and looked through his windshield in wonder at the world around him.
"Some of the scenery and the music brought me to tears," he said. "America is amazing. There actually wasn't more than a handful of moments where it wasn't especially beautiful — most of it was just gorgeous."
In order to hit every state on such a tight schedule, he was booked to the minute with hardly any discretionary time. Some courses were exhausting for the senior golfer, more akin to "combat golf," as he called it than a leisurely round. Phillips says his days began to bleed together in an endless cycle.
Through the support of friends, the encouragement of strangers following his journey and daily phone calls to his wife, he found the strength to keep going. What really got him through the most challenging times was remembering the "why," he said. Thinking about the recipients and how dramatically their lives and communities would change helped him play on.
Phillips has raised over $54,000 for the two charities through pledges and donations. To learn more about his journey or to make a donation, visit his website: 50in50in50golf4water.org/