LOS ANGELES — "I love the sound it makes," Sandra Hise said as she fired up her 72-year-old vintage metal Singer sewing machine. It's the Featherweight model, although she points out "it weighs a ton."
Not that she minds. It was a birthday gift to herself, she explained, "and it sews like a dream."
She's certainly put it to good use. In March of 2020, when the pandemic first hit, Hise wanted to do something to help. She heard about volunteers sewing masks and immediately took her place in the Auntie Sewing Squad.
"I'm one of the OG Aunties," she said proudly. "I've been in since the beginning."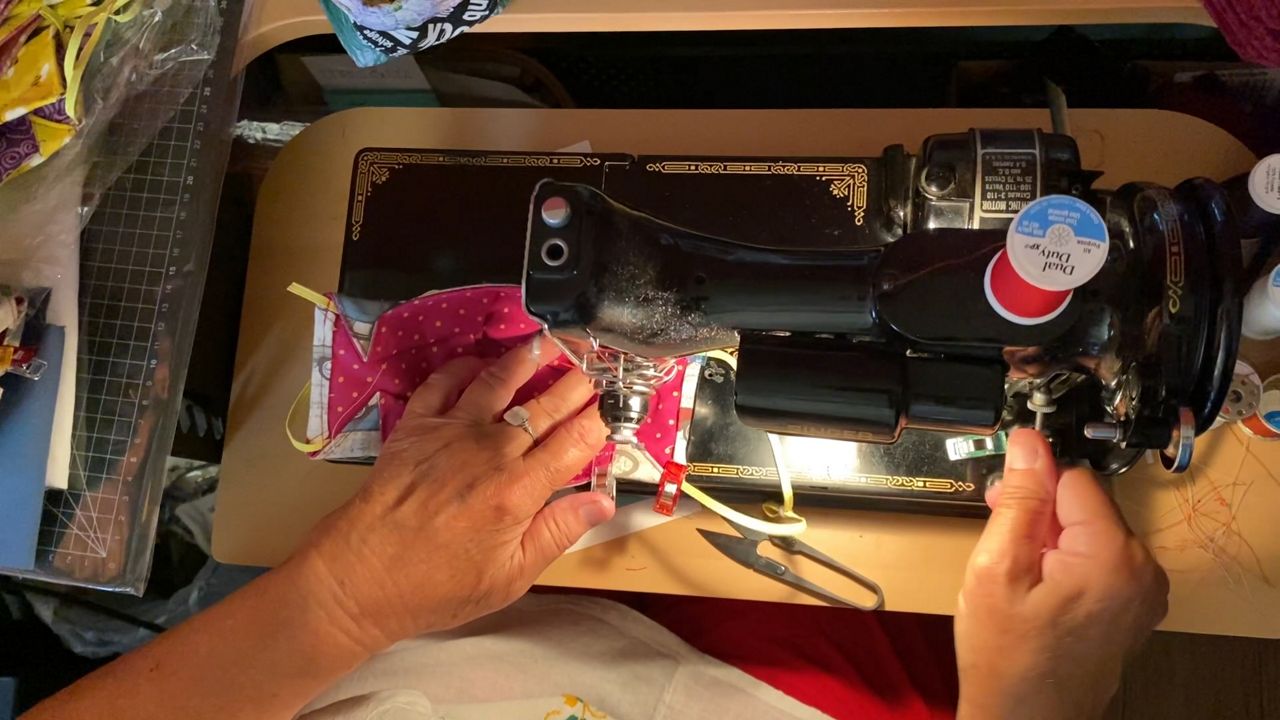 The retired media arts teacher estimates she's made close to 1,100 masks. It's a very intentional act. As she sews, she said she reflects on the possible recipients – farm workers, the homeless, border communities – and it gave her a real sense of purpose.
"Some of the communities that we serve have my heart," Hise explained, "so it's really very comforting to know that I was able to do something positive."
Her job is almost done, though. The Auntie Sewing Squad was the brainchild of artist and performer Kristina Wong.
"Everybody else cleaned their house during the pandemic," Wong laughed, surrounded by piles of scraps and supplies, "and I created a mutual aid group!"
That group has been sewing for 17 months, making and distributing more than 350,000 masks. But with mass-produced masks now readily available, Wong said it's time to give their bodies and their machines a break. She's officially retiring the group on Aug. 15 and admits she never expected it would be needed this long.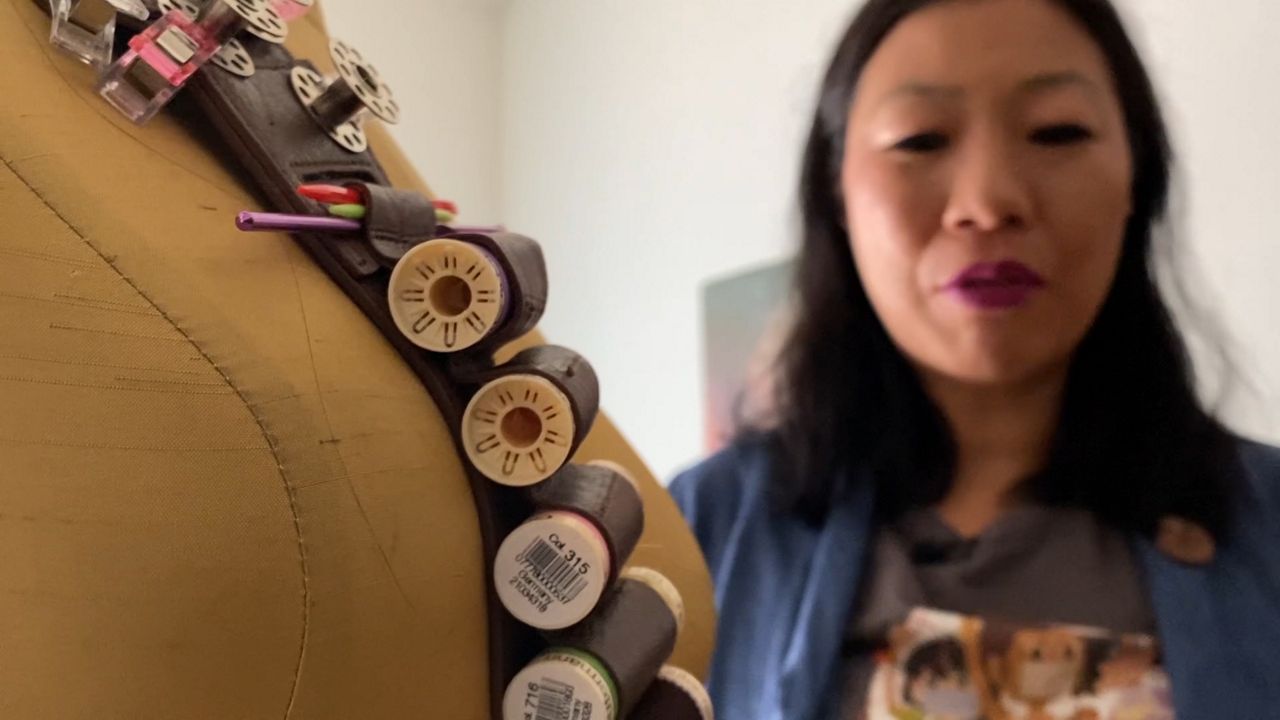 "I meant for this to be a three-week stopgap. Three weeks!" she explained. "If you had told me this was going to go on for 17 months, I may not have done any of this."
The stopgap grew into a national crusade with more than 800 Aunties rolling up their sleeves and pitching in. A book has been written about the group, called "The Auntie Sewing Squad Guide to Mask Making, Radical Care, and Racial Justice."
Wong is also fine-tuning a new show about the experience, called "Kristina Wong: Sweatshop Overlord," which will be presented at the New York Theatre Workshop later this year.
But for now, she's focused on halting production and shipping the last of the homemade masks to communities in need, even as the delta variant continues to spread.
"It's sort of bittersweet because I think we really felt like at the top of this that we could defeat this virus with sewing," Wong said. "We set out early on that our goal was to become obsolete. This should have been the job of FEMA. This should have been the job of a federal agency to distribute these masks, and it's fallen on a bunch of volunteers working for free, and it's made me really disappointed."
Still, Wong is proud of the group she created. Armed with thread and bobbins, they went to war fighting a virus, using whatever early supplies they could find — from dollar store elastic headbands to her own Hello Kitty sewing machine — a prop she purchased for a previous play.
"This one is my battle-ax for some reason," she laughed. "The first masks I made were on this seemingly toy thing."
Near that colorful, childlike machine sits a somber reminder — a photo taken by Chinese American photographer Corky Lee who dedicated his career to documenting AAPI communities. He died of COVID-19 earlier this year.
"And so we've lost our record keepers, right?" Wong said, wiping away tears.
The photo shows striking Asian American garment workers. Wong's grandparents worked in laundries and did alterations when they first came to America. She sees the Auntie Sewing Squad as a full-circle moment.
"This is such a strange ancestral destiny that we thought we've left this behind, that this kind of labor was part of this right of passage to America," she explained, "and now it's how we, like, are supporting America in this mess of not being prepared."
Even though it's time to tie up their loose ends, Wong doesn't think masks themselves are going anywhere. And neither does Hise.
"I do think masking is important," Hise said. "I think it should be here to stay. I think it should be embraced and supported."
Living alone, her connection with the Aunties was a lifeline. And while she admits it feels strange to turn off her machine amid a surge, she's also ready to move on.
"I feel blessed," Hise said. "I think we've made a huge difference, and it's created a focus, an ability to do something meaningful during very, very stressful times."
She plans to take a little break before hopefully finding new ways to serve her community by putting her time and skills to good use. Being an Auntie is now woven into her character.