LOS ANGELES — Skateboarding is a sport, an art form and a recreational activity all wrapped up in a mode of transportation. But to 12-year-old skater Kailey Orellana, it's a lifestyle with endless opportunities.
"It just feels amazing. It just feels like you're going like a 100 miles per hour and then if you catch air or something, it just feels so amazing," said Kailey. "I recommend you skateboard and you'll get the feel for it and you'll love it. It's totally worth it."

A vert and park skater, Kailey regularly works on her runs at skate parks around LA and she only started four months ago.
She discovered the sport when she noticed the skaters in the park while riding bikes with her dad in Venice. Wanting to work on her confidence, she eventually asked for one.
"At first I was getting bullied. It was really bad because like everyone would pick on me and they just would say awful things that no one wants to hear," said Kailey. "That's why I started skateboarding as my escape and it helped me a lot."

But skateboarding takes a lot of gear and Kailey needed some help. That's when she heard about Havalina Skate. Started by husband and wife team, Alex and Kelly Hernández, they upcycle used skateboards and donate them to disadvantaged families on the first Saturday of every month.
They fitted Kailey with new wheels and bearings to help her get started.
"Everyone should skate. It should be for everyone and it's not cheap," said Kelly Hernández. "It can be anywhere from $160 to $200 to get your board, your helmet, your pads, your wheels, trucks, a complete set to get started."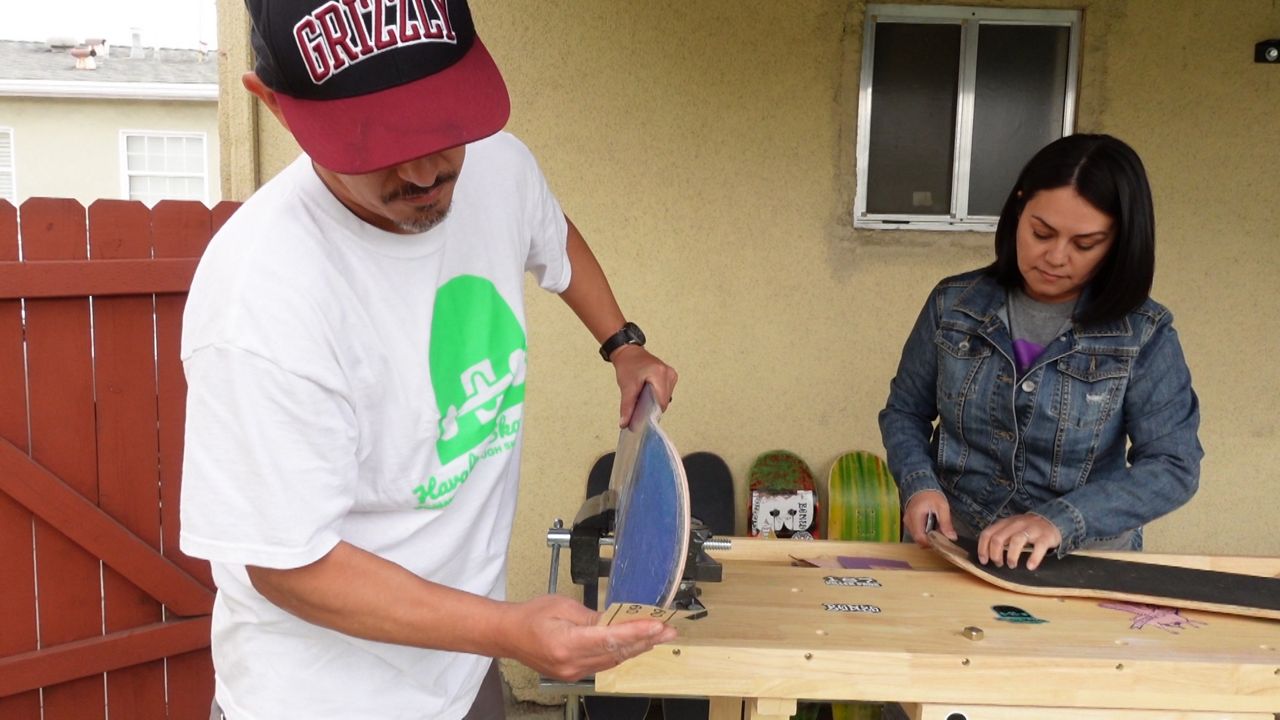 Alex is a former pro-skater and Kelly grew up going to skate parks her parents owned in East LA. For them, skating is a community activity as much as it is a sport. Their goal is to donate a thousand skateboards by the end of the year.
"We want to make it accessible for everyone, to remove that barrier, to make it so that everyone can skate because parents need that help," said Hernández.
Skateboarding is now an Olympic sport and Orellana dreams of representing the US in the future. Currently a quarterfinalist in the USA National Skateboarding Championships, Kailey is well on her way, even with all the bumps and bruises.
"When I broke my arm, it was very painful and I fell and I didn't want to get back up, but I had to," said Orellana.
It's a lesson every skater eventually learns.
"No matter what, if you fall or if you break anything, just get back up and keep skating because it's so worth it," said Orellana. "And even though I was scared, it doesn't mean you have to be."
Like every community, skaters are tight knit so even if you fall, there's someone there to pick you up.
If you'd like to donate a used skateboard or are in need of one, visit the schedule of events on Havalina Skate Company's website.