House No. 1 or house no. 10? That was the first question I was asked when I arrived at the Arroyo Seco Tiny Homes Village in Highland Park for a sleepover Wednesday night. Having been informed that No. 1 had an unobstructed view of the toilet trailer, I chose no. 10 — a tiny home that was distinguishable from the 116 others on the site only because of its "happy snappy" exterior. It was painted with smiling green turtles.
Like the residents of half a dozen other neighborhoods that have gotten tiny home villages this year as part of LA City Councilmember Kevin de Leon's A Way Home plan to build 25,000 housing units for the homeless by 2025, I was curious about the experience. I've lived in Highland Park for 21 years and, like Angelenos in so many other parts of the city, have watched the homeless population grow, despite the efforts of multiple agencies throwing millions of dollars at the problem.
So I packed an overnight bag and walked over.
The Arroyo Seco Tiny Homes Village is located right next to the Arroyo Seco Parkway in a barely used parking lot next to a barely used park with security guards manning both ends and fences flanking its sides. Its main entrance is about 200 yards from an entrance to the 110 freeway. I walk by the park and use that freeway entrance every single day.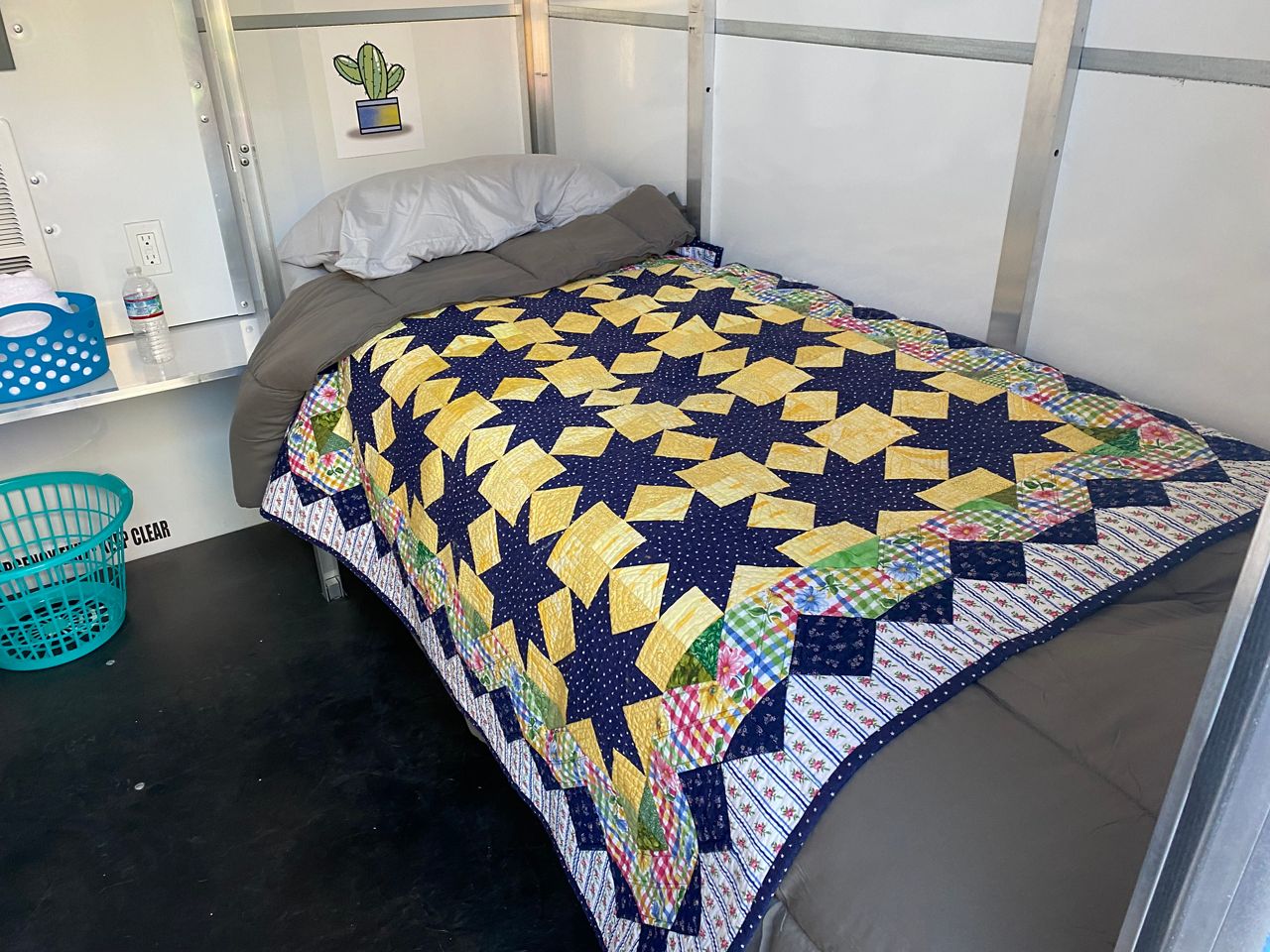 When I arrived at 6:30 p.m., I was greeted by a security guard. The village won't be housing any homeless people until Nov. 2, but security is already on site. There will be three security guards at the tiny home village when it opens, but there were even more Wednesday night because I wasn't the only person sleeping there. Councilmember de Leon and California Assemblymember Miguel Santiago were also spending the night, as were the chief executives from the nonprofit that will run the tiny home village and the company that manufactures the tiny homes.
It's all part of an effort to win public support for tiny home villages, which have drawn criticism and protests from community members who fear they will attract crime and dereliction and destroy property values. As a longstanding homeowner in Highland Park, I understand the fear. But I also see homelessness growing and am happy to see the city trying something new.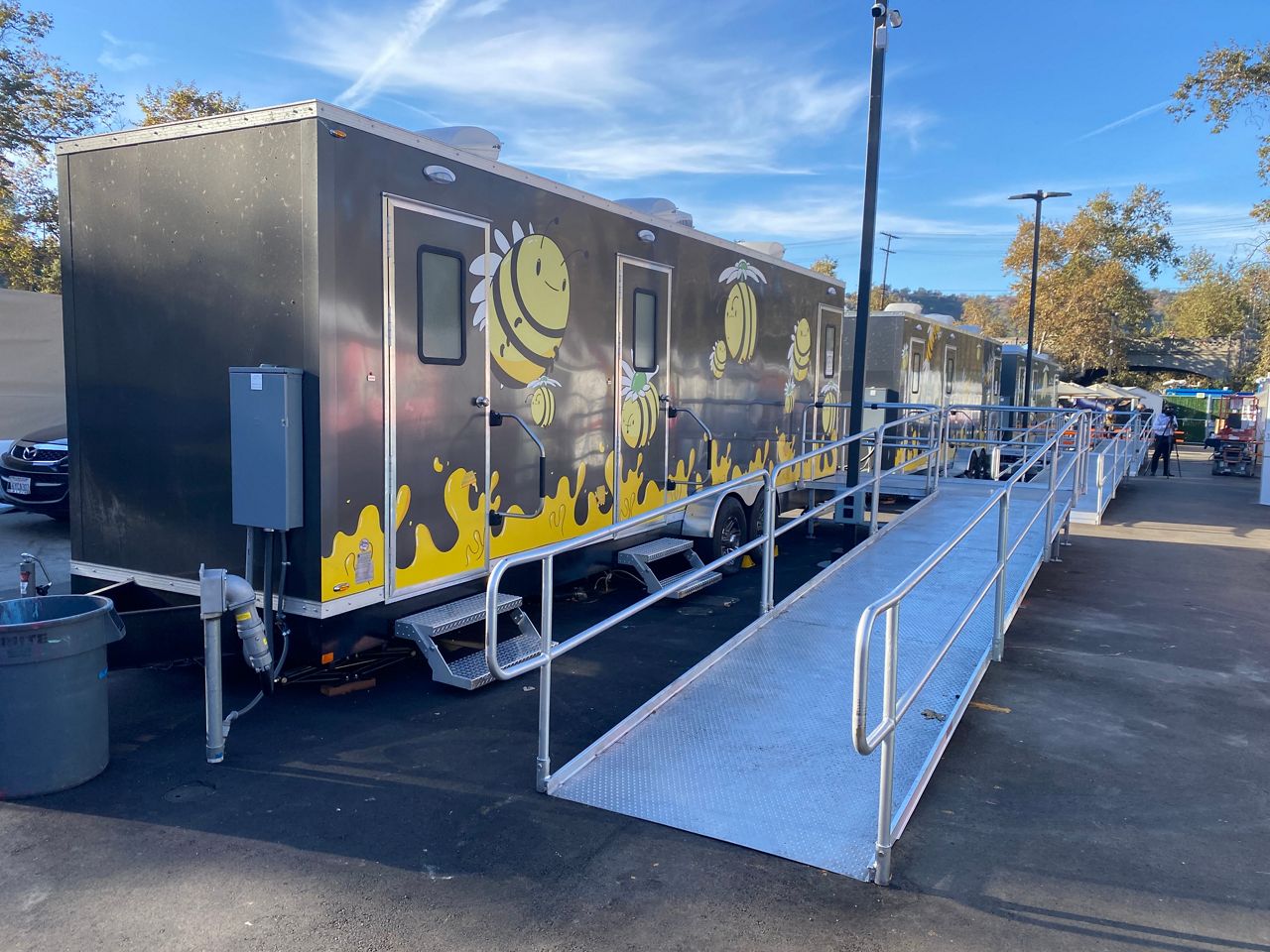 For years, I've watched encampments grow along the edges of the Arroyo Seco Parkway and the bike path that runs right next to it. For years, I've also watched the city periodically clear them, but they always return. Clearly, it's a broken system.
In spending the night, I wanted to experience a possible solution or, as de Leon said today, "a part of the overall solution." Is this it? I honestly have no idea, but it's worth a shot.
Walking into the tiny home village, it's very well organized, clean and colorful. Earlier this month, a team of mural artists gave each home a unique paint job. Some are covered in honeybees and Pikachu characters. Others are decorated with hearts, plants and cartoonish renditions of fruit.
The whole idea of the tiny home is similar in concept to Virginia Woolf. It's about having a room of one's own. Unlike many homeless shelters, which are huge rooms with dividers often available to a single gender, tiny homes let couples and families stay together. They can even bring their pets.
My room, no. 10, was like all the others. There was a pair of twin beds with mattresses and bedding. There was even some modest decor. My room had a pair of potted succulents sitting on a shelf that matched a couple of succulent prints that hung on the walls.
There was lighting, a heater, an air conditioner, a pair of outlets, shelving, storage and a lock on the door. After I dropped off my bag, I wandered around.
My tiny home was in the center of three rows of tiny homes, each of which has a house number and exterior lighting and measures 64 square feet. It was near a trio of mobile trailers that house 15 small bathrooms, each of which has a toilet, sink, mirror and shower. On the other side are a laundry room and a cluster of picnic tables.
Dinner was served at 7:45. When the tiny home village opens, dinner will be one of three hot meals served each day. The meals are prepared in Pacoima in the kitchen of Hope of the Valley Rescue Mission. That's the nonprofit that will operate the village. The meals are cooked using donations from the Valley Food Bank and a variety of other nonprofits and corporations and trucked in. Each meal, according to Hope of the Valley, includes a protein, a vegetarian option and a fresh vegetable or fruit.
Dinner was surprisingly delicious: chicken enchiladas, salad, rice, beans, chips with guacamole and flan for dessert. Drinks were either water or coffee or bottled tea. According to Hope of the Valley spokesman, Rowan Vansleve, the dinner we had wasn't any different from what will be served to village residents, other than the silver service that was used because City Councilmember de Leon and California Assemblymember Santiago and the CEO of the company that makes the tiny homes were also spending the night.
By 9:30 I was ready for bed. It was in the mid-50s outside, and I was glad there was a heater — not only to keep me warm but to provide some white noise to cover the sound of the freeway, which was about 50 feet away. Try as I might to convince myself that the freeway sounds like the ocean, I think that's only true from a few blocks away. When you're this close, you can hear individual cars.
At least the freeway wasn't visible. The chain-link fence that used to be the only barrier between the speeding cars and the parking lot has been enhanced with concrete k rails and coverings that are meant to provide noise control, if only somewhat successfully.
Inside my tiny home, the bed was very comfortable. The bright lights that shone through its four tiny windows, not so much. At least there were curtains. The village uses street lighting.
What woke me up in the morning was the sound of fellow news media. It was 4 a.m. By 5:30, everyone who had spent the night was up. Some of them had even showered. Each room comes equipped with a shower caddy and towels, which, once the village is open, will also include soap, deodorant, toothpaste, toothbrushes, shower gel and shampoo, much of it donated. Living so close, I opted out of taking a shower in a mobile trailer just steps from the freeway and elected public officials.
Such amenities will be a godsend for the people who will be living here starting Nov. 2. It's certainly far better than bathing in the river, which is what I see almost daily as a local resident.