LOS ANGELES — Bagels and pizza have long been the provenance of New York City.
Los Angeles? Not so much, but a new Highland Park spot could put LA on the map.
Serving up organic bagels made from regeneratively grown wheat, pizza by the slice and a pizza bagel that combines its two namesakes, Bagel + Slice is the brainchild of Blaze Pizza co-founder and head chef Bradford Kent, whose approach to East Coast culinary mainstays is decidedly Californian.
The dough is made from organic flour, the orange juice is freshly squeezed and the house-made cream cheese is available in both dairy and cashew nut varieties.
"The first thing people ask me here is, 'Are you from New York?' as if New York invented the bagel," said Kent, who was born and raised in San Diego and educated at both the University of Southern California and the Culinary Institute of America. "They popularized the bagel because that's where a lot of immigrants went, but if immigrants came through another city, it wouldn't have been a New York convention."
For Kent, the debate about whether a satisfying bagel can be found on the West Coast is a moot point.
"People that cook with intentionality and with integrity and no ego make the best food, and that's really in the end what I'm trying to do. I'm just the vessel to make the food shine," said Kent, who has been open just 10 days but has already heard from a New York City shop about exporting his bagels to the East Coast.
Kent's concept is to offer a first-class experience at a not-so-first-class price, he said. Organic bagels cost $2.85 apiece or $16 for a half dozen. A slice of pepperoni pizza is $4.75.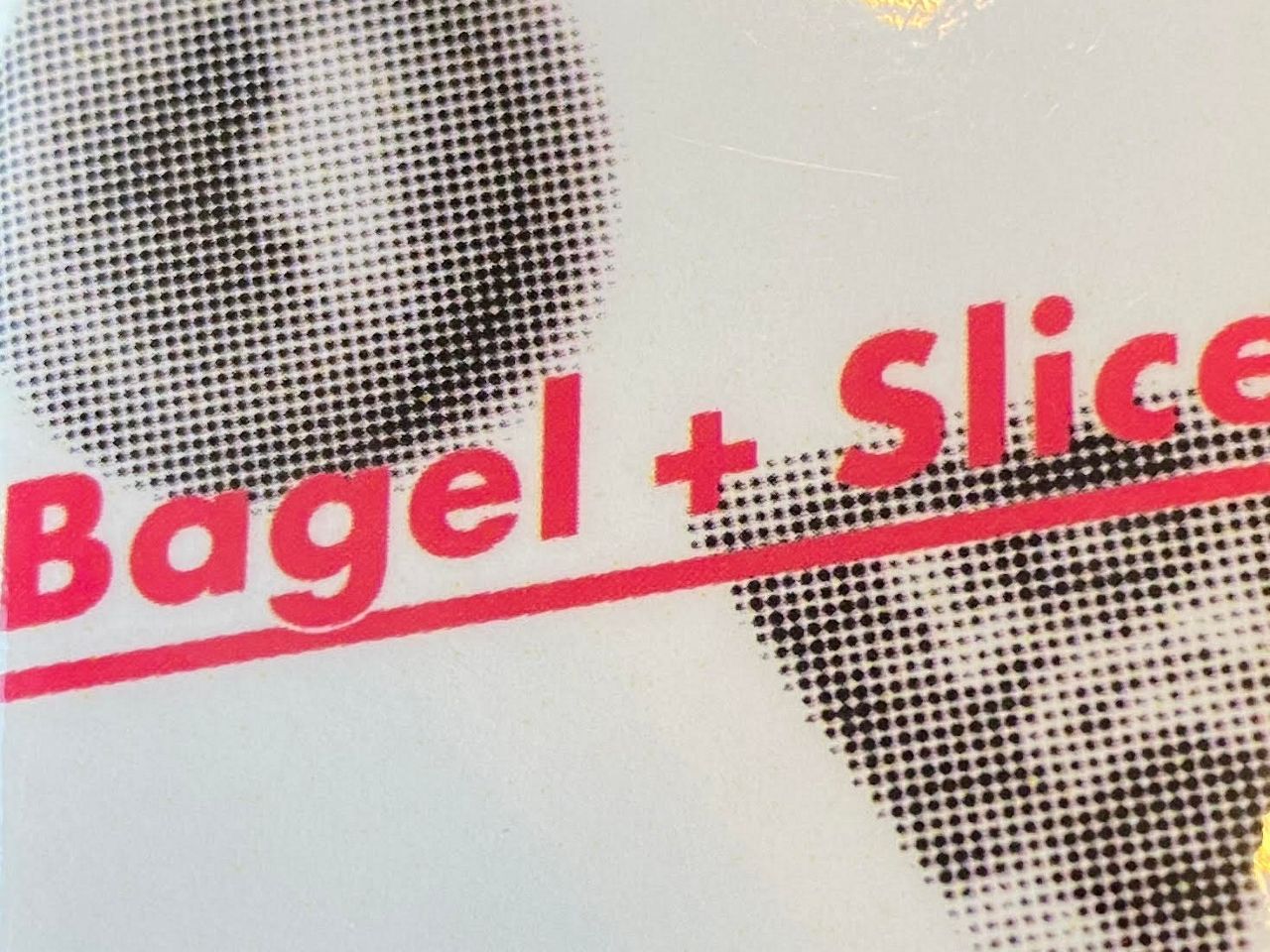 The approach seems to be paying off. On a recent Friday morning, there wasn't a single seat to spare on the outdoor patio, as Bagel + Slice did a brisk business in a restaurant that is simultaneously cozy and artful.
Trimmed in navy blue bus station tile offset with splashes of hot pink, the 1,300-square-foot shop has an indoor space for ordering but is otherwise oriented outside, along a bustling retail corridor populated with galleries and coffee shops.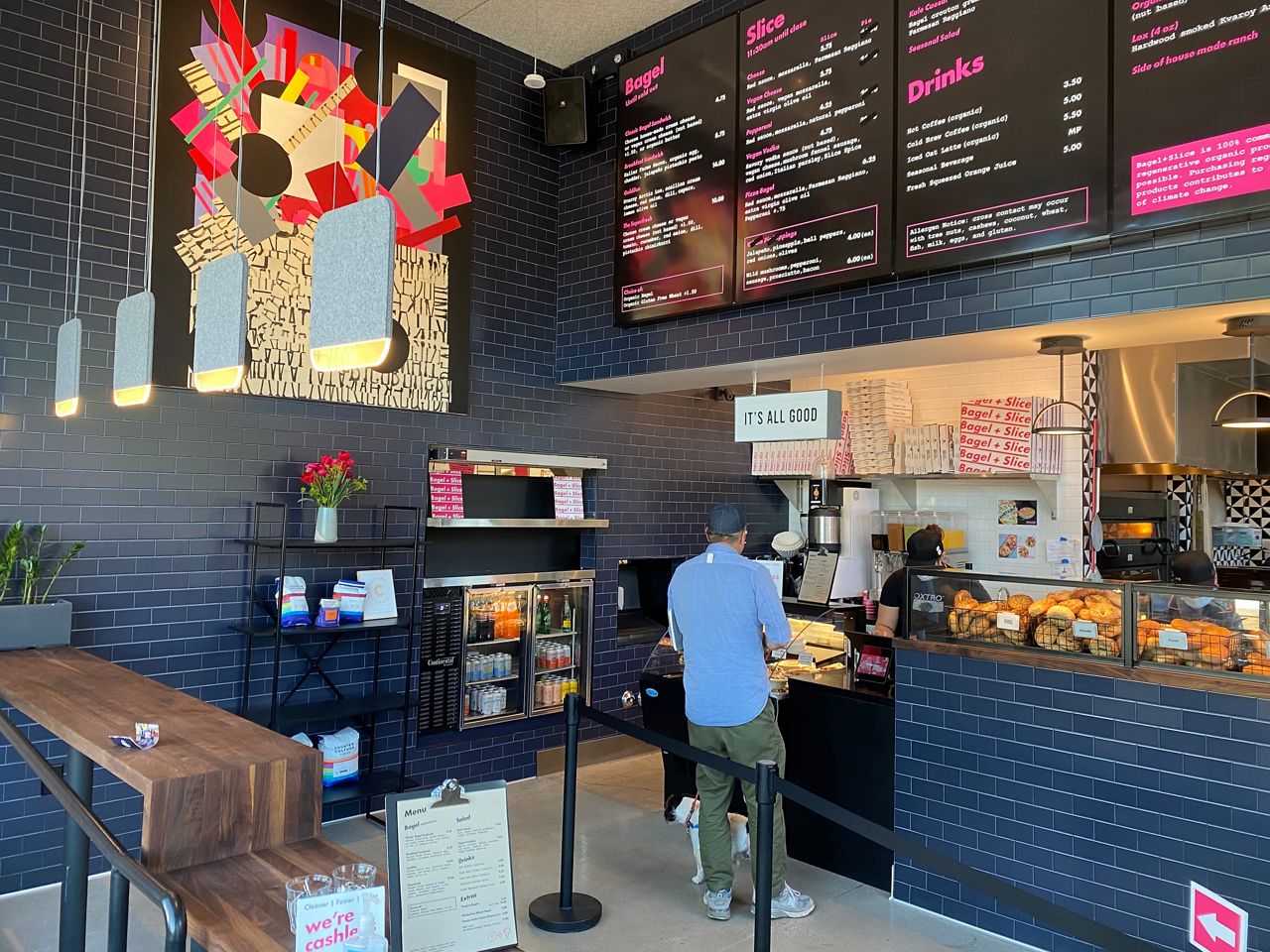 Located at the corner of York Boulevard and Armadale Avenue in a building owned by nearby Occidental College and its new Oxy Arts event space, Bagel + Slice was initially imagined as a bagel shop.
"I wanted something I could close in the afternoon because I'm already in the pizza business," said Kent, who also owns Olio Wood Fired Pizzeria in downtown LA.
He only added pizza to the menu when his landlord asked if he could do something else. Being in such a coveted retail location with 10 other potential tenants vying for the same space, he obliged.
Two distinctive concepts running out of one restaurant, Bagel + Slice is open from 8 a.m. to 10 p.m., with bagels served in the morning. Salads and slices of pizza are served from 11:30 a.m. until closing.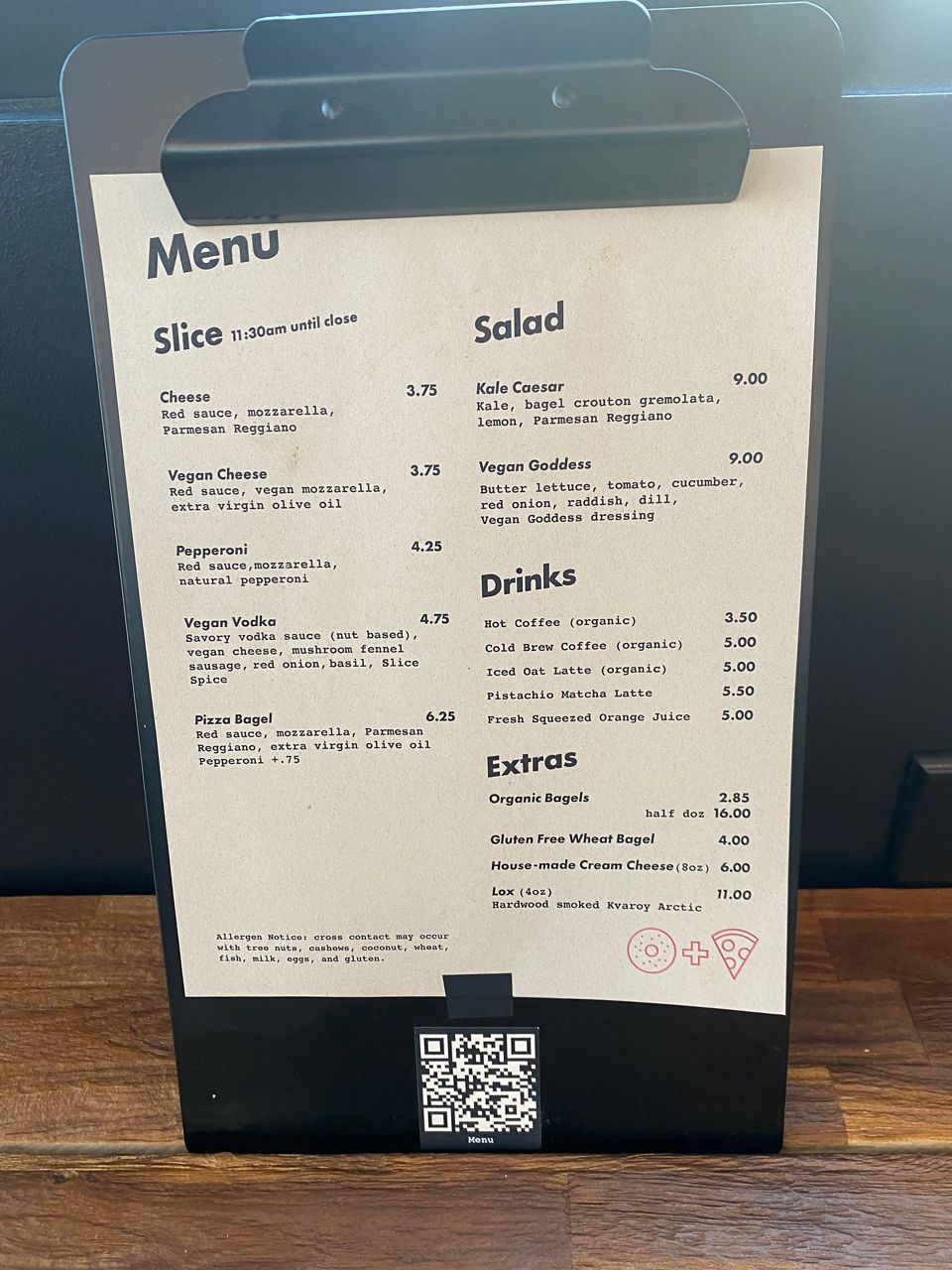 The bagels and the pizza dough are both made from certified regenerative organic whole wheat sourced from a small farm in Arizona that is milled on-site at Bagel + Slice.
While Kent cares deeply about the importance of environmentally-friendly farming that the space includes a sign explaining it, he recognizes that most of his customers "just want to know, is it good? Is it affordable? Is it fast? Is it safe and clean? Is it fun? Are the people nice to me?"
"You have to give people food that tastes good, and they'll come back for it," he said. "And then you give them a reason to come back beyond the food."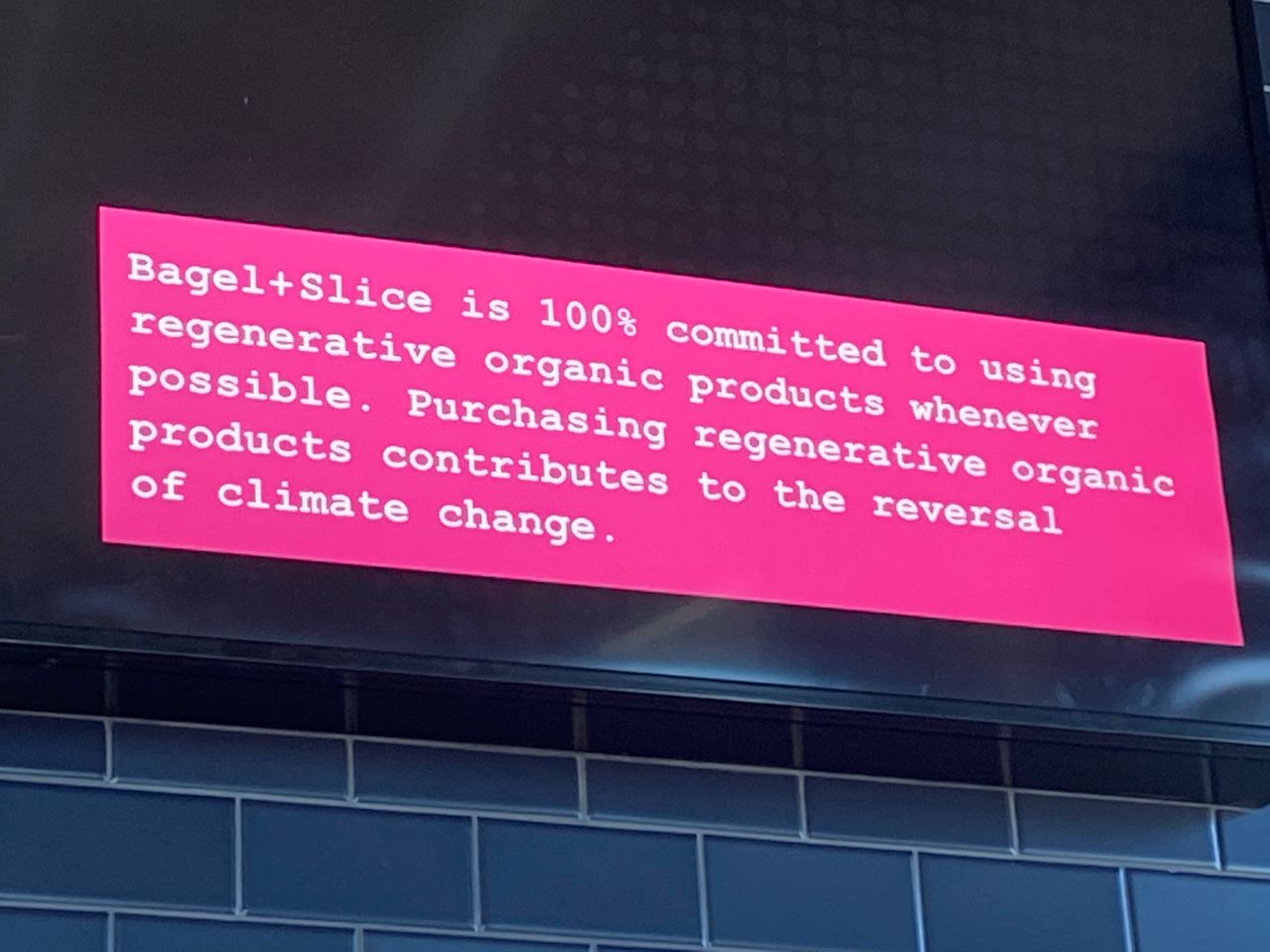 Kent's first introduction to a bagel pizza was a frozen Lender's topped with Prego marinara and a slice of American cheese that his mom cooked in a toaster oven.
"My mom would feed me these horrible pizza bagels, and I used to cry, not because I was emotional, but because it was bad food," he said.
Kent had similar experiences at restaurants like Sizzler, he explained, where his dad scolded him for not liking the steak, and at an Italian restaurant that served a meatball sandwich that was only worth eating for the sauce-drenched bun. So, at age 7, he started cooking.
His approach to food has always been to break things down using his senses. He started to formalize his instinct for food science at the Culinary Institute of America and gained practical experience working at the U.S. Department of Defense, which Kent calls "the premiere food science playground for the world" because the agency needs to eke out maximum energy for its soldiers.
It was while working in food product development for the company that makes meals for Trader Joe's, Costco, Whole Foods and California Pizza Kitchen that he learned to develop recipes that could scale with easy-to-find, chef-quality ingredients. That concept led him to co-found the fast-casual, made-to-order chain Blaze Pizza in 2011. Blaze now has more than 340 restaurants across 41 states in six countries.
Bagel + Slice could also scale, Kent said, "as a business for good."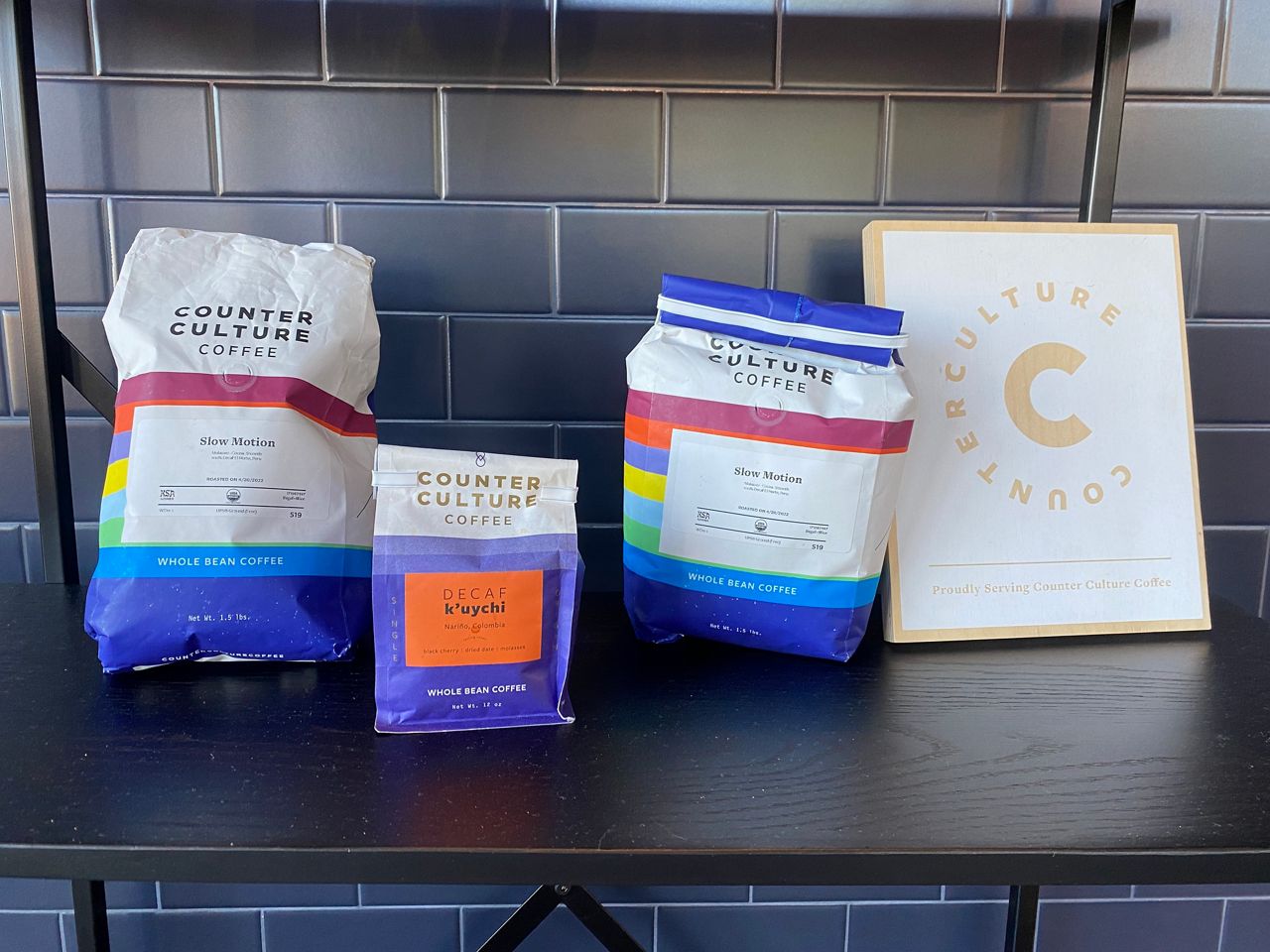 While the bagels and pizza are delicious, Kent is mostly interested in being a model for larger businesses to embrace climate-friendly practices. In addition to supporting regenerative farming, Bagel + Slice uses an electric oven instead of conventional gas.
It is also committed to keeping its food and employees safe. Instead of using chemical-based cleansers to disinfect surfaces, Bagel + Slice cleans with ozone. In addition, the restaurant is cashless, allowing for faster checkouts and fewer bookkeeping errors.
"One restaurant can't fix a climate problem. One restaurant can't fix employment issues of treating people with respect and dignity, but if we prove out a business model that works, big companies are watching," Kent said. "That's why we do a lot of the things that we do. It's because we're trying to do it right."