ALHAMBRA, Calif. — Smorgasburg LA regulars already know it as the go-to spot for vegan tacos, oyster sandwiches and other foodie fare.
Now a gravity-defying dish from A-Sha Dry Noodle will make its debut as part of a special AAPI Los Angeles Market during Sunday's festival. Designed to look like a classic plastic ramen sampuru, the Flying Noodle Bowl is a cascade of curly noodles that appear to be floating midair over a pile of meats and chopped vegetables.
"We had to spice things up and do something different for the Smorgasburg crowd," said A-Sha Foods founder Young Chang.
Like RiceBox, the Brothers Sushi, Dumpling Mafia, Mochi Dochi and Dai Pie Dong, A-Sha is an AAPI-owned business participating in this weekend's themed Smorgasburg coordinated by the new AAPI LA initiative.
"Food is one of the easiest ways to bridge cultures and bridge communities," Chang said of AAPI LA, which Mayor Eric Garcetti created this year to increase cross-collaboration and outreach between organizations, community leaders and businesses to support Asian American and Pacific Islander groups.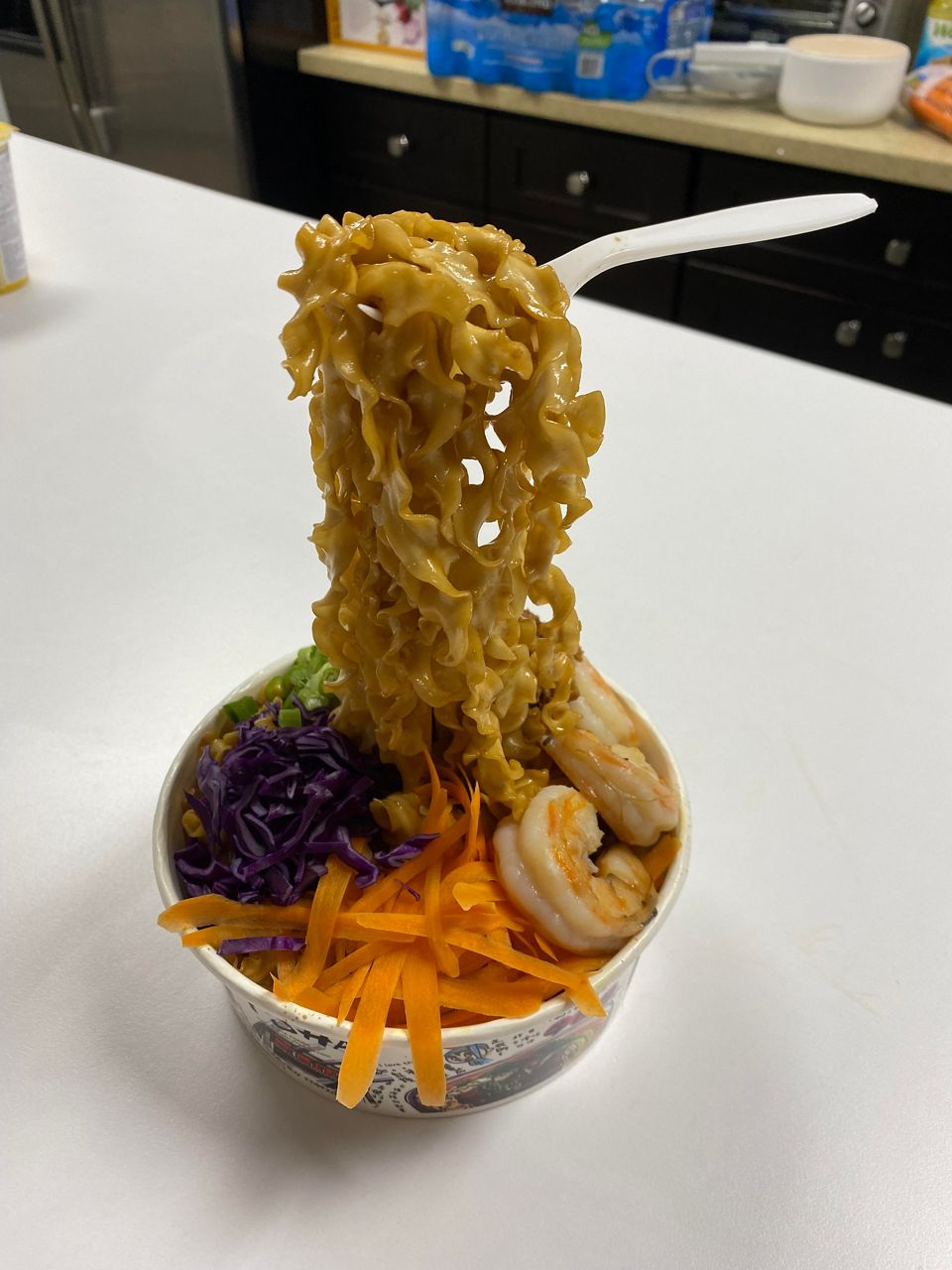 A-Sha is a packaged noodle maker best known for its 100-year-old recipe from Tainan, Taiwan. Made from wheat, salt and water, the noodles are air dried for 18 hours and imported to the U.S. from the small East Asian island.
Sold everywhere from ethnic groceries to Costco, Walmart and Target, A-Sha has participated in various food festivals for the past seven years, including the 626 Night Market.
But earlier this month, in celebration of AAPI Heritage Month, it debuted a new A-Sha Noodle Bar food truck that has been making the rounds of various Asian festivals, including 626 Golden Streets in Alhambra, the 1st Valley Asian Cultural Festival in Woodland Hills and — this weekend — ROW DTLA at the Alameda Produce Market, where the Flying Noodle Bowl will be served for the first time during Smorgasburg.
Similar to Chipotle, customers choose a noodle, a sauce, toppings and proteins, such as marinated pork, Impossible Burger meatballs or tofu that's served in a bowl with hand-drawn artwork.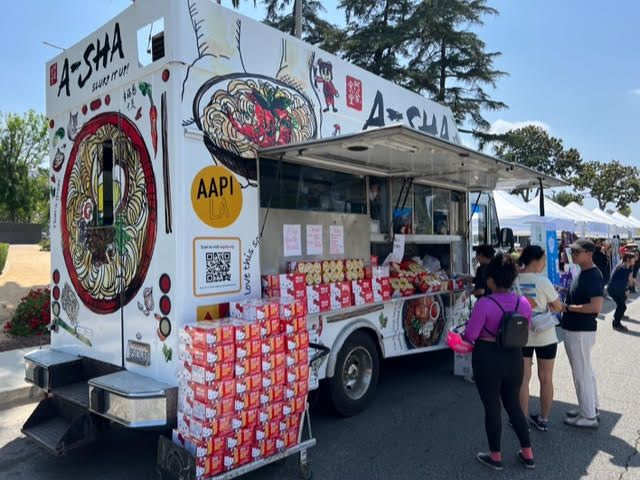 An iconic brand in its home country, A-Sha Noodle has been around since 1977, but it wasn't until 2012 that it was available in the U.S.
Chang, who is Taiwanese American, was working in the entertainment business in LA at the time and didn't know anything about the food business. But his brother-in-law, who lives in Taiwan, asked him to import a small quantity.
It immediately sold out, so they expanded. Following a rave review by the Seattle-based food critic Ramen Rater in 2013, A-Sha was picked up for national distribution by Safeway and Albertsons. Its noodles are now so popular that A-Sha has been included on Inc. Magazine's list of the top 500 fastest-growing private companies for the past two years.
A typical ramen noodle is quick fried and highly processed, but A-Sha noodles look more like an Asian pasta. Available in a variety of styles, they come in various thicknesses and shapes based on the knife blade that is used to cut them. What makes a Taiwanese noodle different from a Japanese or Korean noodle is its simplicity.
"Taiwan wasn't always a very rich country, so the ingredients are very simple. You have the noodle, which is basically wheat flour, water and salt, nothing else," Chang said. "Our original sauce is basically soy sauce and sesame oil. There's nothing else in it, so that's a very typical Taiwanese flavor. It's very simple."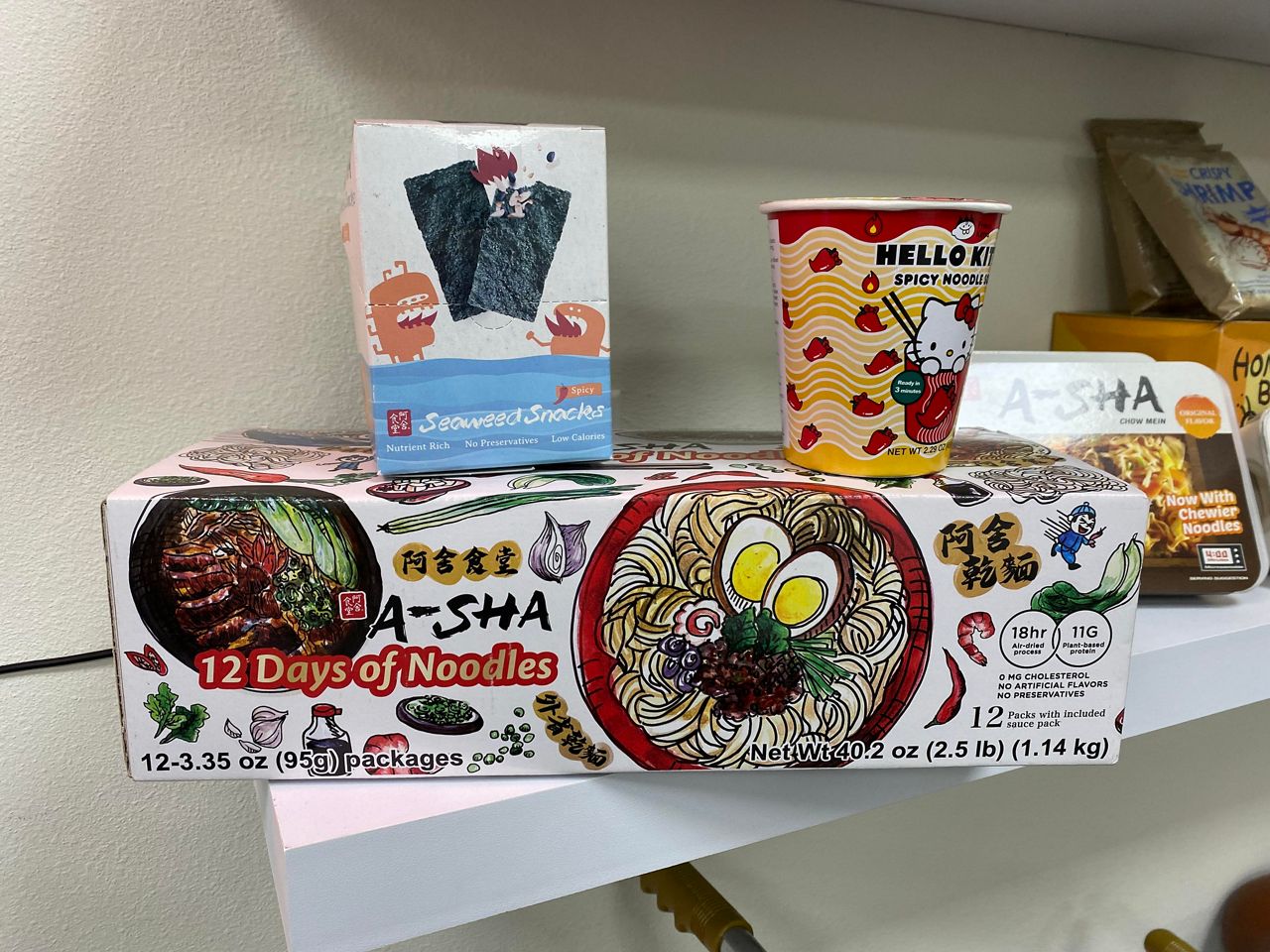 A-Sha noodles are made in a part of Taiwan where it rarely rains, making it perfect for air-drying noodles. Air-drying allows A-Sha to maintain the integrity of the noodle, "so when you cook it up, the flavor, the texture, everything is still there in the noodle," he said.
The result is a dish that tastes homemade rather than packaged, which is why chef David Chang partnered with A-Sha on a line of Momofuku-branded noodles that have been sold at Target since last October.
In 2020, A-Sha partnered with Sanrio for the Olympic Games in Tokyo, offering sports-themed noodles with Hello Kitty branding. Later this year, it will introduce another noodle collaboration with BT21, the cartoon entity that represents Korean pop stars BTS.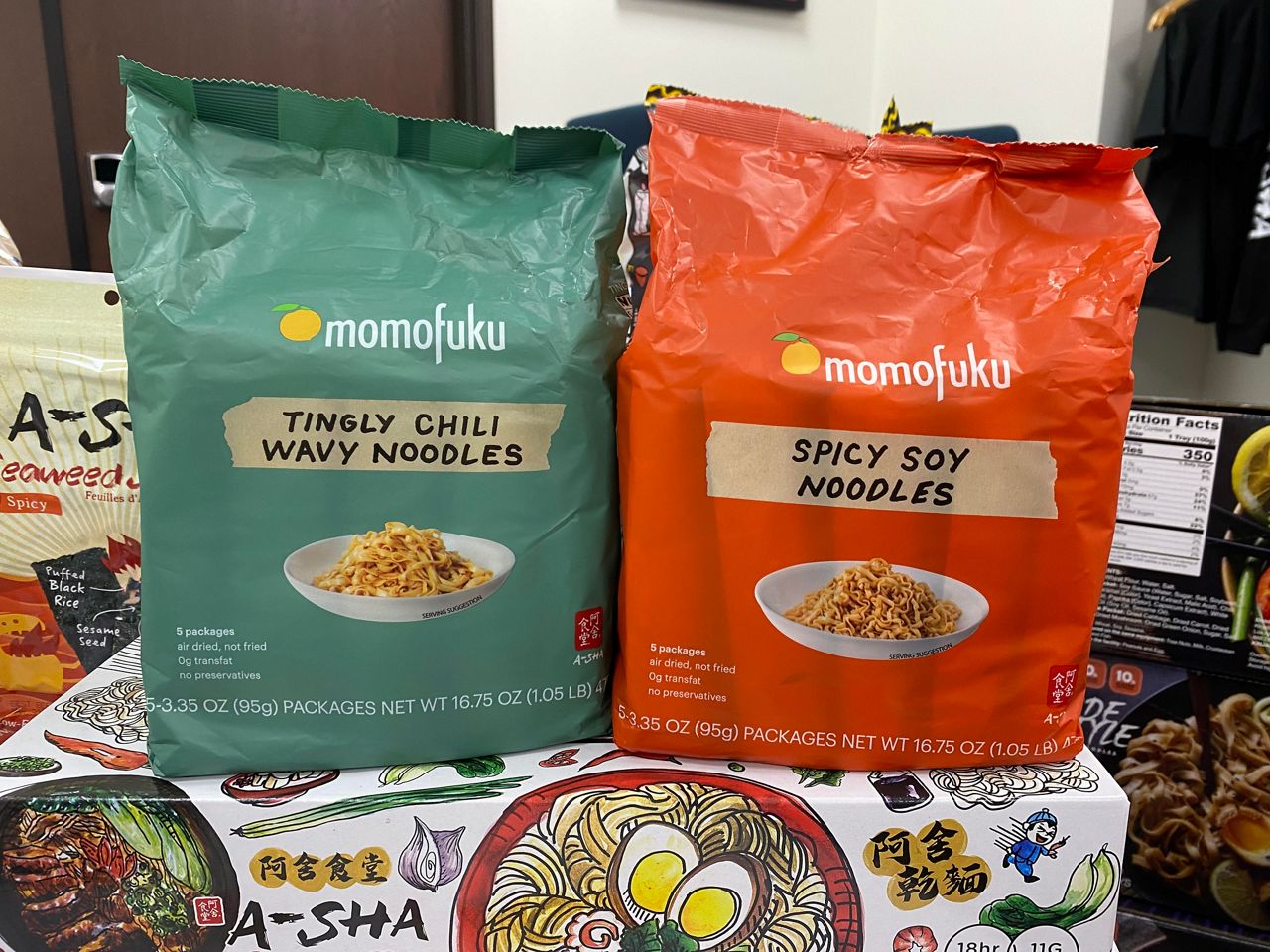 Yet for all of A-Sha's pop culture "cred," it remains true to its roots.
"We're always true to where we came from, but with these collabs, we're able to create connections with other groups. We take a lot of pride in what we've done. In our home country, we're looked at as a symbol, like a beacon. We take that responsibility very seriously," Chang said. "When you see A-Sha in the market, it is the representation of Taiwan. That is huge. We're in it to run a business, but a lot of times, it's about the respect that we can get for Taiwan's culture, Taiwanese ethnicity and Taiwanese products."