LOS ANGELES — With a play set at Harvard, it makes sense that actress Donna Simone Johnson studies her script carefully.
"I do scan my script as if I'm doing Shakespeare," she said, flipping through the pencil-marked and highlighted pages of her binder. "I write notes and I erase them. I write new thoughts and I erase them. It's a mess, but it's well-loved!"
Classically trained with a master's from CalArts, Johnson knows her way around the works of the Bard, but she's also dedicated to telling contemporary stories that explore timely, complicated subjects. "Power of Sail," which deals with race and free speech issues, is definitely timely.
"Unfortunately yes. It is. It is," Johnson said.
Johnson plays FBI agent Quinn Harris, a newly fleshed-out character previously portrayed by a white man. Playwright Paul Grellong said changing the character turned the scene into "something far deeper and more nuanced," and Johnson said the proof of that is in the audience's reaction.
"When I walk in and they go 'Ohhhhhhhh!'" she laughed. "I haven't even done anything yet and they've made up their mind about what's going to happen."
Besides acting, Johnson is also co-artistic director of Watts Village Theater Company, which is devoted to providing "arts and arts-education to a population with little or no other access to live theater." She knows the impact exposure to the arts can have.
"My goal is to get some of these stories down to Watts," she said. "To say, 'Let me show you what a slice of the world looks like so that when you go out, you have that foundation and then you can grow in that.'"
She called it "sort of my charge as an artist," but it also ties into her role as a mother.
That well-loved script she constantly studies is decorated with a drawing from her 5-year-old son. "Break legs mama, by Coltraine," it reads.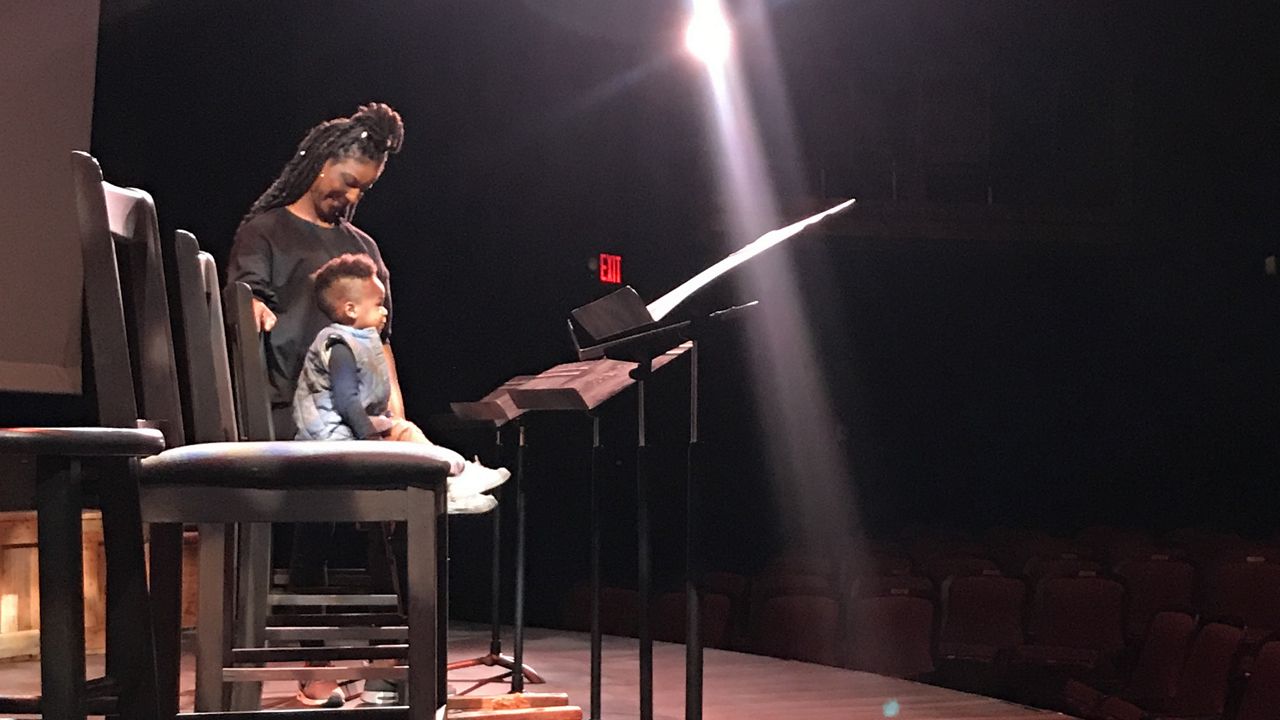 Johnson has been bringing him into rehearsal rooms and theater since he was a baby. She hopes this will help him develop the ability to understand perspective. Theater fosters empathy, "and I really believe that that is the key that can turn the tide of a culture or experience," she said. "And actually, not to name it, but this show deals with that as well."
Take, for instance, that gut reaction the audience has when she walks on stage to question the professor played by Bryan Cranston. One word came to mind when asked about the future she wants for her son.
"I think of the word 'free,'" Johnson explained, "and free is things like you walk into a room and things aren't projected onto you simply because you walked in the room."
Although set on a campus, "Power of Sail" isn't a lecture. Rather than taking sides, Grellong hopes the show leads to some deep discussions.
"My goal has always been for the play to drive conversation between audience members after the show is over," he wrote in an email. "I'd like people to take in the various points of view on stage and wrestle with their own conclusions."
Donna agrees.
"And that's why we do it," she said. "We want those conversations in the lobby, in the car and then to ripple afterward."
"Power of Sail" runs at the Geffen Playhouse through March 20.