LOS ANGELES — A bustling, if unassuming, intersection is about to be transformed with affordable and supportive housing. The Los Angeles County Metropolitan Transportation Authority broke ground Wednesday on the Santa Monica Vermont Apartments at the intersection of Santa Monica Blvd. and Vermont Ave. in East Hollywood. When it's completed in two years, the building will provide 187 housing units for low-income households, including homeless individuals.
"The housing crisis and homelessness crisis is just that: it is a big challenge for us and no one project is going to solve everything," Metro Board Chair and LA County Supervisor Hilda Solis said at the apartment building's groundbreaking. "But if we make appropriate investments, we can make affordable housing a possibility and provide homeless services to also be a big part of what we're trying to do to house more people."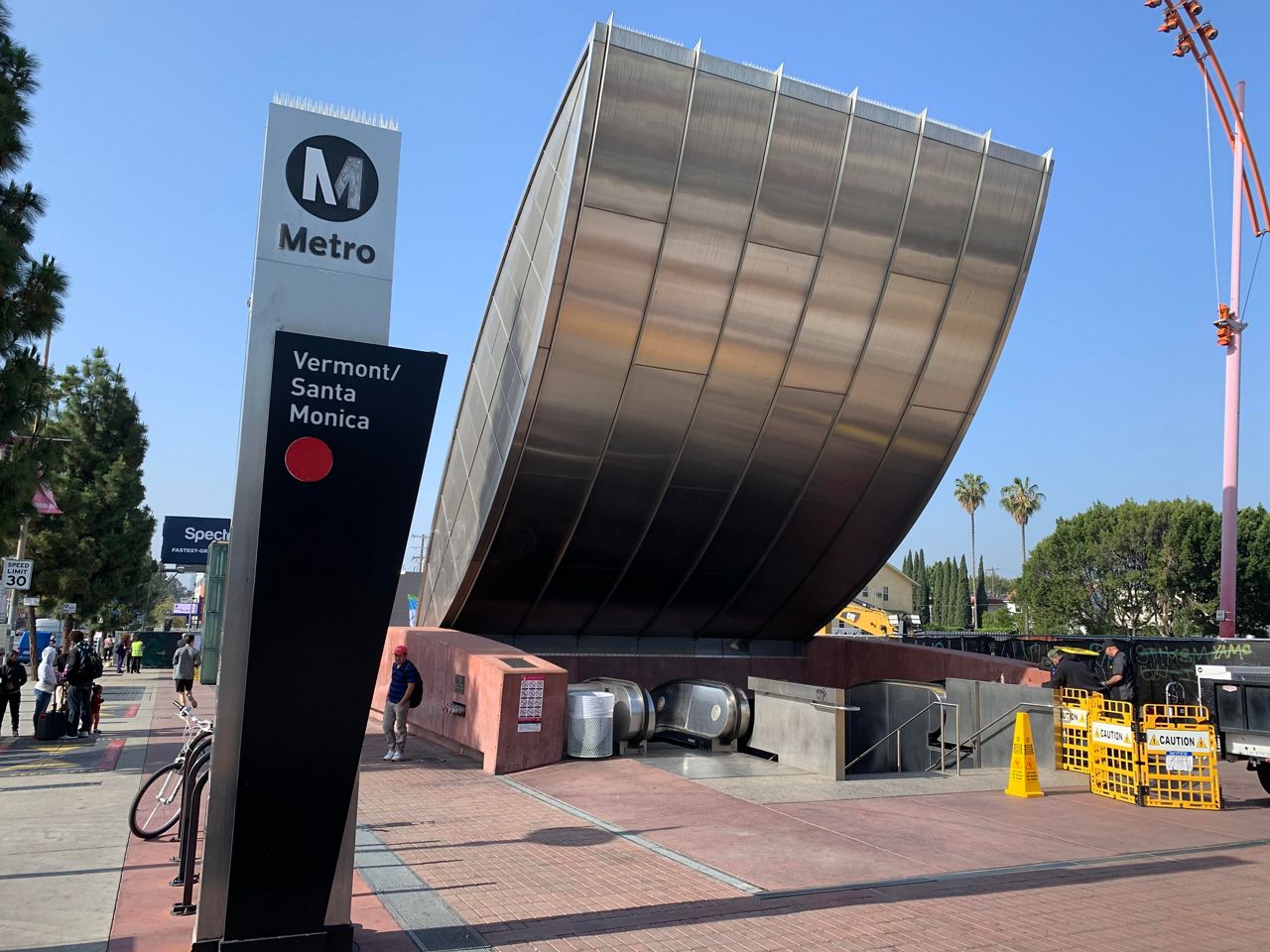 Located across the street from a strip mall and an Arco gas station and on top of the Vermont stop of the Metro Red Line subway, the Santa Monica Vermont Apartments will also include retail space that prioritizes local small business and healthy foods, Solis said. The location is also the bus stop for one of Metro's most popular bus lines — the 4 that travels along Santa Monica Blvd., connecting to Sunset Blvd. and downtown LA.
In June 2021, Metro updated its joint development policy to build more housing as quickly as possible. The updated policy prioritizes the development of 100% income-restricted projects and requires larger projects to set aside at least 25% of units for low-income households. It also prioritizes projects in high-needs areas and puts a premium on maximizing income-restricted units. Projects developed under the policy restrict parking to half a space per bedroom.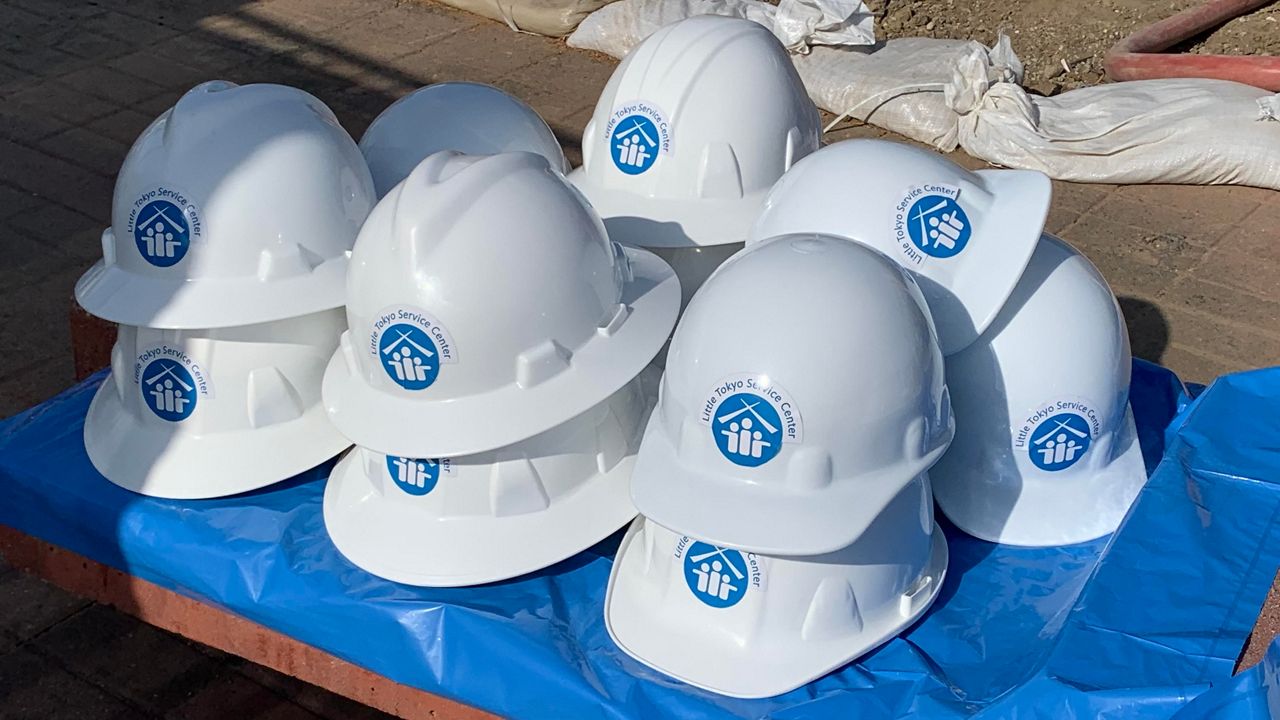 Metro has so far completed 16 housing projects, providing 791 income-restricted units and 1,430 market-rate units, the agency said. The Santa Monica Vermont Apartments are among four new projects that are currently under construction that will provide 374 income-restricted units, one of which is located near Metro's Westlake MacArthur Park station. Another eight projects that would provide 893 income-restricted units are in negotiation.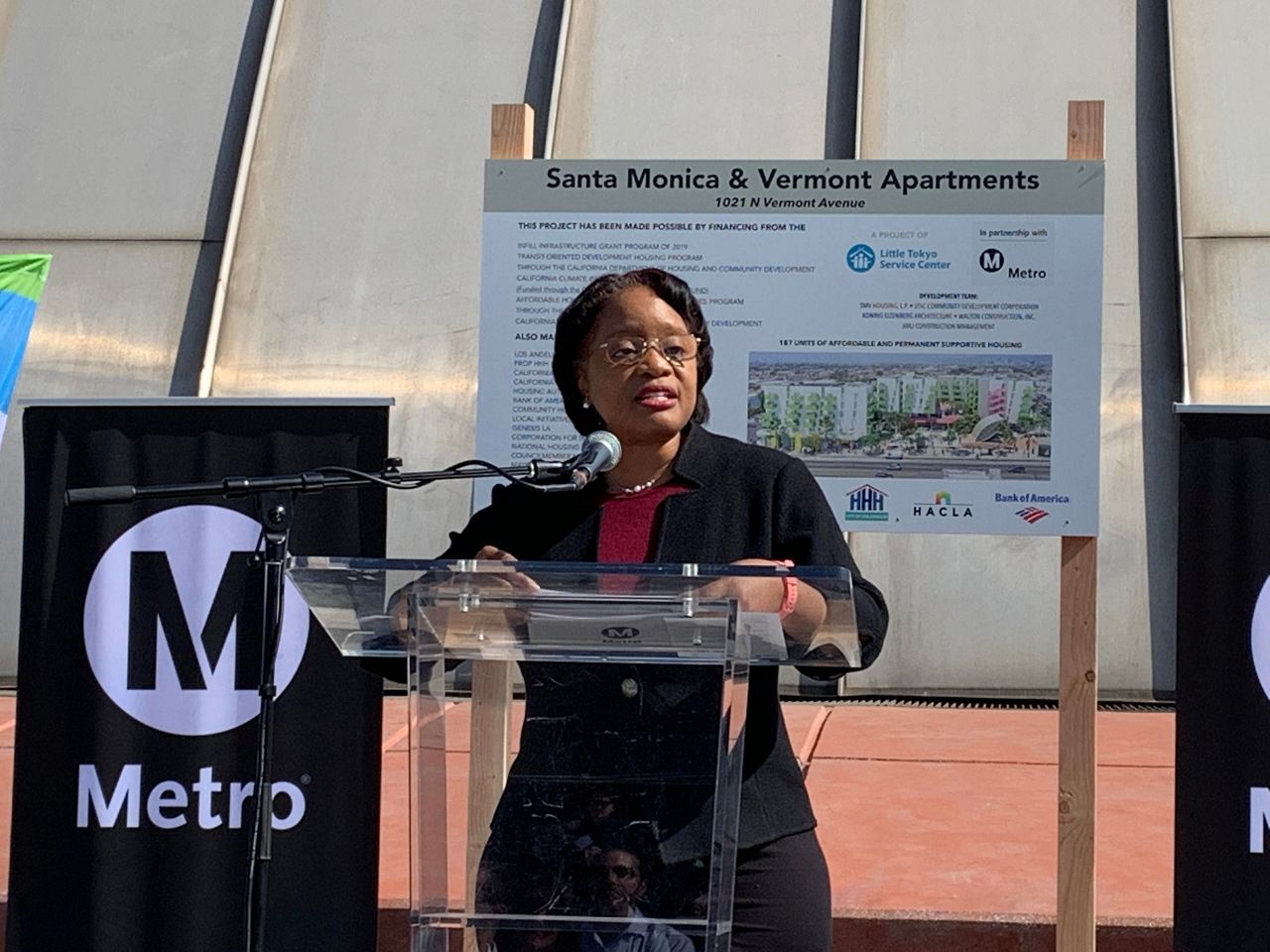 "Every Angeleno deserves a safe, affordable and comfortable place to live, and developments like this will make a real difference for families in East Hollywood," said Metro Chief Executive Stephanie Wiggins.
The Santa Monica Vermont Apartments are a step toward Metro's goal of developing 5,000 affordable housing units by the end of the decade, Wiggins said.
According to the state's regional housing needs assessment, California needs to add 2.5 million housing units by 2030, 1.2 million of which must be affordable housing.
"I know people are not patient," said California State Treasurer Fiona Ma. "But we are getting things done in California. Have a little patience. Things are being built, and we are addressing the housing crisis."
Ma credited California Gov. Gavin Newsom with allocating more than $500 million for low-income housing tax credits that help build new, affordable, extremely-low and very-low-income housing units across the state.
The Santa Monica Vermont Apartments are one of several new supportive housing developments in Los Angeles that are currently under construction. People Assisting the Homeless, or PATH, is building 59 units on Santa Monica Blvd. near the 101 freeway. The city of Los Angeles is also building a supportive apartment building for 62 homeless seniors in the area.
Many of those units are funded in part with Proposition HHH, which LA voters approved in 2016, providing $1.2 in bonds to triple the city's annual production of supportive housing to 10,000 new units for unhoused Angelenos. Only a fraction of those units have so far been built at a cost of more than $500,000 apiece.
According to Los Angeles Deputy Mayor Jose "Che" Ramirez, the city increased its annual production of supportive units by 600% from about 300 units annually to more than 2,000 and broke ground on another 2,000 housing units in 2021. In 2022, the city expects to break ground on another 1,000 supportive housing units, he said, one of which is the Santa Monica Vermont Apartments.
"Triple H is working," Ramirez said, adding that homelessness is the most urgent issue LA faces as a city. "Many Angelenos remain unhoused. Many struggle to pay rent. Providing permanent supportive housing is the best way to successfully end the experience of homelessness, and Proposition HHH is the key tool for realizing that goal."
The Little Tokyo Service Center partnered with Metro on the Santa Monica Vermont Apartments. The social service and community development organization has been working on the project for the last four years.
"We hope that this project can serve as a model for affordable, community-driven housing projects being developed on this scale made possible by public land being made available," said Erich Nakano, executive director of the Little Tokyo Service Center.
"We all know that the bottom-line, long-term solution to the homelessness crisis is permanent supportive housing to get people off the streets and enable them to start new lives with hope," he said. "Equally important is more housing, so that more people don't fall into homelessness as we move people off the streets. I believe that we have together taken a small yet big step towards that solution with this project."
In 2020, 205 people in LA county found housing that resolved their homelessness every day, according to the Los Angeles Homeless Services Authority. But at the same time, 225 people fell into homelessness on the same day.
A 2021 study from the National Low Income Housing Coalition reported that the average minimum wage worker in California last year needed to work 89 hours a week to afford a one-bedroom rental at average fair market price. To afford an average one-bedroom in LA required an hourly wage of $30.87, or $64,200 annually. Fifty-four percent of LA residents are renters.
More than 41,000 people experienced homelessness in the city of LA in 2020, according to the last count from the Los Angeles Homeless Services Authority. That number is likely to have grown during the COVID-19 pandemic, as incomes have failed to keep up with inflation and as housing and rent prices have skyrocketed.