California's ever-escalating real estate prices continue to prove what a lot of longtime residents already know: It's an alluring place to live. But it isn't without its problems.
Homelessness is the top issue facing California today, according to an exclusive Spectrum News/Ipsos poll of almost 2,100 state residents taken during the last week of August. Rounding out the top five are climate change/natural disasters (36%), affordable housing (36%), COVID-19 (33%) and taxes (17%). That's a shift from October of last year when a Spectrum News/Ipsos poll found that COVID-19 topped the list at 50%.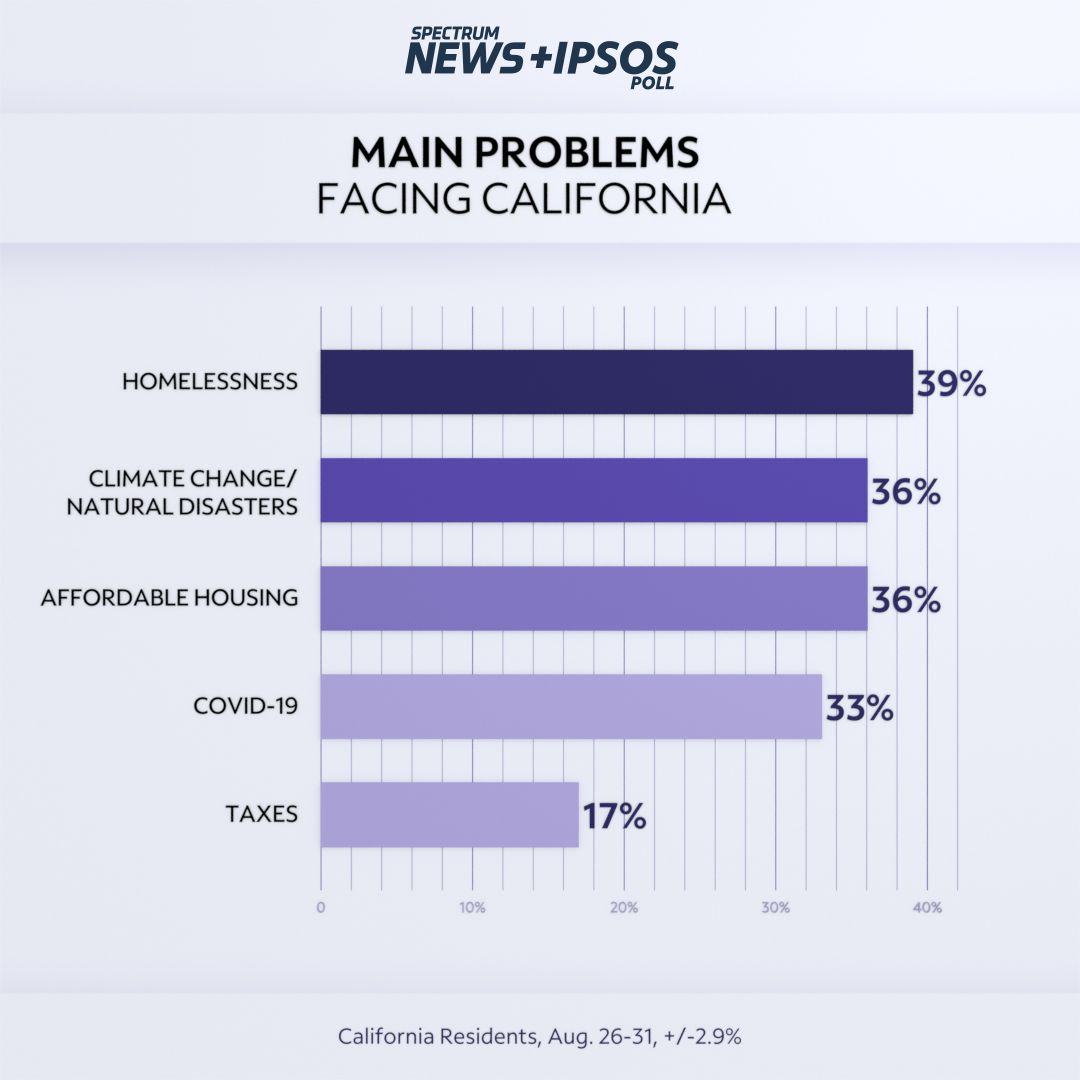 "What we're seeing here is a reminder that COVID no longer really exists in a vacuum in a way that it did last fall," said Ipsos Vice President of Public Affairs, Mallory Newall. "Californians have a clear top tier of issues they're focused on, all of which have been in the news as concerns facing the state in recent months."
The survey comes at a time when wildfires are ravaging the state at an unprecedented pace and as climate change exacerbates a drought that threatens the state water supply.
It was taken in the lead up to the Sept. 14 gubernatorial recall election, which has drawn attention to the state's 7% increase in homelessness between 2019 and 2020, according to the U.S. Department of Housing and Urban Development. That increase tracks with radically increasing real estate costs that are worsening housing affordability. In July, the median price of a home sold in the state was $811,170, according to the California Association of Realtors. A year earlier, the median price was $666,320.
But despite California's many challenges, Gov. Newsom enjoys the exact same approval rating as he did last October: 56% of residents in the August 2021 Spectrum News/Ipsos poll approve of the way he is handling his job. Thirty-three percent disapprove, compared with 32% who disapproved in last October's Spectrum News/Ipsos poll leading up to Election Day.
Gov. Newsom's handling of COVID-19, his plans for sending children back to school and jobs and the economy drew the highest approval ratings, and a majority of support, among survey respondents.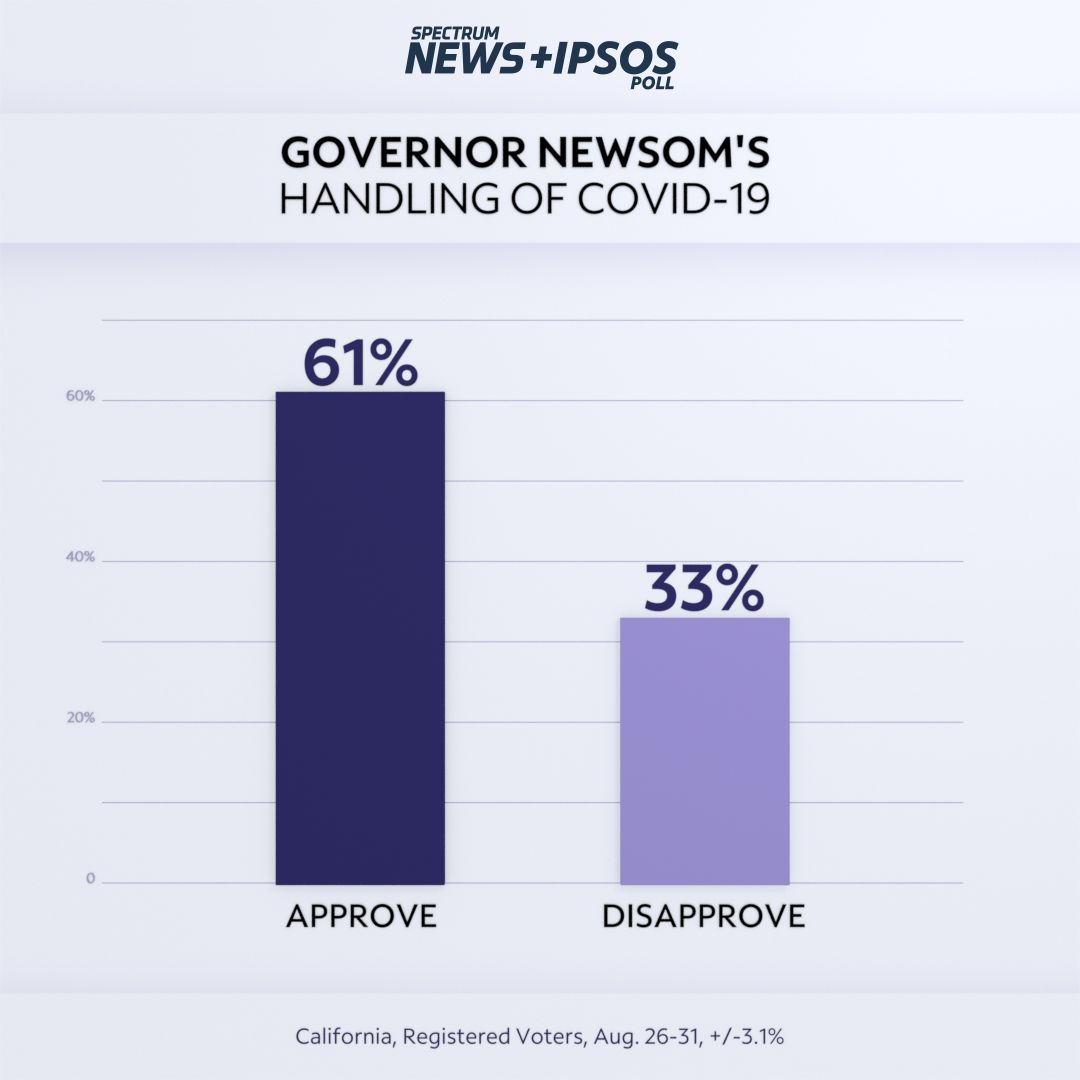 Newsom's favorability is slightly higher than his overall approval rating and significantly higher than his predominantly Republican challengers. While 58% of those polled had a favorable opinion of Gov. Newsom in the lead up to next week's recall election, front runner Larry Elder was considered favorable by 27% of respondents, followed by John Cox (19%), Kevin Faulconer (18%), Caitlyn Jenner (16%) and Kevin Kiley (12%).
The greater challenge for Newsom's opponents, however, could be that so few of them are familiar to voters. Of Gov. Newsom's top challengers, 72% have never heard of Kevin Paffrath, 70% have never heard of Kevin Kiley, 56% have never heard of Kevin Faulconer and 46% have never heard of John Cox. Even Republican frontrunner Larry Elder was unknown to 37% of survey respondents.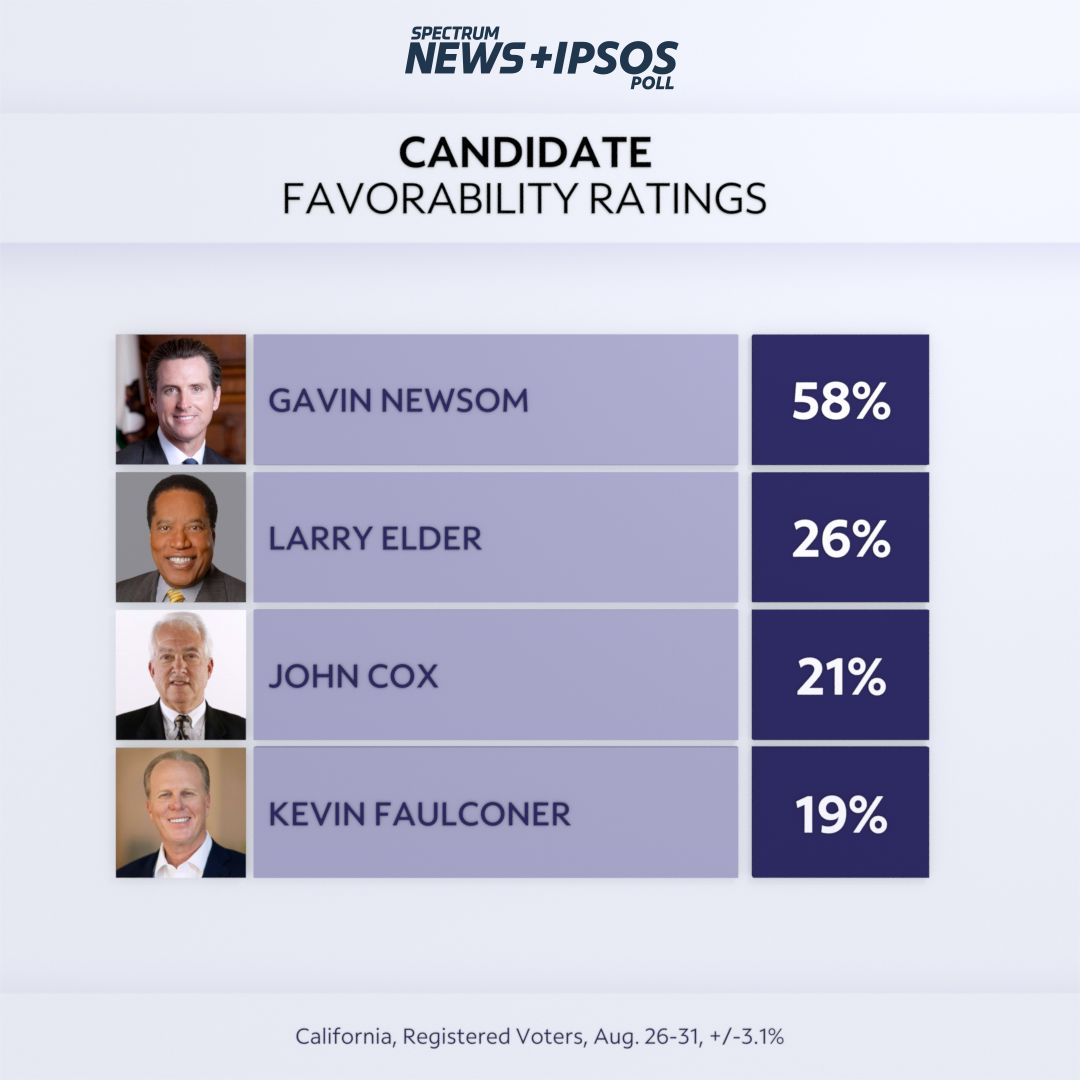 While Reality TV star Caitlyn Jenner is the most recognized candidate vying for Newsom's job, unknown to just 17% of survey respondents, she also has the highest unfavorability rating: 66%.
"When you compare Gov. Newsom to some of the more prominent candidates on the Republican side, the governor really has an advantage when it comes to name recognition," Newall said. "He is more well known than any other candidate. He also happens to be more well liked."