The United States sends money to Guatemala and the other neighboring countries of Honduras and El Salvador, also known as the Northern Triangle, to help tackle the root causes that drive people to flee from their homes. But Rep. Norma Torres, D-Pomona, raised the concern that U.S. taxpayer dollars might be ending up in the pockets of criminals rather than those who need it most.
Torres has clashed on social media with leaders from the region, but she's unwavering in her stance as she is the only U.S. congressional lawmaker from Central America.
Torres was 5 years old when her parents decided Guatemala wasn't safe anymore. Initially, she hadn't realized what was happening.
"Life was really hard, you know, it's not easy talking about it," she said.
Guatemala was overrun by civil war between the U.S.-backed military-dominated government and "leftist rebels" who fought until 1996. An estimated 200,000 Guatemalans were killed. Young Torres survived shootouts and a kidnapping attempt in Guatemala before her parents sent her to live with an uncle in California, she said.
"My mother died soon after I left," Torres said. "So, I never saw her again."
As Torres, now a mother of three, sees the surge of children at the border today, she said she is reminded of her own migrant story.
"I mean, we can never fully understand what it is [like] to be a child living in that region and surviving day-to-day attacks now, not just from a civil war but attacks from local narco-traffickers," Torres said.
That story is a big part of the reason she decided to run for Congress.
"I hate politics, but politics is what I have to do in order to serve the community that I care about," she said. "Here, [in] the 35th congressional district, the majority of the families are of mixed-status."
Now under the Biden administration, Torres hopes for comprehensive immigration reform. She pointed to Vice President Kamala Harris' visit to Central America this week, where Harris met with the new Guatemalan president.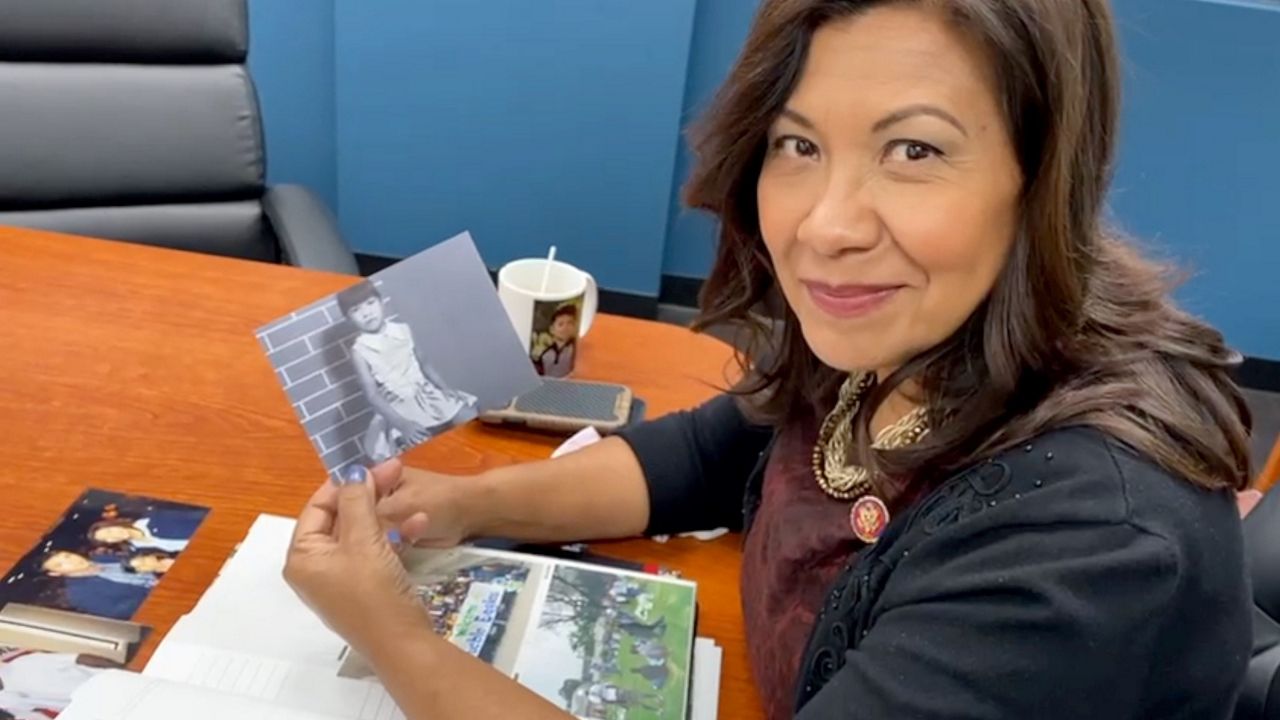 "What is his plan to keep Guatemalans safe in Guatemala?" Torres said. "There is a need for greater transparency and accountability."
Torres said she wants the Guatemalan president, Alejandro Giammattei, to agree to new commitments to ensure U.S. aid goes out to families in need. Torres disagrees with the administration on how foreign aid is to be spent. She wants the $4 billion the president intends to send to the region to go to private groups doing humanitarian work rather than the government, she said. She won't support that funding until it's absolutely certain the money will be spent the way it was meant to, saying the presidents of Honduras and El Salvador can't be trusted. She supports Harris' call for an extensive audit on how that money is spent.
"Their government doesn't care anything about them because if they did care, they would invest U.S. aid into programs to help benefit and advance the young people that are fleeing by the thousands," Torres said.
El Salvador's president, Nayib Bukele, fired back and said Torres shouldn't blame issues from other countries on El Salvador. Instead, Bukele urged Californians to vote her out of office. Since taking office two years ago, Bukele has pledged to fight gangs and corruption and is wildly popular in the region.
Torres said his pushback has led to an uptick in death threats to her and her office.
"These MS-13 leaders are also shot callers for the MS-13 gang here in the U.S. I am concerned, not just about what they are saying [and] in the violence that they are promoting on social media, but the fact that they have actually shown up to my home," Torres said.
Despite the latest threats, Torres is not backing down, hoping her lone voice can make an impact.
"I am the only Central American in Congress. If I don't speak out," she said. "If I don't tell my story, my immigrant story, if I don't actually shine the light on what is going on in the region, who else is going to do it from a very personal experience?"
Last month, Torres pushed for the release of a state department list of corrupt Central American officials. The list included officials "credibly alleged" to be corrupt, including five Salvadoran officials with ties to President Bukele, as well as other top officials and legislatures from Guatemala and Honduras. Torres said the list now publicly puts these officials on notice and is a strong step toward accountability.