LOS ANGELES — When Cindy Villaseñor shops for groceries, she thinks about future meals, what she wants to cook for dinner, lunch and breakfast in the coming days, but she also thinks further ahead–to the future of the planet.
"I'm thinking about having less of an environmental impact. That's how my lifestyle is," Villaseñor said.
She's an environmental activist and lives a low waste and vegan lifestyle, avoiding plastic and non-local foods as much as possible.
Villaseñor is also part of a growing number of people known as "climatarians."
The term climatarian refers to people who eat, shop and live in ways that reduce their carbon footprint as much as possible. All food products have a carbon footprint determined by how much energy it takes to harvest, grow, transport and store the item.
Villaseñor does her best to avoid foods that have a high carbon output.
"I know a pineapple or something tropical that's not from here, might have been shipped from 2,000 miles away, so that on its own has a big environmental impact," she said.
Climatarianism differs from other diets, like vegetarianism and veganism, because the focus isn't on avoiding specific food categories. While Villaseñor follows a vegan diet, other people who consider themselves to be climatarians might eat animal products so long as they weren't shipped long distances and factory farms didn't produce them.
Mostly, climatarians stick to local plant-based foods because those have lower emissions.
Brands are also joining the climatarian movement. Moonshot Snacks is a new climate-friendly cracker company. Their products are all carbon neutral and only use wheat from regenerative farms.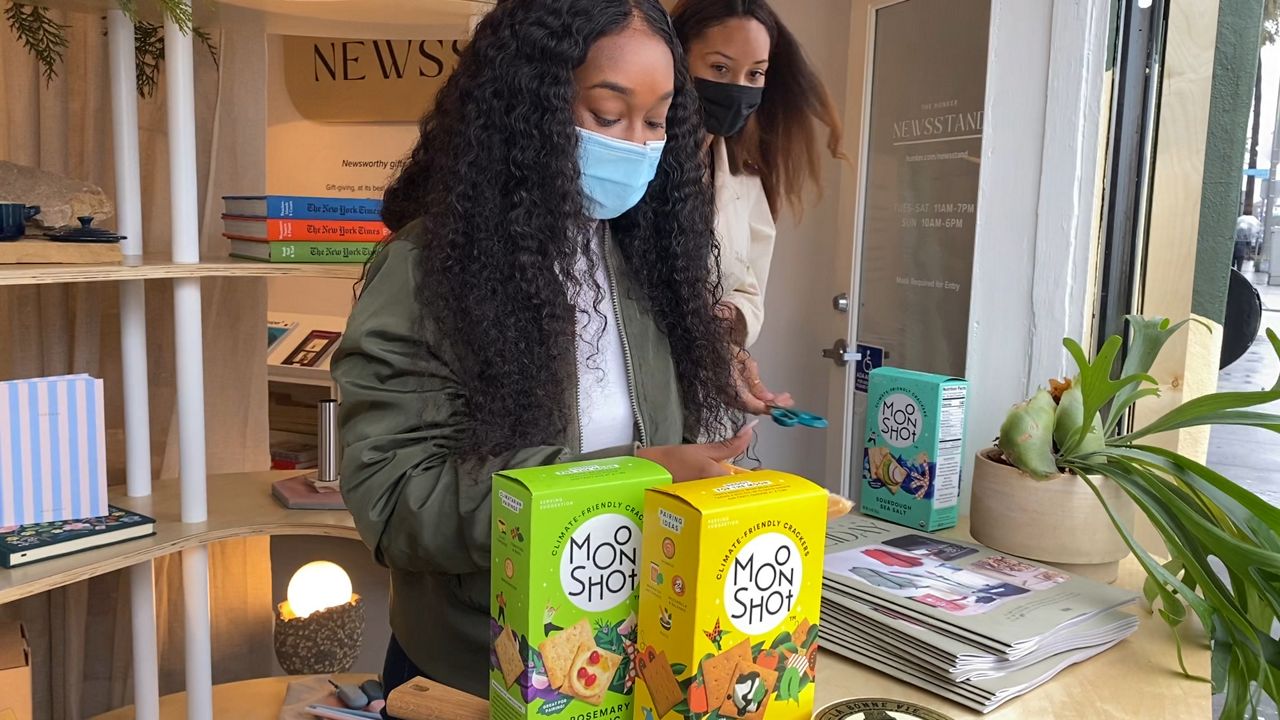 "Understanding the carbon emissions that are created through our food production and using a super short supply chain of less than 100 miles, we're able to offset our carbon footprint," explained Moonshot Snacks Sales and Marketing Manager Dominique Parks.
While a few meals and crackers might seem insignificant in the fight against climate change, UCLA professor of environmental engineering Jennifer Jay said individual choices are powerful.
"Climatarian diets are actually essential. We need people to start seeing that they can make a difference, and this is how they can make a difference. It's in black and white, the numbers are there," Jay said.
Jay studies how education around food systems and climate change affect behavior. She shares the carbon output of different food products, down to the kilogram, with her students.
"We do see that as people see the numbers, they tend to be more certain of their choices. They see food as low hanging fruit to reduce our carbon footprint and it's a climate change mitigation strategy," she said.
For many, climatarianism doesn't entail calculating each meal's carbon footprint. Instead, Villaseñor said she does her best to make small choices every day that help support the planet.
"It makes my heart happy. It makes me feel like I'm doing my little part and I hope this does have a ripple effect," she said.